Himachal Pradesh rains trigger landslides, flash floods; swelling Beas river washes vehicles away in Manali, Kullu
Most regions in Himachal Pradesh are experiencing heavy to extremely heavy rain, causing landslides in some areas and also blocking highways.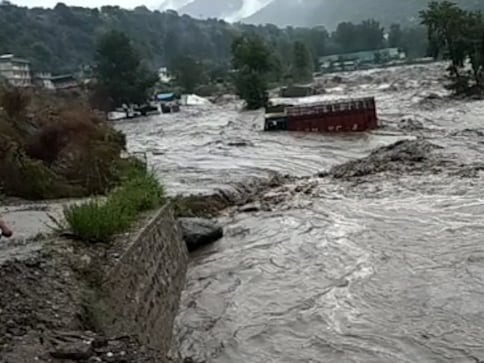 The southwest monsoon remained aggressive on Sunday in Himachal Pradesh, with most of the areas experiencing heavy to extremely heavy rainfall, causing landslides in some areas and blocking the highways. All the major rivers and their tributaries were in spate, officials said.
Incessant rains have also caused massive landslides on national highways in Shimla, Kinnaur, Mandi and Kullu districts, hampering vehicular traffic. Schools will remain closed in eight districts in the state on Monday — Kullu, Kinnaur, Chamba, Kangra, Bilaspur, Sirmaur, Mandi and Shimla — because of the heavy rainfall warning.
The water level in the Beas river has risen abnormally, touching the Chandigarh-Manali National Highway-21 near the Hanogi temple in Mandi district. Such was the force of the river flow that it even washed away vehicles in Manali and Kullu, which also saw flash floods.
Kullu Deputy Commissioner Yunus Khan said authorities were trying to "evacuate and rehabilitate people". He also requested people to move to higher areas and not venture out near rivers, ANI reported.
#WATCH: Vacant bus gets washed away into the flooded Beas river in Manali. #HimachalPradesh pic.twitter.com/GMV2nqR2jX

— ANI (@ANI) September 23, 2018
Kullu: Truck gets washed away from the road into flooded Beas River. #HimachalPradesh pic.twitter.com/2riwZsydtH — ANI (@ANI) September 23, 2018
While the picturesque tourist town of Manali recorded the highest rainfall in the state at 127 millimetres, it was 125 millimetres in Dharamsala, 124 millimetres in Una and 90 millimetres in Dalhousie. State capital Shimla saw 47 millimetres of rain. Higher reaches of Kullu, Kinnaur and Lahaul-Spiti districts saw snowfall.
An official of the local meteorological office said there are chances of heavy rainfall at some places in the state till Monday, and thereafter, the intensity of rains will start receding.
A government spokesperson said that on the orders of Chief Minister Jai Ram Thakur, the Indian Air Force rescued 19 people in Dobi in Kullu district. They were stuck in a flash flood triggered by incessant heavy rain, officials said.
The Border Roads Organisation also rescued 14 people from Kullu district, and as many as 60 sheep and goats died in a landslide in Chamba district.
Kullu: 19 people airlifted by Army helicopter from flood-hit Dobhi-Fojal area today. #HimachalPradesh pic.twitter.com/5uZsIEk8hi

— ANI (@ANI) September 23, 2018
The highway that connects Manali with Leh in Jammu and Kashmir has been closed for traffic owing to heavy snow, officials said. "The traffic between Manali and Leh has been closed since Saturday," an official of the 38 Task Force of the General Reserve Engineering Force said.
The chief minister has directed the Public Works Department to ensure that roads are cleared of landslides or debris at the earliest, and that strict vigils are kept on the rising water level of the Chamera and Pandoh dams so authorities can issue early warnings.
The Manali-Leh highway is crucial to the movement of the armed forces and their supplies and wares to forward areas in Ladakh. An official of the Himachal Road Transport Corporation said it would take a week to restart bus services between Manali via Keylong and Leh.
Meanwhile, the 13,050-feet-high Rohtang Pass, the main tourist attraction and located 52 kilometres from Shimla, was closed.
The water level in the major rivers of the state — the Satluj, Beas and Yamuna — which enter the neighbouring states of Punjab and Haryana has also increased, a government official said.
With inputs from agencies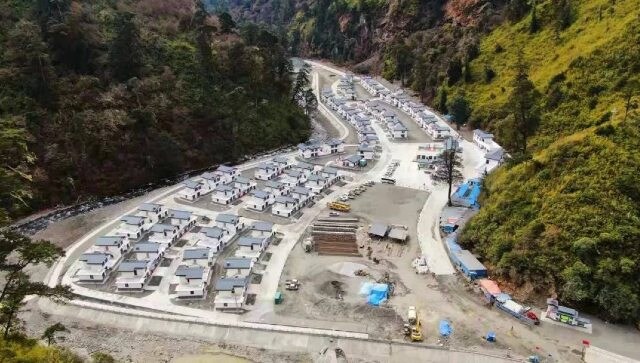 India
The MEA spoke of the IB, which corresponds more or less to the McMahon Line, while the CDS was commenting on the LAC; the two do not exactly tally in several places in Arunachal Pradesh
World
Among positive operational takeaways, main ones were good planning and decisive leadership but strategic fatigue is a natural fallout of war and conflict, more so in case of democracies like India
India
The deadline to raise challenges against the HPPSC AO 2021 answer key is up to 5 pm on 4 December