H4 spouses of H1B workers in America armed with work permits can breathe easy at least till June when the clock begins ticking again on the fate of their employment authorizations (called EAD). Department of Homeland Security which was planning to put out a proposed rule change to likely end the EAD concession given to certain H4 spouses in the Obama years has now postponed that decision till June 2018.
Related: Our special coverage of the H4 dystopia in America
Link: Save Jobs USA versus Department of Homeland Security
Kevin J Cummings, chief of the foreign workers division at the US Citizenship and Immigration Services appeared on behalf of the DHS in the ongoing Save Jobs USA versus DHS court case. According to the circuit court documents (linked above), Cummings has said the proposed rule change entails a new "economic analysis" which is likely to take several weeks. In comments taken on record, he also said that "significant revisions" have been made to the draft proposed rule already.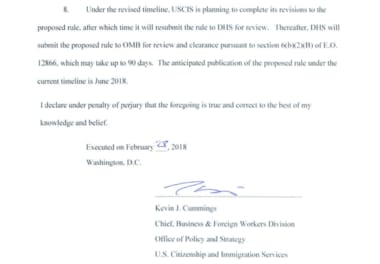 Although he did not elaborate on the nature of the "revisions", the signals are fairly clear from Cummings' earlier depositions in court - aligning the proposed rule to speak the same lingo of Trump's Buy American Hire American Executive Order and justifying how  100,000 or more H4 EADs are affecting American workers. Either the DHS has been swamped by the many distractions of the Trump presidency and unable to collate the data or unable to whip it up or a combination of both.
The DHS' visa arm U.S. Citizenship and Immigration Services has awarded 104,750 work permits to H4 spouses of H1B visa holders.
Here it is important to mention that the level of apprehension of H4 EAD recipients varies depending on how the corresponding H1B worker is doing in the Green Card sweepstakes. The H4 work permits are reserved for spouses of H-1B workers who have been approved for their green card processing but are waiting for them to become available. This Firstpost story will explain the connection. Once the Green Card comes through, the H4 EAD becomes irrelevant to the discussion. Implicitly, those who have got their H4 EADs after 2010 will be far more worried than those who filed for GC at the time of Obama's ascendancy.
Immigration attorneys we are in touch with are saying that even if the EAD gets revoked, they would be surprised if the rule change comes with a retrospective effect. "That'll lead to lawsuits", said one. In most cases where Trump has turned around Obama era blessings for immigrant communities, he has allowed policies to time out. H4 EADs are allotted and renewed for a 2 year period. News trickling in from H4 EAD community is that while they are proceeding with extensions for a hefty fee, the EADs (which are rectangular driving-license sized cards) are taking time to come back. "Some are even being asked follow up questions on their photographs!," we are hearing. "It's harassment, that's all it is. Delay, delay, delay is all they want to do and this is how they do it," says an H4 EAD applicant who's been waiting for a couple of months for her renewal paperwork to come back.
About the case: Save Jobs USA represents U.S. workers who lost their jobs to H-1B workers and appealed to the D.C Circuit court after their case was thrown out elsewhere on the first try. Their complaint is that spouse work permits add to job competition pressures for Americans. If the DHS / USCIS do follow through on their intent to revoke the EAD, their effort will be to support this claim with data that can hold its own.
Updated Date: Mar 02, 2018 06:43:57 IST