Gurmeet Ram Rahim Singh gets 20 years in jail: Curtains for Dera chief but blind faith in godmen hard to end
Self-proclaimed godman Gurmeet Ram Rahim Singh lived his life almost like an abominable snowman — a creature rarely seen and yet feared and worshipped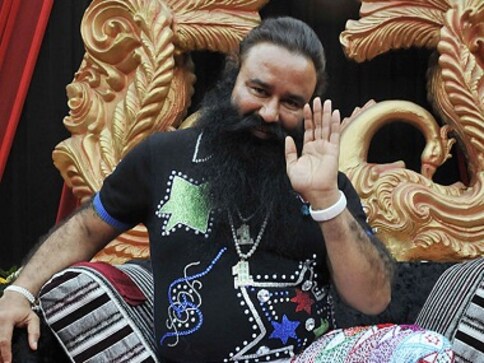 Gurmeet Ram Rahim Singh, the colourful leader of a controversial cult who's got parts of northern India on the edge, lived his life almost like an abominable snowman — a creature rarely seen and yet feared and worshipped.
His instructions to his followers were clear: people in the commune should only have glimpses of him and wonder who he was. And they should be told that they have seen God. They should remain in awe and loyal.
The bearded, self-styled godman used strangely coded messages for his followers who revered him as nothing less than God and agreed to his sermons. Knowing the court verdict could be his life's worst facepalm moment, Singh's confidantes — obviously under instruction from the 'guru of bling' — sent out text messages that read "smash tomatoes".
Those words were meant to wreak havoc. More than 15,000 followers were paid Rs 1,000 per person to reach the courts, claim cops tracking the case. Many were told they were specifically selected for a special sermon session of Singh. Eight such workers have been arrested and booked by the Haryana Police.
Cops closing on the case say they are horrified to see how Singh ran his empire at Sirsa. Singh's men virtually ran a parallel economy, fiercely prohibiting members of the Dera Sacha Sauda sect from interacting with anyone who is not a member.
The commune had its own cash, aluminium coins which could be purchased with Indian currency and used within the commune to buy food and rooms to rest. No other currency was allowed. The commune had no television, only giant screens describing Singh as the Dashavatar, a title of Lord Vishnu. Singh was shown as a saint, philanthropist, sportsman, actor, singer, movie director, writer, lyricist, and autobiographer and, a messenger of God.
Amit Sehgal, a farmer, who lost his 20 acres of land to Singh's sect, said he was amazed to see Dera followers using those special coins as their "own currency". "For some months, I also got sucked into his dream. By the time I emerged from his clutches, I had lost a large chunk of my farmland. He is a tyrant and a sex maniac. People around me behaved as if they were in a trance," says Sehgal.
The Dera leader, said Sehgal, deliberately created an image of invincibility around himself and lived in his specially made Kali Goofa (Black Cave). Sehgal said he could enter the cave (read home) only once. The place resembled like the fabled Xanadu of Mandrake the Magician.
"Turbo charged cars moved in top speed, doors opened like lightning, armed guards at regular interval changed swipe cards for further journey. I was driven in pitch dark tunnels lighting up from the friction of car tyres. And eventually, I was ushered into a room where he sat on the throne like Jabba the Hut (of Star Wars fame)."
Sehgal said that the first meeting with Singh is always special. Visitors do not talk, they are meant to bow their head and look on the floor. Why? "I was told you do not look into the God's eyes, you look at his feet."
And it's only when Singh signals that the first time visitors are ushered near the throne. Singh's followers took Sehgal around, showing the aloe vera farms whose juices they claimed were meant only for export, a cricket stadium made with bare hands and without machines, and an open air auditorium which could get a fibre glass cover within minutes if there was rain.
"Everything God did, everything had God's special touch. I was told."
But Rahim's house of cards is crumbling. Cops closing on Singh claimed a significant number of Dera followers were not queuing up to reveal "inside secrets" of a man they always worshipped as God.
"His instructions were clear. It should be only him, him and only him. No one else was seen as a second or even third command in the Dera," Navdeep Singh Virk, IGP, Rohtak Range, said in a brief telephonic interview.
Virk said Singh maintained a dual personality. During sermons, he wore a spotless white dress, common with all self-styled Godmen across India. But when he was before the camera for interviews or shooting, he would wear fluorescent colours on his bejewelled costume and fight off villains and toss flaming motorbikes into the air.
He would even walk on air and tear tree trunks in half with his bare hands, while routinely singing his favourite song Love Charger. A Bollywood filmmaker who was once called at the Dera was told by Singh's followers that he writes songs in 15 seconds, and completes a shot in less than a minute. It is because he is God.
Cops say Singh had ambitions to become Jesus Christ Superstar. A year ago, Singh commissioned members of his staff to draw up a blueprint for a total media hub that would include a news channel, a national news magazine and a daily newspaper. A senior editor from Delhi was approached to write his biography. It was not immediately known what happened to the plans to set up the media hub and whether the biography was commissioned.
But now that Singh is under the scanner, his Dera has come under the heat from both Punjab and Haryana police who are, it is reliably learnt, trying to compile a list of Singh's assets across India and abroad. They are working on leads from within the commune that a significant amount of cash was being allegedly laundered with the help of a hawala operator based in West Delhi. The Enforcement Directorate is on his tail, and so is the Income Tax department.
A heart specialist who now lives in Delhi said he was once called to check Singh by the Dera officials and was shocked to find him "hyperactive".
"He had a great following of doctors, many from the All India Institute of Medical Sciences (AIIMS) and I wondered why he had called me. I was told he keeps shuffling his doctors. I found his pulse a bit erratic but nothing that would cause concern. I told him not to check blood pressure every 30 minutes and he should remain calm," said the doctor, speaking on conditions of anonymity.
"But Singh kept on telling me that I should stay back if I wish to meet the God and attain total nirvana. I left."
Now, reports are emerging how Singh repeatedly raped his female followers and told them it was "an act of liberation". His doctors — since the year 2000 — castrated many men on a similar pretext. According to the police, a large number of doctors who once worked with Singh have fled the Dera, a massive search is on to bring them to book.
"We will now open up Dera totally and do a thorough investigation into his activities," said Virk, adding that activities of other self-styled godmen in Haryana and Punjab could also come under the scanner of the judiciary.
There are high chances that the courts could intervene in the other bizarre case involving Ashutosh Maharaj, the frozen guru, who was declared dead by medical authorities on 29 January 2016, but is still being held in a deep freezer by his followers who argue that their spiritual leader is in samadhi, an uncommunicative state of meditation once practised by sages in the Himalayas.
Yogendra Yadav of Swaraj India, who personally helped Anshul Chhatrapati, son of slain journalist Ram Chandra Chhatrapati of Poora Saach (Total Truth), fight a tough case against the Dera in the Supreme Court and got former retired chief justice Rajinder Sachchar to appear for arguments, says he remembered how Ram Chandra was riddled with bullets right outside his home because he exposed Singh way back in 2002.
"I met him on 20 October, 2002, and he was killed four days later. At one stage, the state government of Haryana went against Anshul, arguing there was no need for a CBI enquiry in the case."
Yadav says the question of why mentally sound individuals sacrifice everything at the behest of a godman continues to puzzle him but in India, these self-styled godmen will always live and rise, and be close to politicians.
"Votes matter, lives don't," he adds.
India
After shaking off the Punjab Police on Saturday, Amritpal Singh Sandhu continues to be on the run for the third day. So far, over 100 aides of the Khalistan sympathiser have been arrested, with four of them being shifted to a jail in Assam
India
Punjab Police had on Saturday launched a major crackdown against Amritpal, with police arresting 78 members of an outfit headed by him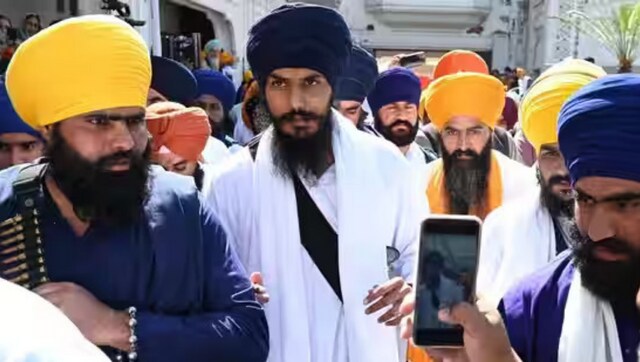 India
As the Punjab Police moved in to nab Amritpal Singh, mobile and internet services were restricted in several districts of Punjab. The curbs will be in place till Sunday