Gurmeet Ram Rahim convicted of rape: Parties give in to Dera chief's political clout, fail to condemn sect
What does a self-styled godman like Gurmeet Ram Rahim have to do with politics in that region? It turns out, quite a lot.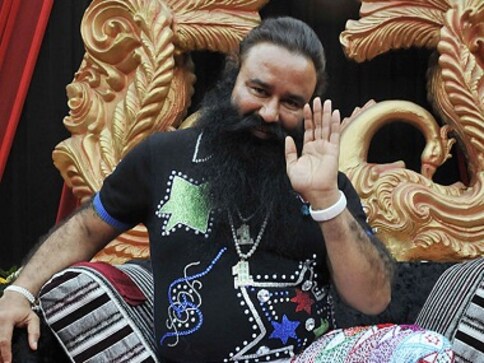 While Dera Sacha Sauda supporters waited with bated breath for the CBI court's verdict in the 2002 rape case against Dera chief Gurmeet Ram Rahim Singh on Friday, it must have also caused sleepless nights for several political parties. Leaders of Bharatiya Janata Party (BJP), Congress, Shiromani Akali Dal (SAD) and the Indian National Lok Dal (INLD) have all sought Ram Rahim's "blessings" one time or another. Which perhaps explains why politicians kept their lips sealed tight when the verdict was announced, and only reluctantly condemned the ghastly violence that followed in Haryana, Punjab, Delhi and parts of Uttar Pradesh and Rajasthan.
But, what does a self-styled godman have to do with politics in the region? It turns out, quite a lot.
Ram Rahim has long claimed claimed to be apolitical, a stance which was defenestrated in 2007 when the DSS launched its political affairs wing. The objective of the PAW was basically to direct the crores of Dera followers to vote for a certain candidate or party in the elections. Ram Rahim claims to have over five crore followers, mostly based in Punjab and Haryana. And this is a big deal for political parties, considering the Dera followers vote as a block, as this report on Hindustan Times explains. And it may also explain why Ram Rahim's support alone may swing election results one way or the other.
The BJP, Congress, SAD and INLD have all flocked to the Dera headquarters in Sirsa, Haryana, to meet Ram Rahim and ask for his support. In 2007, for the first time, DSS extended its support to Congress as it felt the then SAD-BJP government was attacking its followers, according to an India Today report.
Ram Rahim's son Jasmeet is married to the daughter of senior Congress leader Harminder Singh Jassi, a former MLA from Punjab. However, despite Ram Rahim's support, Congress lost the Punjab Assembly elections that year.
Ahead of the verdict on Friday, several Congress MLAs in Punjab remained mum, reported The Tribune. Punjab Congress chief Sunil Jakhar said law and order will be maintained at any cost, while refusing to mention anything about the case or the verdict. Even Congress president Sonia Gandhi and vice-president Rahul Gandhi did not comment on the CBI court's decision.
If the Congress was red-faced, the BJP had it even worse. In 2014, the Dera chief officially extended his support to BJP in the Lok Sabha and Assembly elections, resulting in BJP victories in both. After the win, 19 out of 47 BJP MLAs in Haryana, including state party chief Subhash Barala, went to pay their obeisance to Ram Rahim, for helping them clinch the polls on their own for the first time, according to The Indian Express.
Haryana Assembly Speaker Kanwar Lal Gujjar was one of the first visitors in 2014. When asked about his comments on the verdict on Friday, he said, "We are not the only ones who go to the Dera. Other political leaders also go. As politicians, we go to meet many people; how do we know if any one of them would later be proved guilty of wrongdoing?"
Many of them implied that it was fine for them to associate themselves with the Dera Sacha Sauda and Ram Rahim before the conviction. Ram Rahim has extensively held a strong position in the states' politics, so much so that Haryana education minister Ram Vilas Sharma donated Rs 51 lakh from the education department's discretionary quota "to promote sports" within the Dera, according to the India Today report.
Barely 10 days before the verdict, Sharma visited Ram Rahim to celebrate his birthday on 15 August.
But in all this hullabaloo, Prime Minister Narendra Modi's silence was the most conspicuous. And why wouldn't it be? An observant Twitter user points it out.
#RamRahimSingh & his cult was cultivated as a vote bank. Look who is full of praise for him. No surprises here. pic.twitter.com/CNnned2BW3

— SamSays (@samjawed65) August 25, 2017
Modi has praised Ram Rahim in the past, once at Sirsa rally for the ahead of Haryana Assembly elections in 2014, and in a tweet in October 2014 for helping with the Clean India campaign.
In fact, the only BJP leader who spoke anything about the verdict was MP Sakshi Maharaj, who said, "Who is right? Crores of people who see God in Ram Rahim, or that girl who filed a complaint? Accusing a noble soul like Ram Rahim. Ram Rahim is a simple man so he is being harassed," according to News18. 
BJP MP Subramaniam Swamy tweeted, "A new threat to Sadhus: Politicians and ashramites wanting to grab Ashram wealth by sending the Swamijis to jail", without mentioning Ram Rahim.
Ram Rahim has always had a strong political clout. According to The Tribune, a study of constituencies conducted by Delhi's Centre for Study of Developing Societies indicated that Dera supporters followed Ram Rahim's diktat to vote for BJP, irrespective of the candidate, in the 2014 Haryana Assembly elections. This shows how important the DSS' role is in forwarding its and the saffron party's agenda.
The Dera chief has also been blamed for a party's loss. In 2014, INLD leader Abhay Chautela openly blamed Ram Rahim following the latter's refusal to support INLD. "The Dera chief is the reason for our defeat (in the elections). Until 13 October (when Ram Rahim announced support to the BJP), we were number one in the race, but the scenario changed later,"  reported Hindustan Times. "The baba that blocked the INLD's path to power will not escape. One baba (Rampal) has gone behind bars, and the other (Ram Rahim) will join him."
Little did anybody know how true Chautela's curse would turn out.
Reactions to the violence
Reactions from political leaders have all focussed on the Panchkula violence, but rarely on the verdict itself.
CPM general secretary Sitaram Yechury alleged that the cult headed by the self-styled godman could hold the state to ransom solely because the BJP-led government in Haryana was "in cahoots" with it.
Vice-President of India Venkaiah Naidu responded an entire day after violence and arson damaged life and public property.
Congress called for the resignation of Khattar, with Sonia Gandhi expressing concern over the violence in the state. In a statement in New Delhi, the Congress president said several people including children had died in the violence, and "there was widespread destruction of public property and senseless attacks" on the media.
Rahul Gandhi, who left for Norway earlier on Friday, condemned the "rampage and lawlessness" in Haryana and appealed for the restoration of peace. "Violence and brutality have no place in our society. Condemn the rampage and lawlessness in Haryana and appeal to restore peace and tranquillity," he said on Twitter.
The CPI, too, on Saturday sought Khattar's resignation, saying the BJP government in the state has "horribly failed" to deal with the violence following Ram Rahim's conviction in a rape case. "This is Khattar's second failure. He had earlier failed to maintain law and order during the Jat reservation stir," CPI general secretary S Sudhakar Reddy said.
Ultimately it came to the Punjab and Haryana High Court to slam Khattar for "protecting and extending political patronage" to Ram Rahim. The court also asked the state to register a case against those who instigated the widespread violence by Dera followers after the sect leader was convicted of rape.
World
A police official, quoting an injured passenger, said the driver of the bus seemed to have fallen a sleep and lost control over the vehicle which caused the accident
India
PSEB 12th Result 2021 Declared: Besides official website pseb.ac.in, students can also check Punjab Board 12th scores by sending an SMS to 5676750
India
Opposition leaders in Punjab have demanded that the government clarify that based on which report of doctors and education experts was such an important decision was taken that will affect the lives of 60.5 lakh children