Gujarat migrant crisis: At pivotal Jhansi junction in UP, labourers' stories and rumours from western state converge
Thousands of migrant labourers have already returned to their hometowns from Gujarat, amid attacks by local residents following the rape of a toddler allegedly by a worker from Bihar.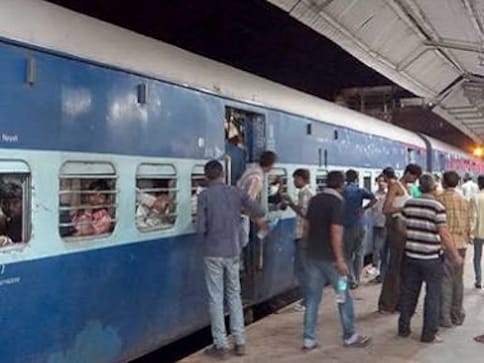 Editor's Note: The rape of a 14-month-old girl by a migrant labourer from Bihar in Idar town of Sabarkantha district on 28 September gave way to the persecution of migrant labourers in seven of the 33 districts of Gujarat. This incident ignited anger against migrant workers whom the locals believe are the real reason for unemployment in the state. This multi-part series will examine issues concerning migrant workers and the animosity they face from locals.
***
An evening at the Jhansi railway station puts into sharp focus the panic and the hate in Gujarat that the migrants were running away from.
Jhansi: The Jhansi Railway Station in Uttar Pradesh sits at a crucial junction, connecting scores of migrants from across Madhya Pradesh, Bihar and Uttar Pradesh to the industries and opportunities in India's west coast. One of the biggest stations in North India, the Jhansi junction was witness to chaotic scenes earlier in October as migrant workers poured out of northern Gujarat, fearing attacks and threats after the rape of 14-month-old girl, allegedly at the hands of a Bihari factory worker.
Thousands of migrant labourers have already returned to their hometowns from Gujarat. There was a chock-a-block situation in nearly all the trains coming into Jhansi from Gujarat for at least a week, said Sevak Ram, a porter at the station. There were more people coming to Jhansi from Gujarat than from anywhere else, the porter claimed, adding that the volume and direction of the movement were unusual for this time of year, and that this rush was very different from the usual festival rush around Diwali.
"I have been here for more than seven years and have never seen people returning in this such numbers. Initially, we thought these people were returning to their homes for Diwali, but we later got to know they were trying to save themselves from getting attacked by Gujarati people who were upset by the unfortunate rape incident," Ram said.
He asserted that whatever was happening in Gujarat was not right because these people were there to earn a livelihood for their families.
"Punishing an entire community for a crime committed by one man is not right. The labourers were telling us how local people were identifying where they are from by demanding to see their Aadhaar cards," Ram said, adding that the porters were trying to assist every worker returning from Gujarat by not charging them, or offering them food and fruits.
Some porters even paid the local fare of some returning workers because they had absolutely no money on them, he said.
Vineet Kumar*, also a porter at the Jhansi station, said whatever was happening to people from Uttar Pradesh and Bihar in Gujarat is not fair in the slightest.
"There are thousands of people from other states who live in Jhansi, but our brothers are being beaten up for a crime they had no connection with. I have been listening to stories of labourers who have returned to Jhansi and got to know that they are being looted and robbed and their houses ransacked by Gujarati people," Vineet said, adding that a lot of people had been forced to return to their homes without receiving their salaries, and some had completed their journey without having eaten a single meal. "Their condition is very bad. It is very sad for me to see people from this land return with empty hands."
Manish Kumar, a resident of Jhansi who returned from Ahmedabad in a packed-to-the-brim Sabarmati Express on 10 October, said he was first threatened and then attacked by local residents. "It was the initial days when I was attacked while returning from the clothing factory where I work. They first threatened me and asked me to leave this place, but on the second day, a group of more than half a dozen people attacked me, demanding that I go back to the place I came from and never return, otherwise they would 'kill me.'"
He added that he couldn't collect his last month's salary from the company where he works, but his employer had assured him over a phone call that his hard-earned money was safe and he could collect it anytime.
"There is no humanity left in the people of Gujarat; they attack every single person they identify from Uttar Pradesh or Bihar, and even Madhya Pradesh. I have received injuries on my back and shoulder. One of my relatives has been admitted to a hospital in Ahmedabad and his condition is very serious," Manish said, while displaying his injuries, adding that many others are still stuck or are in hiding in Gujarat to save their lives.
Bajarangi Singh, a steelworker from Ahmedabad who also returned to Jhansi on the Sabarmati Express, claimed that the attacks on migrant workers in Gujarat were being perpetrated at the behest of a powerful Congress leader. "We do not know what actually triggered the people of Gujarat to start attacking all Hindi-speaking people. They have asked every single worker from Uttar Pradesh and Bihar to leave if they want to stay alive. Whatever happened with the girl was wrong, and we workers also demand strict punishment for the accused. But how fair is it to treat all of us like we are responsible for the crime?" asked Singh, who is a Lalitpur native. "The situation in Gujarat is very toxic for us."
Ramjeevan Kumar, another steelworker who returned from Ahmedabad, believes that a local man  raped the girl, and workers from Uttar Pradesh and Bihar were being made scapegoats. "Modiji ka chaal hai sab (these are all Modi's schemes)," he said, claiming that of the 800 or so people who work with him, barely a hundred stayed back in Gujarat.
"They are beating us mercilessly everywhere they find us. They are blood-thirsty. They snatched our mobile phones and money. They don't want us to be in Gujarat anymore," said Amit Kumar, who worked in Gujarat for two years. He said the others he lived and worked with stayed back in Gujarat because they were too scared to even venture out to make their homeward journey. "They are even attacking us on the roads after identifying us using our Aadhaar cards."
Gaurishankar Bidua, a leader of the Bundelkhand Panchayat Union, said it is very unfortunate that people of these states are facing a lot of harassment in Gujarat. "People would not have moved to Gujarat if there were enough employment opportunities in these states. I deplore the fact that labourers from our state are facing this. We welcome Prime Minister Narendra Modi with open arms, but Gujarati people are adamant to send every citizen back to Uttar Pradesh and Bihar. This is not done," he said.
It is worth mentioning that a few days ago, the newly floated Uttar Pradesh-Bihar Ekta Manch had protested against these attacks on migrant workers in Gujarat in Varanasi and posters of "Narendra Modi Benaras Chhodo" had surfaced across the city.
*Names changed to protect identity
With inputs from Ajay Jha
The authors are Lucknow- and Jhansi-based freelance writers and part of 101Reporters.com
Explainers
Jacinda Ardern gained international acclaim for her handling of New Zealand's worst mass shooting and her response to the COVID pandemic. But at home Ardern has come under increasing criticism over lockdowns, declining trust in government, and a deteriorating economic situation
Explainers
India is expected to overtake China's population sometime around April and only widen that gap by 2050. Experts say that while having a young working population could prove a huge advantage, significant challenges of providing quality healthcare, education and jobs remain
Explainers
The brighter prediction comes as a survey showed Europe's economy growing for the first time since June and in the backdrop of lower inflation, improved supply chains, and the recent reopening of China's COVID-scarred economy. However, experts have warned that the UK is in for a rough go in 2023