Gorakhpur hospital tragedy: Dr Kafeel Khan, accused of negligence, arrested by Uttar Pradesh STF
The Uttar Pradesh Special Task Force on Saturday arrested Dr Kafeel Khan from Gorakhpur in connection with the deaths of over 1,000 children in BRD Medical College.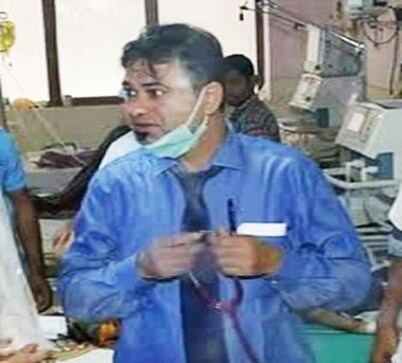 The Uttar Pradesh Special Task Force on Saturday arrested Dr Kafeel Khan from Gorakhpur in connection with the deaths of many children in BRD Medical College. The development comes after additional sessions judge Shivanand Singh issued non-bailable warrants against seven of the nine people, including Khan, named in the FIR.
It was a major breakthrough, IG Special Task Force Amitabh Yash told PTI while adding, "Khan was apprehended on Saturday at around 9 am from Gorakhpur, and he is being handed over to Gorakhpur Police.
Khan was the nodal officer of BRD Medical College's paediatrics department.
Following the deaths, mostly of infants, cases were registered under various sections of the IPC, Prevention of Corruption Act and the Indian Medical Council Act against nine persons. The FIR was registered in Lucknow's Hazratganj police station and the case was later transferred to Gorakhpur.
Khan, who was initially hailed as a hero for saving the lives of many children, was later terminated from his services by the hospital. He faces charges of negligence and financial irregularities. He was also the member of the supplies department that managed stocks and storage of equipment.
Khan has also been held responsible for not apprising Chief Minister Yogi Adityanath about the about the payment default by the hospital or the erratic oxygen supply issue. According to a report in The Indian Express, Khan was also found guilty of not adhering to norms of the Indian Medical Council and had gone on leave without proper permission the day the oxygen supply was cut off in the hospital.
BRD college principal Dr Rajeev Mishra was also believed to be colluding with Khan. They both managed the deals with the oxygen supply company and received a commission on every hospital purchase, India Today reported.
Rajeev and his wife Poornima Mishra were also arrested by the STF in Kanpur and sent to 14-day judicial custody. They were brought to Gorakhpur on Wednesday and presented before the anti-corruption court on Thursday. Rajeev was also suspended by the Yogi Adityanath's government following the spike in the number of deaths.
The arrests come in the wake of the probe report by a high-powered committee headed by Chief Secretary Rajeev Kumar, which indicted Mishra and others in the tragedy.
With inputs from agencies
India
The gene therapy technology from IIT Kanpur will be further developed as an indigenous product by Reliance Life Sciences
Explainers
Ex-US president Donald Trump failed to disclose gifts worth $250,000 given to the First Family by foreign leaders, including $47,000 from Indian leaders. Among the gifts were cufflinks by Prime Minister Modi, a rug by former President Kovind, and a vase by Uttar Pradesh CM Yogi Adityanath