Germany pitches for India's inclusion in NSG, says New Delhi's participation will boost global export control system
Strongly pitching for India's inclusion in the Nuclear Suppliers Group (NSG), Germany said the global export control system will benefit a lot from New Delhi's participation in all its four regimes
New Delhi: Strongly pitching for India's inclusion in the Nuclear Suppliers Group (NSG), Germany on Monday said the global export control system will benefit a lot from New Delhi's participation in all its four regimes.
Out of the four export control regimes that work to keep proliferation of Weapons of Mass Destruction (WMD) in check, India is a member of the Missile Technology Control Regime (MTCR), the Wassenaar Arrangement and the Australia Group.
India's membership to the 48-member NSG is being primarily opposed by China on the pretext that it is not a signatory to the Non-Proliferation Treaty (NPT).
"Germany has strongly supported India in its efforts to become a member of the export control regimes just as we continue to strongly support India's membership in the Nuclear Suppliers Group," Jasper Wieck, the Deputy Head of the German mission in New Delhi, said.
"We are convinced that the global export control system will benefit a lot from India's participation in all four regimes," he said while speaking at the inaugural session of India-Wiessbaden Conference 2018, organised jointly by the Ministry of External Affairs in cooperation with Germany and the United Nations Office for Disarmament Affairs.
Representatives from the government and industry of 39 countries, as well as experts from the UNSC 1540 Committee and UN Office for Disarmament Affairs in New York, are participating at the two-day conference titled 'Securing Global Supply Chains through Government-Industry Partnerships towards Effective Implementation of UNSC Resolution 1540'.
The UN Security Council Resolution 1540 (2004) establishes legally binding obligations on all states to adopt and enforce appropriate and effective measures to prevent the proliferation of nuclear, chemical, and biological weapons and their delivery systems to non-state actors.
It requires, therefore that countries implement appropriate and effective measures to prevent non-state actors such as terrorists, from obtaining access to WMDs.
"We consider this initiative (the conference) as yet another example of India's engagement with regards to international cooperation in the areas of export controls," Wieck said.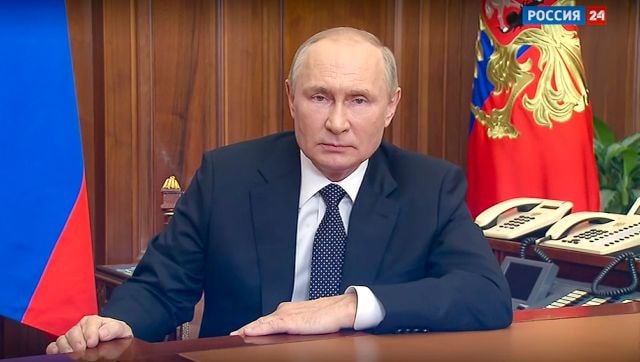 Explainers
Vladimir Putin on Wednesday, ordering Russia's first military mobilisation since World War Two, warned Moscow would respond with the might of all its vast arsenal if the West continued its 'nuclear blackmail'
World
As part of its ongoing, significant push into space exploration, China is anticipated to start commercial space flights by 2025.
Football
Germany's UEFA Nations League sqaud will be without Bayern Munich stars Manuel Neuer and Leon Goretzka as the duo return COVID positive after test. The duo has left the camp already.