Gen Suhag has under 3 weeks in office: Can India ever avoid political delays in naming service chiefs?
India will have a new Chief of Army Staff in three weeks, as General Dalbir Singh Suhag is due for retirement. But the very fact that the Centre is yet to announce his successor has already made news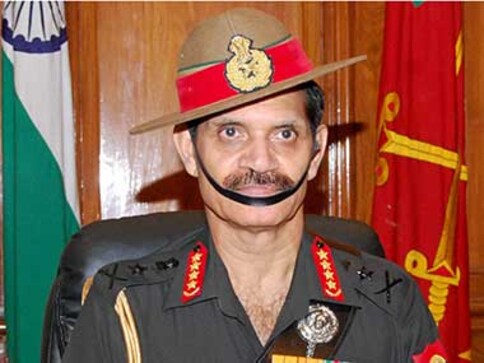 Come New Year, India will have a new Chief of Army Staff (COAS), as the incumbent, General Dalbir Singh, is due for retirement. The very fact that the central government is yet to announce his successor has already made news. In fact, the issue will only get further politicised, just the same way Dalbir Singh's appointment was, two years ago. And it's all because of a convention that the incoming COAS (or for that matter, the new chief of Indian Navy or Indian Air Force) be announced two months in advance, in order to make the transition smooth.
Invariably, the vice-chief of army staff, who in turn is the senior-most in the service after the COAS, is promoted to the chief's post (normally a term of three years or the age of 62, whichever is earlier), provided he is not superannuated (turning 60) before the day of assumption (if he is made chief on his last day in office, then he automatically gets an additional two years as chief).
This convention, it seems, has been broken by the government. Only a fortnight remains for the new COAS to take charge, but as The Indian Express reported, the Modi government has not yet appointed Lt Gen. Praveen Bakshi, who heads Kolkata-headquartered Eastern Command, and the senior most General to succeed Dalbir Singh as the vice-chief (that post had gone to a relatively junior officer). Nor has the government officially announced Bakshi as India's next COAS. The newspaper speculates that Bakshi's background as an armoured corps officer is being held against him, as the post of COAS usually goes to those coming from infantry. The only armored corps officer to have made COAS was General Krishnaswami Sunderji, more than two decades ago.
However, all this is not to suggest that General Bakshi will not be made COAS. The point is that the delay by the government in announcing a name is giving rise to all sorts of speculation. In case Bakshi is being ignored or superseded by a junior for the post of COAS, he will be the next such officer to suffer this fate, starting with General SK Sinha in 1983.
But, fact remains that the previous Manmohan Singh government had also raised many an eyebrow when it announced General Dalbir Singh as COAS in 2014. The then incumbent, General Bikram Singh, was to retire only on 31 July, 2014. But the outgoing government of Manmohan Singh announced the then vice-army chief, Lt Gen. Dalbir Singh Suhag, as next Army Chief in March, 90 days ahead of schedule, well before the standard two months. Going by convention, the announcement on the next COAS should have been made on or around 31 May, by which time there would have been a new government at the Centre. So why did the Manmohan Singh government make an announcement that should have been made by the Modi government? Why was the outgoing government in such a hurry? There has been no answer to this question.
Of course, the Modi government has more or less followed convention, by announcing the appointment of Indian Navy chief, Admiral Sunil Lanba, 40 days ahead of schedule (it should have been 60 days). Incidentally, his predecessor, Admiral Robin Kumar Dhowan's appointment by the previous UPA government in 2014, also didn't stick to the norms; his appointment came after an unprecedented gap of almost two months, after the equally unprecedented and untimely resignation of Admiral    Devendra Kumar Joshi. For two months, India did not a have a navy chief.
Going by convention, a serving chief has to not only be the senior most officer, but he also needs to possess experience of being a commander. Not all Lt Generals, Vice-Admirals and Air Marshalls are "commanders". Unfortunately, the UPA government was not consistent in sticking to these established norms. While it wanted General Suhag, the senior most in the Indian Army having command experience, to succeed General Bikram Singh, it conveniently overlooked these norms in appointing Admiral Dhowan, who was not the senior most Vice-Admiral, and nor did he have any command experience. The Indian Navy has two operational commands — the Western Naval Command in Mumbai and the Eastern Naval Command in Vishakhapatnam. There is also the Southern Naval Command headquartered in Kochi, but it is a training command without real operational jurisdiction on high seas.
With the possible exception of Admiral Sushil Kumar, who was controversially made chief after the dismissal of Admiral V Bhagwat under the NDA regime in 1998, nobody heading the Southern Command has become chief. But in Admiral Dhowan's case, this fundamental requirement of becoming a commander as perquisite for the consideration of the post of Naval chief was given a go by.
After the resignation of Admiral Joshi and Vice Admiral Shekhar Sinha, the flag officer commander-in-chief of the Western Naval Command was the senior most. As per established norms, he should have become the new navy chief. Predictably, however, he too resigned in protest, claiming being overlooked. The government reportedly overlooked him because quite a few naval accidents happened under his leadership of the Western Command, the reason for which Admiral Joshi had resigned earlier, under "moral grounds".
This logic is dubious, to speak the least. First of all, as the armed forces in India are strictly under civilian control, any moral responsibility for the lapses should have been with the real leaders, which, in this case, was the defence minister. As Railways Minister, Lal Bahadur Shastri once had resigned from the Union Cabinet after an accident; he did not ask the chairman of the Railway Board to quit. But then no Cabinet minister resigns under moral ground anymore.
So, could the government have turned down Admiral Joshi's resignation, something Prime Minister Jawaharlal Nehru had done in the case of General KS Thimayya, who had offered to quit following his souring of relations with the then Defence Minister Krishna Menon? Ships had sunk, aircraft had crashed and soldiers were killed in the past in peace time; but no chief had been punished. Nor for that matter do these mishaps affect the careers of the officers directly in charge, not adversely. So, why should these incidents have gone, first against Admiral Joshi and then Vice-Admiral Sinha?
It is this inconsistency on the part of the government of the day that unnecessarily makes senior military appointments a political issue. All the more so when confidential military matters are selectively leaked to the media from the South Block, as has been the norm in the last few years. See how documents regarding former Army Chief VK Singh's actions in Jammu and Kashmir came to the political domain? There was nothing illegal on the part of VK Singh to launch "hearts and minds" campaigns in Kashmir to promote what he called "stability", and another ex-army chief Shankar Roychowdhury called "sadbhavana". But more importantly, General Singh's actions had the complete approval of the then Defence Minister AK Antony. But Antony did not protest when his colleague, Home Minister Sushil Kumar Shinde, demanded a CBI inquiry against General Singh.
But for these partisan considerations, it's anybody's guess what the government of the day can do about the appointments. I, personally, do not believe the principle of seniority is a must in determining a service chief. When in December 2011, US President Barak Obama nominated General Martin Dempsey as Chairman of the Joint Chiefs of Staff, in place of Admiral Michael Glenn Mullen, he hadn't even completed one year of his four-year term that had begun in April. In fact, Obama picked him as Admiral Mullen's successor just one month after making him Army Chief. Besides, he was not the senior most four-star officer in the US when his new job was announced.
Now, could General Dempsey have achieved the top military position in India, had he been an Indian officer? Our system, and factors such as age and political considerations play a more decisive role in an officer's career than his competence. I think India needs competent service chiefs irrespective of age. And when one talks of age, I do not necessarily buy the logic that one should give positions to those who are relatively young on a platter. General Martin Dempsey may have been young, but then the fact also remains that the United States recalled General Douglas MacArthur back to active duty three years after he had retired as the Chief of the US Army Staff in 1938. General Peter Jan Schoomaker, who had retired in December 2000, was recalled to head the US Army in August 2003. The point to be reiterated is that it is ability that alone should matter.
India is one of the few democratic countries in this part of the world where the armed forces are strictly under civilian control. We should be proud of our armed forces that they have always treated the principle of civilian control as sacrosanct. It is therefore unfortunate to see the appointments of the chiefs of our military services becoming partisan issues with political overtones.
Explainers
Experts say SVB's failure is likely to affect Indian start-ups in the short term when it comes to funding and making payroll. A major impact of the 'contagion' on Indian banks or the banking system is unlikely
Explainers
Iwao Hakamada was in 1966 accused of robbing and murdering his employer and his wife and children. The 87-year-old, who spent nearly 50 years on death row, was released from prison in 2014 after a court ruled investigators could have planted evidence. Now, the high court has ordered a new trial
Explainers
A native of Zhejiang province, the 63-year-old Li Qiang is an acolyte of Xi Jinping. Qiang is the former party chief of Shanghai and his elevation was earlier in doubt over his handling of the two month-lockdown in the financial hub last year