From truck driver to Bhindranwale 2.0 - ISI hand behind Amritpal Singh
Amritpal's dreams became ambitious at every step after his return from Dubai in 2022 and he started dabbling with the affairs of 'Waris Panjab De', an organisation formed by actor Deep Sidhu. The actor died in February last year
New Delhi: From driving a truck on Dubai roads to attempting to help Pakistan's ISI in its bid to revive terrorism in Punjab, Amritpal Singh turned himself quickly from a preacher to a fervent 'Khalistan' supporter.
Amritpal's dreams became ambitious at every step after his return from Dubai in 2022 and he started dabbling with the affairs of 'Waris Panjab De', an organisation formed by actor Deep Sidhu. The actor died in February last year.
From openly demanding Punjab's secession from India and threatening Union Home Minister Amit Shah and Punjab Chief Minister Bagwant Singh Mann, the radical Sikh preacher has had no qualms in him being termed as 'Bhindranwale 2.0'.
The misplaced sense of victory in February 2022 when he forced Punjab Police to release one of his close aides arrested in a Kidnapping case acted like a catalyst for Amritpal who went on to openly challenge the Constitution as well as the office bearers including the Home Minister.
Be it his rally at Tarn Taran this year's Republic Day or his media interviews, Amritpal has openly supported separatism and the formation of Khalistan.
He incited the Sikh youths to go for an armed rebellion against the democratically elected governments and rise against the supposedly discriminatory treatment to achieve the "ultimate goal" of the formation of 'Khalistan', officials said.
During a function at Rode in Moga district, Singh had said that governments run by non-Sikh have no right to rule over the people of Punjab and that the people of Punjab must be ruled only by Sikhs.
Amritpal styles himself after terrorist Jarnail Singh Bhindranwale, a cult leader, who was killed during Operation Blue Star in 1984, by copying his attire and mannerisms. Just like Bhindranwale, Amritpal too carries an arrow and keeps a battery of armed bodyguards with him, taking cover behind the shield of religion.
Amritpal, who is at present on the run, is also alleged to have links with Lakhbir Singh Rode, the head of the International Sikh Youth Federation and sought for trial in India in cases of arms smuggling (including RDX explosive), conspiracy to attack government leaders in New Delhi, and spreading hate in Punjab.
Officials who have been tracking his movements said that Amritpal during his stay in Dubai was in close touch with Rode's brother Jaswant.
Having made his comeback to Punjab at the behest of ISI, he took the help of Amrit Sanchar to set up his organisation. Later he launched a campaign called 'Khalsa Waheer' and strengthened his organisation by going to the villages, they said.
Amritpal stirred up issues close to people of Punjab, incited them in the name of religion, and started turning the Sikhs against the government. "The lower strata of society and aimless youth became an easy target of Singh and he started exploiting the sentiments in the name of religion," a source said.
In the name of organising Amritpan ceremonies to baptise Sikh youth and connect them with religion, his attempt was to make an army of disenchanted youth who were ready to take on the state, officials alleged.
Amritpal has been seen to have shown little regard for the sanctity of places like a gurdwara, they said, adding, his so-called army vandalised two gurdwaras just for keeping some furniture for the elderly and disabled people to sit.
According to officials, his main aim has been to push Punjab towards the dark decades of militancy, which was overcome with a lot of bloodshed.
Officials claimed that 'Waris Punjab De', the organisation headed by Amritpal, was getting funds from Pakistan.
They said Amritpal took over the accounts of 'Waris Punjab De', an organisation set up by singer-activist Deep Sidhu, with the help of his uncle Harjit Singh and made it a family-run group.
They said the so-called preacher had used Shri Guru Granth Sahib Ji all along his February agitation for his personal interests.
The act was condemned by the entire Sikh community and an investigation was ordered into the matter by Shri Akal Takht Sahib.
Officials alleged that Amritpal also went to Jathedar Akal Takht and threatened him to remain silent.
Amritpal had earlier in a statement said that the Ajnala incident is "not violence" and threatened to unleash "real violence" in the future.
Read all the Latest News, Trending News, Cricket News, Bollywood News,
India News and Entertainment News here. Follow us on Facebook, Twitter and Instagram.
also read
India
The historic inauguration of new Parliament building was marked with the installation of the 'sengol'. The gold-plated ceremonial sceptre was made by the well-known Vummidi Bangaru Chetty family of jewellers in 1947 to symbolise the 'transfer of power from the British' to India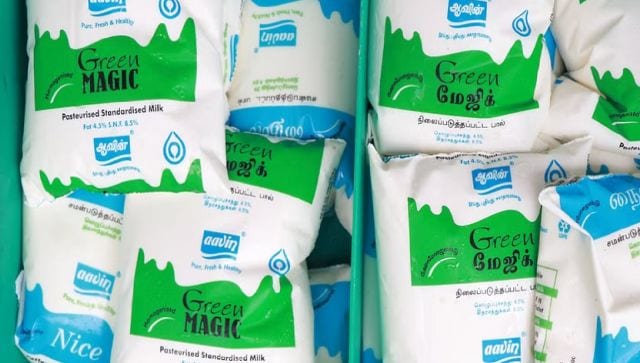 India
It was Amul vs Nandini in Karnataka last month, as the Gujarat firm's announcement to enter the fresh dairy market in Bengaluru triggered a political storm. Now there are similar concerns in Tamil Nadu with CM Stalin saying that Amul is infringing on Aavin
India
Amit Shah announced reintroduction of Sengol (scepter) a 'historical' symbol of India's Independence as it signifies the transfer of power from the British to Indians