Fort Kochi and Mattancherry journal, Part 7: Once-thriving Jewish settlement now bears a deserted look
The Paradeshi Synagogue at Jew Street in Mattancherry has been one of the biggest attraction of tourists visiting Kochi. But there are only five Jews left in Jew Town today.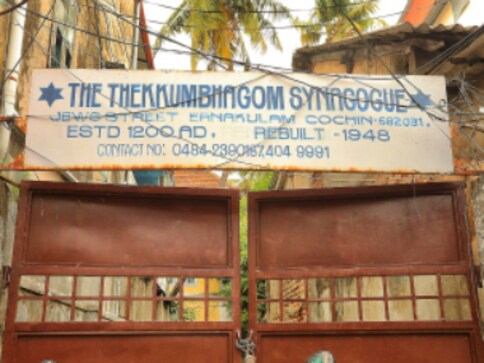 Editor's Note: Fort Kochi and Mattancherry, 10 kilometres to the west of Ernakulam, were once bustling commercial hubs till the late 20th Century. Today, the various ethnic communities that had made this place home are struggling to stay relevant, trying to keep their businesses and traditions. In this multi-part series, Firstpost looks at these communities and their place in the history of Mattancherry. This is the seventh part of the series. 
The Paradeshi Synagogue at Jew Street in Mattancherry has been one of the biggest attraction of tourists visiting Kochi. But there are only five Jews left in Jew Town today. They belong to four families. Except for a woman in her 40s, others are mostly senior citizens.
The oldest among them is 95-year-old Sarah Cohen, who runs a small souvenir shop — Sarah's Hand Embroidery — in her house located close to the synagogue. Many visit the shop not to buy "Sarah Aunty's" embroidery work but to talk about the community. But the other members of the community seldom mingle with the local residents or interact with outsiders.
Cohen's caretaker, Thaha Ibrahim, obliges the inquisitive visitors with a brief history of the community whenever he is free. Ibrahim, who runs the business now, told Firstpost that the Jew Town was a thriving Jewish settlement until 1950s when the Jews started returning to their homeland (Aliyah) following creation of the State of Israel.
There were 250 Jews in the settlement then. The Jews lived in stone plastered houses on both sides of the Synagogue Lane. Many of these houses now remain empty or are rented by the Kashmiris.
There are different versions about the origin of Jews in Kerala. A study of three distinct communities of Jews in India spearheaded by Orpa Slapak speak about one set of records that say Jews had sailed to south India on the ship of King Solomon (970-928 BCE), and another set saying that they came at the time of the Assyrian exile of 722 BCE.
The study entitled Jews of India-A Story of Three Communities also mention records that trace their origin to the Babylonian exile in 586 BCE, destruction of Second Temple in 70 CE and a fourth Century migration from Majorca. The study said that most of these stories revolved around the existence of Jewish community at Cranganore (today called Kodungalloor).
The Cochin Jews believe that their ancestors first arrived in Cranganore, 47 kilometres north of Cochin, in the first Century CE. The Jews called Cranganore "Shingly" then. They cite two copper plates written in the ancient language of Vatta Eratha — a mix of Tamil and Malayalam — to support their claim.
The plates stored in the Paradeshi Synagogue at Mattancherry lists rights and privileges believed to have been granted by 4th Century Hindu ruler of Malabar, Bhaskara Ravi Varma, to a Jew named Joseph Rabban.
According to one account, the Jews left their ancient home in Shingly after a flood in 1341 silted up Kodungalloor and opened a new harbour in Cochin. While one group reached Ernakulam and settled down in the busy market area, the other made Cochin (Mattancherry) their home.
Another account says that the Jews had fled Kodungalloor in 1154 following persecution by Moors, who tried to take control of their spice trade after aligning with the local rulers. Records also refer to a second persecution of Jews by Moors in 1524 and later by Portuguese during the mid-16th Century.
There was a new wave of migration of Jews from Spain, Portugal, Iraq, Persia, Yemen and Germany to Kerala in the early 16th century. They fled their homelands following persecution and expulsions. The descendants of the new comers were known as "White Jews", who looked down upon these who preceded them.
The new comers, who are called Paradesis (foreigners in Malayalam), called those who were present in the state when they arrived as 'Black' Jews or 'Malabari' Jews. The two groups prayed in separate synagogues and were not allowed to eat meat slaughtered by the other or to marry from the other group.
Though the two have been forced to come together now in order to ensure the quorum (10 males) needed for Sabbath and for holding prayers on festivals and special occasions, the unity has come too late to serve the purpose. Most Jews in the state have left after they started making their Aliyah after the creation of Israel.
Only 26 Jews are now left in the state — five Paradeshi Jews in the Jew Town and 23 Malabari Jews scattered in Ernakulam — according to Eliaz Josephai, 60, who is the prominent Malabari Jew living in Kerala now. Josephai, who is called Babu, said he was forced to remain in the state as he did not want an important synagogue to turn into ruins.
Babu is guarding a centuries-old synagogue situated in the centre of the busy Market Road in Ernakulam. The synagogue called Kadavumbhagam Synagogue, which is believed to have been built in 1200, is a replica of one of the first synagogues built at Kodungallor in 72 BC, says Josephai.
"Kerala had eight synagogues. Barring two, all others have vanished. I will preserve them as long as I am alive. The synagogue will tell the story of about 2,000 Jews who lived happily and peacefully here until the early 1950s," Babu told Firstpost.
The synagogue does not serve any spiritual purpose as the community seldom gets 10 males to form the quorum for Sabbath. Kadavumbhagam synagogue had a Sabbath after 44 years in February last year when a group of Jews from Europe visited Kerala. It is expected to have another one in September this year when Babu's brother will bring a 40-member group from Israel.
Babu, who has shifted his aquarium and plant business to a part of the synagogue as part of his efforts to preserve it, is renovating the prayer hall with money from his pocket for the next Sabbath. Babu said he was thinking of returning to Israel after renovating the building totally. All his family members, including his eldest daughter have already gone to Israel. His second daughter, who is now studying in Mumbai, is all set to go.
Babu's wife Ofra said she also likes to be with her daughters. "We have made several attempts to go to Israel in the last few years. But something has held us back always. We leave it go the God. If he wills we will go," Ofra said.
"My plan is to go after handing over the synagogue to someone who will preserve it. I have drawn up a plan to completely renovate the structure without destroying its original features. It will take five years as I have to raise money from my own pocket. Neither the Cochini Jews nor the Israel government is interested in preserving the important historical monument," Babu said.
Ironically, the authorities are showing more interest on Paradeshi Synagogue at Jew Town in Mattancherry. Although it was built at a much later date in 1568, it may have grabbed the attention may be because it stood at the centre of the tourist hub. The synagogue receives several thousands of tourists from all over the world.
Another reason could be the divisions among the Jews based on colour. Edna Fernandez, an author on religion, said the Paradeshi Jews consider themselves superior and do not mix with the Black Jews even now. She argues in her book The Last Jews of Kerala: The Two Thousand Year History of India's Forgotten Jewish Community that this could be one of the reasons for the extinction of the community in India. 
Historians believe that the community may become history soon as there are very few Jewish women with child bearing potential left in the state. The lineage of the Paradesi Jews may end with the return of Yaheh Hallegua, who has no children, to Isreal. The 42-year-old woman is among the five Jews left at Mattancherry. Babu said Yaheh, who is controlling the visitors at Paradeshi Synagogue now, was planning to make the Aliyah in a couple of months.
Writer Bonny Thomas believes that the era of Malabari Jews at the Jew Street in Ernakulam may end when Babu finally decides to call it a day. "He has withstood big pressures to make Aliyah so far. But I don't think he will be able to resist the temptation particularly after the migration of his two daughters to Israel," Thomas said.
The complete disappearance of the Jews, who have left their imprint in the state's society and culture, will mark the end of a chapter in the annals of Kerala's history. Thomas said that the Jews in Kerala had enjoyed a harmony that was rare in their history. They lived in peaceable accord with neighbours. The rulers protected them when Moors and Portuguese persecuted them. They have gave them land and opportunities to flourish.
However, the state can feel proud that the Cochini Jews who have settled down in Israel are trying to keep alive some of their Kerala traditions. Meydad Eliyahu, a descendant of Malabari Jews settled in Israel, presented the lives Cochini Jews in Israel in a collateral exhibition of Kochi-Muziris Biennale last year.
The exhibition containing hundreds of photographs, documents and letters showed that the Cochini Jews in Israel were trying to follow Kerala traditions in liturgy, cuisine and even dress. He said that the Cochini Jews used to get together in celebrating some Kerala events.
The 33-year-old artist told The Indian Express that Moshav Nevatim hosted a grand celebration of the 30th anniversary of the Cochin Aliyah in 1984.
He also spoke of a woman, who immigrated to Israel in the 1970s, who teaches Malayalam to a group of young women in Jerusalem. This shows that though the Jews have left Kerala they have not forgotten their roots. Babu said two Jews who had made the Aliyah had returned to Kerala to spend half the year in the state.
Part 1: Century-old settlements fight to retain historical legacy
Part 2: Big retail, local players push entrenched Gujarati trader community towards migration
Part 3: Persecuted for centuries, Konkanis found home in a small plot of land in Kochi
Part 4: Tamils of Dhobi Khana rue at younger generation seeking white collar jobs
Part 5: Kutchi Memons, driven out of their homeland, rebuilt businesses in Kerala
Part 6: Settled in 1990s, Kashmiris of Kerala hope to return to their home state
Find latest and upcoming tech gadgets online on Tech2 Gadgets. Get technology news, gadgets reviews & ratings. Popular gadgets including laptop, tablet and mobile specifications, features, prices, comparison.
World
When she leaves Washington on Wednesday, Melania risks being remembered as the first lady who showed up to Washington late and left early — in every meaningful sense
Lifestyle
From sourcing stock to emphasising sustainability, online businesses dealing in secondhand clothes — or thrifting — have many wrinkles to iron out, moving forward.
World
To Trump, one advisor said, the vice-president had entered 'Sessions territory', referring to Jeff Sessions, the attorney-general who was tortured by the president before being fired