Flamingo watching in Mumbai: Winged visitors arrive for winter date
But nothing could have prepared us for the sight: Lakhs of flamingoes were at a distance of less than 100 metres from us, right here, within city limits
When Firstpost's in-house photographer Sachin Gokhale asked us about tide predictions in Mumbai, we were a bit puzzled. Was he heading for a weekend fishing trip? Obviously not, for the fish recede to deeper waters off the Mumbai coast in the winter, to make way for the migratory flamingoes, which come here between the months of November and March.
But we quickly look up the weather channels and guide him through. And he's ready to go on a flamingo viewing expedition. He's found a fisherman in Bhandup who has launched a new venture named Flamingo Tourism. The nature enthusiasts that we are, we pack our binoculars and telephoto lens and head out to Bhandup.
Rajesh Koli is what Mumbaikars would call a true son of the soil — for the island city originally belonged to these fisherfolk communities. Office goers identify them by the strong smell of fish that envelop Mumbai's local trains every morning.
Rajesh is a humble gentleman, and he guides us patiently through a kaccha road that leads us to the Bhandup Pumping Station, off the Airoli turn on the Eastern Express Highway. Bhandup lies in northeast Mumbai, and the waters here mark the beginning of the Thane Creek.
For the princely sum of 400 rupees, he has promised to show us lakhs of flamingoes, which will all be at a distance of about 100 metres from us. Experienced visitors to the Sewri Jetty, we know what to expect. But nothing could have prepared us for the sight. It was nothing short of a miracle. Lakhs of flamingoes, fluttering, feasting, soaking up the sun.
As we clicked our pictures and shot our videos, we tried to gauge why a fisherman would do this for a living. What could have made him quit his profession and turn to tourism?
Watch the video below and hear him talk about these winged beauties. And head out yourself to the backwaters of Mumbai, for there exists a world unlike any you'd have seen before. White and pink flamingoes, far as the eye can see, a surreal — and shortlived, for the flamingoes will soon leave the city — sight.
Mumbai's backwaters have been the home for both greater and lesser flamingoes for ages now. Sewri Jetty is perhaps the most popular flamingo spotting venue for Mumbaikars. However, there exist smaller spotting sites like the Thane creek. The mouth of the creek or the start point also consists of mud flats, which serve as excellent spots for these flamingoes.
also read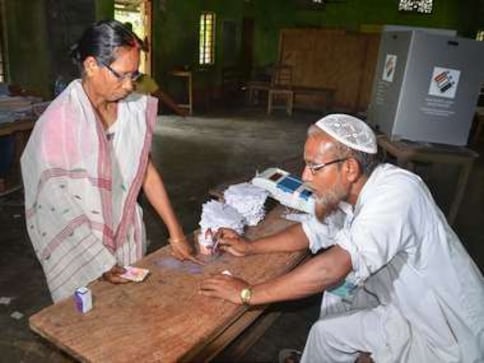 Politics
Bhandup West Assembly Constituency Election Results 2019 Live Updates - Read Bhandup West constituency vidhan sabha chunav latest news, party, constituency, candidate name wise winner, loser, leading, trailing live updates online at Firstpost.com.
Mumbai
The death of three commuters on today's overcrowded railways garnered headlines but is merely another symbol of the malaise that plagues Mumbai's infrastructure that is often commented on but rarely improved.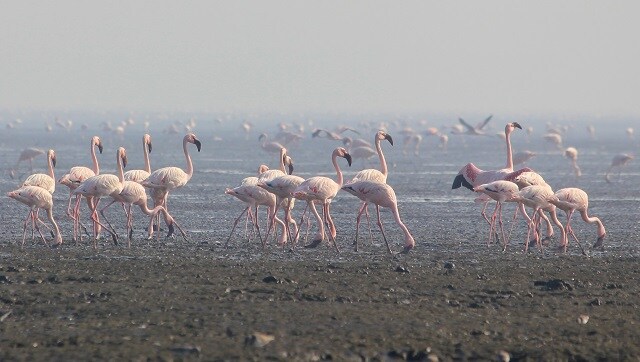 India
In a viral video on social media, a flock of pink flamingos can be seen paddling through a shallow water body. The picturesque sight was seen at Point Calimere Wild Life and Bird Sanctuary in Tamil Nadu's Kodiakarai