Firstpost Investigation: Bengal's 'baby sale' racket saw 10,000 newborns sold in 20 years
Bengal's illegal baby sale has flourished for a little over two decades and has seen a whopping 10,000 babies changing hands due to an ever-increasing demand from plush families in Mumbai and Delhi
Kolkata and North 24 Parganas: Bengal's illegal baby sale has flourished for a little over two decades and has seen a whopping 10,000 babies changing hands due to an ever-increasing demand from plush families in Mumbai and Delhi. Such was the desperation for supplies that at times, newborns were carried to the agents in cardboard boxes (like teddy bears) from hospitals that formed an integral part of these dubious sales, claim cops who busted the scandal last year.
The baby brokers, claim highly-placed sources in Kolkata, were desperate to push sales and were in routine touch with senior government officials in Delhi to help recognise non-government organisations (NGOs) in Kolkata that would facilitate such sales. And it was in one such case that one of the key accused, Chandana Chakraborty, told cops in Kolkata that she accompanied Juhi Chowdhury, a general secretary of the Bengal BJP's women's wing, to Delhi, and that Chowdhury 'perhaps' spoke to the party's national general secretary Kailash Vijayvargiya and Rajya Sabha MP Roopa Ganguly to resolve issues relating to her nursing home.
Chowdhury, arrested from the Nepal border in March, 2017, has been suspended from the BJP.
But Ganguly denied the charges, saying it was a ploy of the Kolkata Police — that she claimed was totally under the control of the ruling Trinamool Congress — to defame her. "They have not produced a shred of evidence, but are trying to push me into the case only because I am from the BJP," Ganguly said in a telephonic interview.
The incident that surfaced in November 2016 shook up the state when evidence emerged detailing how one hospital was selling as many as 65 babies in one month with doctors admitting they have been involved in the trade for decades. Eight months after the case was detected, cops now claim as many as 150 hospitals are involved in this racket. Self-styled doctors operating nursing homes in North 24 Parganas' Maslandapur town, close to the Bangladesh border, have already confessed to the cops that they had smuggled out 40 to 75 babies every month. And that, they had been in this "business" for over 10 years.
"And this was just one hospital. Even if you calculate on the basis of a few more hospitals indulging in such dubious sales and take a very conservative figure of 500 babies a year, the numbers reflect an alarming trend," claimed Arijit Adhikari, a Kolkata-based researcher who has been tracking such sales in parts of eastern India for more than a decade-and-a-half. Adhikari said such sales are rampant in Bengal, Orissa, Bihar and Jharkhand due to high corruption levels in hospitals and primary healthcare centres that lack systems to keep such sordid deals under check.
Adhikari, however, said Bengal should not be singled out for this mess.
"No government hospitals in India, especially in Tier II and Tier III cities, possess foolproof systems. The mechanism to compute data of all newborns is there, computers and all, but at the end of the day, it is a human hand that operates the computer and a human hand that sells a newborn to a rich parent in a distant city," he added.
Last month, Chinmayee Bej, a homemaker, was arrested in Kolkata for stealing a newborn in connivance with a pharmacist who had close relations with nurses in a state-run hospital. The entire operation was brazenly casual and wrapped up in under three minutes. CCTV footage accessed by the cops showed Bej entering the Intensive Care Unit and walking out with the baby in her arms. She confessed to the cops that she had mental problems and had often taken to pushing a pillow under her saree to fake being pregnant. She claimed that she and her husband, Asit Beg, desperately wanted a son to silence constant criticism from her parents in-law.
Ashok Pradhan, a senior Kolkata Police officer, said the case was resolved in three days and the newborn returned to his legitimate parents. "This was theft and not sale, but that it happened right after the big scandal showed hospitals still do not have any foolproof systems in place," added Pradhan in an interview in Kolkata.
"In the case of selling babies, nurses smuggle out babies in connivance with doctors and agents. It's a simple walk in-walk out operation, all (cash) transactions are done beforehand," he noted.
Cases of both private and state-owned hospitals selling abandoned newborns on the black market has haunted India for a long time, with agents convincing unmarried mothers to give birth at the facility and then abandon them. In all cases, doctors connive with agents — current offers range between Rs 150,000 to 250,000 for newborns — and inform pregnant mothers that they delivered a dead child.
Distraught parents do not check if the doctor is lying and in most cases, do not even demand to see the body of the newborn. The system works virtually without any hitches with commissions earmarked for everyone, doctor, nurses, maids and agents. By the time the distressed woman reaches home, her baby — bypassing India's tough adoption laws — has already found new parents.
"Baby brokers are found over India, not just in Bengal. They have flourished because the demand for babies is huge," said Pradhan. Some 3,700 legal adoptions took place in 2015, according to government figures. The demand is 10 times the supply, he claimed.
Ishani K Dutta, a filmmaker, said the trade has flourished because in most hospitals, everything is managed by people and not machine. Delivery of a baby is not a mechanised operation that will be recorded instantly. A person, a man or a woman, writes down details of birth on a piece of paper, and then a computer entry is made. "So you are effectively managing people, you are not seeking a secret password to a supercomputer. Loopholes are everywhere, waiting to be exploited," said Dutta, whose film on surrogacy, Womb On Rent, won her international acclaim.
Cops in Bengal arrested as many as five agents and two top state government officials for being involved in the case. "The agents picked up whatever the doctors offered for sale and also meticulously went about searching for pregnant women, who wanted to abort but instead were convinced to give birth," said Akash Magharia, special superintendent, CID, West Bengal, who probed the case.
As many as 20 doctors — all seasoned professionals — have been arrested for their alleged involvement in the racket. Among them were Dr Dilip Ghosh, a resident of the Salt Lake neighbourhood of Kolkata. Ghosh had been a member of the BJP and fought municipal corporation elections on its ticket. The BJP instantly suspended him from the party. Another doctor, Dr Nityananda Biswas of Behala, a south Kolkata neighbourhood famous for being the home of former Indian cricket captain Sourav Ganguly, was arrested when a victim blamed him in a statement to the cops for stealing their son and selling it to a broker.
Biswas, who confessed to selling as many as 50 newborns, said he always targeted unwed pregnant women who were desperate to get rid of their babies. Boys were priced at Rs 200,000, girls were pegged at Rs 100,000 and fair-skinned children were pegged at a little over Rs 400,000. The doctors used to enjoy a commission of Rs 60,000 to Rs 80,000 from each sale.
Magharia said what he found shocking was that Biswas, who had no medical degree, worked as the head doctor at the Sohan Nursing Home in Baduria.
The racket unfolded when a CID raid on the clinic led to three newborns wrapped in cotton towels in a carton. "He worked like a mafioso," said Magharia of Biswas, who started as a helper but later wore a white apron and carried a stethoscope like a doctor, diagnosing patients and dispensing medicines, even delivering babies. A board at his clinic listed as many as nine degrees to impress villagers.
Locals told Firstpost that the law caught up with Biswas, but he went underground every time cops came calling at his clinic in Thakurnagar. Cops at the Gaighata Police Station said Biswas was arrested twice and even jailed twice in 2005 and 2009 when babies went missing from his clinic. But he was out on bail and resumed his business in a flash, with gullible villagers clueless about his past.
Villagers at the Gaighata block say Biswas flourished because the block's 46 health centres were badly-equipped and had no doctors, yet were meant to cater to two villages and 5,000 people. And so, Biswas and his team had a great run. Nemai Paramanik, a resident of Bora village where Biswas ran his clinic, said Biswas once charged around Rs 3,000 to 4,000 for a delivery and many availed of his facilities because the nearest hospital was far away. "He was known for running an illegal abortion clinic but never suspected he was selling babies," said Pramanik.
Biswas was assisted in his surgeries by one Nazma Bibi, an ayah at the nursing home. Interestingly, Nazma ran her own clinic in Jadurhat, North 24 Parganas. She often carried out illegal abortions and worked closely with Biswas's Sohan Nursing Home. Biswas and Nazma were helped by Utpala Byapari, who owned the Subodh Dutta Welfare Trust, an NGO meant to provide free education to underprivileged children and free medical care to women and children. CID officials in Kolkata said the three worked in tandem and Byapari was the face of the operation to the outside world. Two more people were roped into the racket: Prabhat Sarkar, a clerk with a law degree and Jhantu Biswas, who would visit Kolkata regularly to meet the brokers at bars and restaurants all over the city.
On 21 November, 2016, Nazma's clinic and Biswas's nursing home were raided by the CID. And within two hours, the "gang of five had opened up to us about their racket in great detail," claimed CID officials. As many as 20 persons have been arrested with evidence found against 19 who were named as key accused. Twenty-six persons have been named as witnesses.
Rajesh Kumar, the additional director-general (ADG) of the Bengal Police's CID, said he probed the case for a little over three months. "They were hawking children like vegetables. Their clients were mostly from Delhi and Mumbai. In one case, we found a US-based couple that picked up a child for a whopping Rs 600,000 with all valid documents," said Kumar.
He added that stealing babies and selling them to couples is not uncommon in India, even directly from hospitals where doctors and nurses are sometimes involved in handing them over to criminal syndicates. "It was neither female foeticide nor illegal abortions — which are major problems for us. These live births happening at the hospital never raised any suspicion," Kumar continued.
Prime Minister Narendra Modi's BJP-led NDA government has overhauled the process since coming to power in 2014 in a bid to make it easier and faster, and boost traditionally low official adoption levels. Some 3,000 legal adoptions took place in 2015, according to government figures. "There should be some stricter laws to ban infant-peddling," said Kumar.
He has a bigger fear. The Bengal operations of baby hawkers have slowed down, not stopped. They will certainly shift to another state to start business. And this time, they will, surely. have a new game plan.
India
Residents of Ghoramara and Mousuni are being being moved to safety by the West Bengal government as tidal waters and rainfall pose grave risk to their lives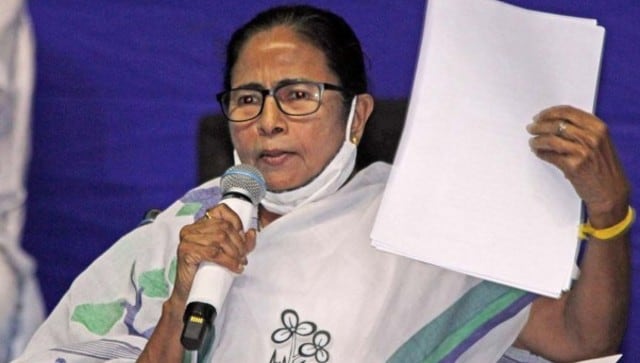 India
In her plea before Calcutta HC, Banerjee accused Adhikari of corrupt practices violating Section 123 of the Representation of the People Act, 1951
Entertainment
"All the stakeholders including the artists' forum have agreed that those vaccinated will only be allowed to take part in the shoot," says Federation of Cine Technicians and Workers of Eastern India president.