Firstpost Editor's Picks: Swami Gopal Das' disappearance, NDA sealing deal with Paswan; today's must-read articles
Firstpost Editor's Picks: Swami Gopal Das disappearance, NDA sealing deal with Paswan, spike in militant deaths in Kashmir; today's must-read articles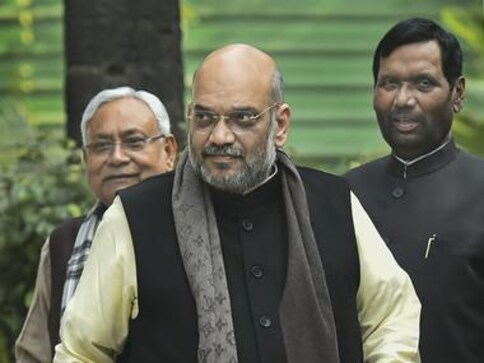 Steady network of informers allowed 70% spike in Jammu and Kashmir militant killings this year
The fight has become so close that an informer knows an overground worker and vice versa. On the streets of South Kashmir, people know who was responsible for whose killing. They also know who is likely to become a militant and why. But it would be a mistake to believe that a militancy-free Kashmir would be possible in 2019. In fact, there are fears that the situation may go from bad to worse. As repression grows and a political solution evades this raging conflict, positions have hardened, and more boys are adopting the path of violence. According to officials, 176 Kashmiri youngsters crossed over to insurgency this year.
NDA scores against mahagathbandhan by sealing deal with Paswan, tells allies BJP is open to accommodate their concerns
The way the BJP leadership treated Ram Vilas Paswan — meeting him immediately after LJP expressed its concerns and then sending a chartered flight to Mumbai to make him and Chirag fly to Delhi for sealing the seat-sharing deal and Shah announcing it in the presence of Nitish Kumar — stands out as an exception. The formula is 17 BJP, 17 JD(U) and 6 LJP (for the 40 Lok Sabha seats from Bihar), as well as a Rajya Sabha seat for Paswan. However, by sacrificing concerns for one or two seats, the BJP leadership has sent a larger message that it is open to accommodate the concerns of the allies, in short, it will not hesitate in taking a step forward if needed to maintain the coalition dharma.
Ganga pollution protest: Bizarre disappearance of Swami Gopal Das from Dehradun hospital puts doubt on govt's intent
Mystery continues to surround the disappearance of  Swami Gopal Das who had been fasting for the last six months to save the Ganga river. He was last seen on the evening of 4 December when he was admitted to the Government Doon Medical College (GDMG) in Dehradun having been brought there from AIIMS Delhi. His aged parents, Shamsher Malik, a farmer from Panipat district and his mother, Shakuntala Devi dismiss outright the district authorities' version that their son left the GDMG hospital voluntarily. Apparently, when he 'disappeared' from GDMG on a December night, he left behind his few belongings including his mobile phone. The two Dehradun policemen who had been assigned the task of keeping an eye on him were not with him at the time when he walked out of the hospital.
Citizenship Amendment Bill: BJP dumps indigenes in Assam in a bid to make Hindu Bengali refugees citizens for poll gains
Although the next Assembly election in West Bengal is not due in the immediate future, the ruling party at the Centre wants to counter the formidable challenge posed by Mamata Banerjee's All India Trinamool Congress. The BJP feels it would be able to make electoral inroads by pandering to a major section of the Bengali voters by invoking sentiments of Bengali linguistic nationalism especially in respect of those Hindu 'refugees' likely to enter India from Bangladesh.
Chandrababu Naidu stares at an uncertain future after TDP's humiliating defeat in Telangana
Andhra Pradesh chief minister Nara Chandrababu Naidu has been left high and dry after the Congress-led Prajakutami bloc, of which his Telugu Desam Party (TDP) is a constituent, was swept away in the Telangana polls by the KCR tsunami. While TRS has announced its plans to play a part in Andhra politics, TDP's rivals — YSR Congress and Jana Sena — have started mocking Naidu's fiasco in Telangana, calling his defeat in the neighbouring state a firm indication of his imminent fall in Andhra polls too.
Kamal Nath wasted no time in getting down to business in Madhya Pradesh, but Digvijaya's help key in path ahead
Ruled out from the chief ministerial race, Digvijaya Singh had thrown his weight behind Kamal Nath during the elections. So, while the move to re-allot the bungalow can be considered a thank you note of sorts, there is another reason: Nath is new to the political ecosystem of Bhopal and has never had any experience of managing Madhya Pradesh, having remained largely confined to his turf in Chindhwara. Digvijaya, on the other hand, knows the workings of the state administration like the back of his palm.
Explainers
The BBC's documentary-- India: The Modi Question-- comes at a critical time, when Lok Sabha elections are just a year ahead. Would the documentary affect the popularity of PM Modi or would he emerge even stronger? Tune in to find out
Opinion
One must admire the audacity of the British establishment which has taken to the most egregious slander against Prime Minister Narendra Modi on the BBC, trying to incite Muslim revolt in India with blatant lies, even as it is negotiating the FTA
India
A letter from the deputy registrar of the Visva Bharati University on Tuesday said the residence of noted economist Amartya Sen has been built on an area that covers extra 13 decimals of land at Santiniketan in the Birbhum district of West Bengal