Militant killings in Jammu and Kashmir this year rose 70%; a steady network of informers allowed spike
Since June, hardly a week has gone by in Jammu and Kashmir without a militant casualty. Till 23 December, at least 247 militants were killed, nearly all of them too poorly trained to understand the intricacies of guerrilla warfare.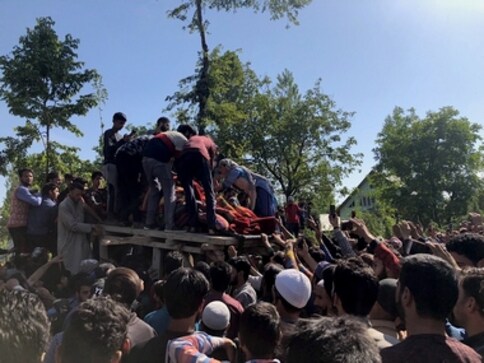 Editors Note: As another turbulent year comes to an end in Jammu and Kashmir, Firstpost will run a series of reports on how the state changed in 2018 and how these changes will translate on the ground. This series will focus on new-age militancy and the changing political landscape in the Valley, as well as the ever-increasing gap between the three regions of Jammu and Kashmir.
***
In the three decades of insurgency in Jammu and Kashmir, never has the unrest been so personal and so dangerously fought as it is today. In the bouts of violence that erupt every now and then in the Valley, only a blurry distinction remains between militants, government forces and protesters. This year, militants were slaughtered like sheep, one after another, and at regular intervals, taking the toll to the highest in a decade.
Most of the militants died in lopsided gunbattles. In 95 percent of the encounters, they failed to inflict any casualty on the security forces. Since June, hardly a week has gone by without a militant casualty. Till 23 December, at least 247 militants were killed — a 70 percent jump from the figure at this time last year — most of them from Kashmir and nearly all of them too poorly trained to understand the intricacies of guerrilla warfare.
Clashes between security forces and protesters also worsened in recent months, pushing the region into a vortex of violence. Sympathisers try hard to give the trapped militants a chance at survival by pelting stones at security forces. Union Minister of State for Home Affairs Hansraj Ahir had said in Parliament that as many as 759 incidents of stone-pelting were reported over the year. These clashes have proved deadly as this year alone, 59 civilians were killed in firing by security forces near encounter sites.
While the civilian casualties has angered people, the killing of militants has become easier over time. For instance, in one case in Shopian, a counterinsurgency police officer climbed up a wooden staircase without any protective gear, pushed his AK-47 through the window of the house and moved his gun around with his finger on the trigger. He continued to fire till the three armed militants inside were killed. Most of these one-sided firefights don't last even an hour.
But it would be a mistake to believe that a militancy-free Kashmir would be possible in 2019. In fact, there are fears that the situation may go from bad to worse. As repression grows and a political solution evades this raging conflict, positions have hardened, and more boys are adopting the path of violence. According to officials, 176 Kashmiri youngsters crossed over to insurgency this year.
As against the claims of officials, Kashmiri youngsters continue to be recruited into militant ranks, which is a cause for worry for the security establishment. In the absence of a political outreach, the sense of alienation among people in Kashmir has only increased. The killings, as a top officer of the Jammu and Kashmir Police, told this reporter, are "not the answer".
"Militants are showing their presence whether by getting killed in encounters or attacking security forces," he said. "The answer is in somehow getting these boys out of the woods and making them understand that violence is not the answer... A proper rehabilitation policy accompanied by political engagement can help in the long run."
As was seen in the early 1990s, a unique phenomenon took place last year, wherein all militant groups — including the Hizbul Mujahideen — designated a commander for nearly every district in Kashmir. Security forces have killed nearly all but three of these commanders: Reyaz Naikoo, the operational chief of the Hizbul Mujahideen, Zeenat ul Islam, another top Hizbul commander, and Zakir Musa, the head of the Al-Qaeda linked Ansar Ghazwat-ul-Hind.
"This is a major achievement for security forces, which became possible because of a strong network of human intelligence. Despite informers being killed, the inflow of intelligence has not stopped at all," the police officer said.
On Saturday, six militants were killed in an orchard in Pulwama's Tral area. The police said this would have been impossible without the facilitation of local informers. "Make no mistake, while there is overwhelming support for militancy, there are also those who are ready to put their neck out and provide intelligence about militants in South Kashmir," the officer emphasised.
A policeman, an army soldier or a paramilitary trooper can only kill a militant if the intelligence provided is reliable, accurate and comes at a suitable time. The staggeringly high number of militants killed would have been impossible if local informers had not provided the information that led to these encounters.
In one case, an army officer based in South Kashmir said a teenage boy who works as an informer had called to say he had seen a stranger in a lane going to his house. When the forces arrived 15 minutes later, they had killed two boys in a graveyard. Militants killed the teenage informer a few days later.
The fight has become so close that an informer knows an overground worker and vice versa. On the streets of South Kashmir, people know who was responsible for whose killing. They also know who is likely to become a militant and why. But the continuing killings have not become a deterrent. Instead, there is a debate on whether militants are killed for the sake of rewards.
As former state finance minister Dr Haseeb Drabu, who has a close perspective on the conflict economy, wrote in a stinging article for The Indian Express, militant killing has become "key axiom on which the state paradigm of tackling militants is built".
"An entire system — formal and informal — has come into being, centred on making money to eliminate militants rather than eliminating militancy... What this entire system does is to institutionalise violence and in the process, also redefine bravery. Not to be left behind, the media contributes to this system through the commercialisation of violence. It is sickening and without sensitivity," Drabu wrote.
India
The encounter broke out between the terrorists and security forces at Kanjiular in Shopian after the personnel launched a cordon and search operation in the area
India
Inspector General of Police (IGP) Kashmir Vijay Kumar said that a total of seven terrorists killed so far - three of them were Pakistanis and four were local terrorists
India
IGP Kashmir Vijay Kumar said that the Jammu and Kashmir police will continue counter terrorism operations in all Kupwara, Pulwama and Kulgam and won't let terrorists deter security forces efforts to bring peace in valley