Failed tubectomies and an ever-expanding population: A common complaint in Uttar Pradesh's hinterland 
Childcare, like contraception, also falls entirely on the woman's shoulders, and Pinki has six children already, while being six months pregnant currently. They subsist on daily wage earnings, she tells us, "How will we afford this? We cannot."
Pinki, a resident of Karhiya village in Banda district of Bundelkhand in Uttar Pradesh, is with child, which also makes her the bearer of bad news. As her husband Ram Milan puts it, "Ab jab doctor hi kaam theek se nahi karte, toh ismein hamari kya kami hai? (Now if the doctors can't do their job properly, why do we have to pay the price? It's not our shortcoming.)"
There might be more than a few things that could be suggested to Ram Milan as the sperm donor, but reporting in the badlands for as long as we have, we know that the subject of family planning is a taboo topic if you're a specimen of the male specie. It's the women's department entirely. Condoms are used by children as playthings here – in what is one of our favourite 'Spot the irony' contests in Bundelkhand, we are often photographing children blowing them up into balloons. As an ASHA worker once told us, "They're distributed free of cost, so…"
And hence Ram Milan is mourning his bad luck, as the husband of the woman who got the raw end of a deal; it makes Pinki part of a sizeable army of impregnated women in the hinterland who are all reeling from one of the big issues plaguing rural maternal healthcare: Nasbandi (tubectomy) fail.
While Ram Milan is more than willing to share details of how the procedure failed –with careful details of tubes that were tied and then untied – Pinki is in a state of semi-shock. Childcare, like contraception, also falls entirely on the woman's shoulders, and Pinki has six children already, while being six months pregnant currently. They subsist on daily wage earnings, she tells us, "How will we afford this? We cannot."
The fact of Pinki facing various other complications for the last one year – experiencing severe pain and discomfort – not even being cited as an issue during our reporting, speaks of the abysmal regard given to women's health in general. We chanced upon these details in the time we spent with her, as she went about her busy day.
The document listing benefits and compensation schemes put into place by the UP health department (see picture) should a tubectomy fail speaks volumes of its own: As one example, if the nasbandi proves to be fatal within 7 days of the operation, the money given as compensation is 2 lakhs. 
In Pinki's case, the rashi would be Rs 50,000, but the couple has not kept documents and/or ultrasound reports that are mandatory to avail of the compensation, so it's a particularly tough case of tough luck. According to Ram Milan, when they went back to the doctor, they were first told it's "just a tumour". Upon insisting that it was indeed a foetus, Ram Milan says they were given shocking advice by a highly exasperated doctor: "Bachchedaani katwa do (Cut off the uterus)."
Dr Santosh Kumar, Chief Medical Officer, Banda, has no hope for Pinki. The procedure was done three years ago and without the proper paperwork, there is little he can do, he says.
It seems that Pinki and Ram Milan have no option but to welcome Child # 7 into this cruel world.
Khabar Lahariya is a women-only network of rural reporters from Bundelkhand.
Explainers
Rahul Gandhi has joined a small 'infamous' club of politicians who have been disqualified as MPs or MLAs after being convicted in a crime. Here's a look at the other prominent names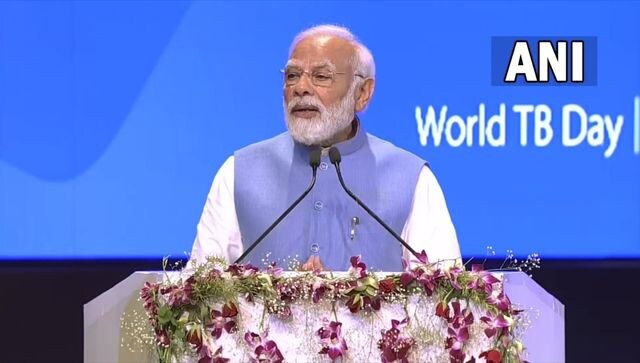 World
2030 is the global target to eradicate TB but India is now working on the target of ending TB by the year 2025: PM Narendra Modi at the 'One World TB Summit' in Varanasi, Uttar Pradesh.