Facebook is working on a stablecoin cryptocurrency for WhatsApp transfers: Report
By their very nature, stablecoins are cryptocurrencies that are meant to minimise the effect of price volatility.
Facebook-owned WhatsApp is one player that is itching to kick off its payments feature, but due to regulatory hurdles in India, that plan is on hold. But parent company Facebook is trying to find a way around that.
According to a report in Bloomberg, Facebook is working on its own cryptocurrency which will assist with transferring money on WhatsApp. The focus will first be the remittances market in India (which is one of the largest in the world), according to sources who are familiar with the matter.
What is meant by a stablecoin?
By their very nature, stablecoins are cryptocurrencies that are meant to minimise the effect of price volatility. In order to do that, the value of the stablecoin is pegged to an existing currency. In this regard, Facebook is expected to peg it to the value of the US dollar.
Nothing concrete is known at the moment apart from the fact that Facebook is working on the strategy which includes a plan for custody assets as well as regular currencies that can be held to ensure the value of the stablecoin remains steady.
WhatsApp being the most popular messaging app in India with around 200 million users, could be a good use case for the stablecoin. According to a World Bank report, India leads the world in remittances and around $69 bn was sent to India via remittances in 2017.
Some of the popular stablecoins include Tether, Dai, True USD among others.
If Facebook launches the stablecoin they are reportedly building, it will quickly become the most used product in crypto.

WhatsApp has over 200,000,000 users in India alone.

The Indian government has been fighting crypto too so things are about to get very, very interesting...

— Pomp 🌪 (@APompliano) December 21, 2018
Facebook's blockchain plans
Facebook has been hiring a small team to explore ways to leverage the blockchain technology. According to the Bloomberg report, around 40 people have been hired for this. The blockchain initiatives at Facebook are also headed by former PayPal president David Marcus who was hired to run Messenger in 2014. According to a company spokesperson, Facebook has a small team which is exploring many different applications with blockchain.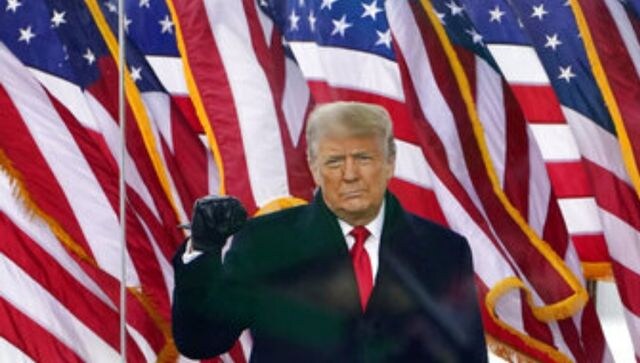 World
Throughout Trump's tenure as president,his use of social media posed a significant challenge to major social media platforms trying to balance the public's need to hear from their elected leaders with worries about misinformation, harassment and incitement of violence
Entertainment
Models Bella Hadid and Kendall Jenner have gone braless several times in support of the movement
World
Former US President Donald Trump's campaign team for 2024's US Presidential polls is trying to get him reinstated on Facebook. Sources close to the campaign said he would also be making his Twitter comeback in a big way.