Ex-Karnataka DGP HT Sangliana receives public ire for comment on 2012 Delhi gangrape victim's mother 'good physique'
A former Karnataka senior cop has found himself surrounded by fresh controversy for his alleged remarks over the physical appearance of Asha Devi, mother of 2012 Delhi gangrape victim Jyoti Singh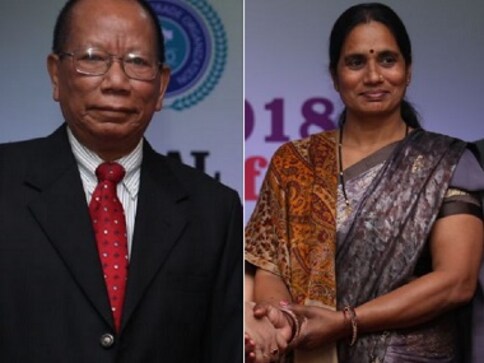 A former Karnataka senior cop has found himself surrounded by fresh controversy for his alleged remarks over the physical appearance of the mother of 2012 gangrape victim Jyoti Singh.
Met Nirbhaya's mother today. She spoke how the society stigmatises rape victims rather than stigmatising the culprits. It's for citizens to play active role in checking crimes against women. Ex MP, retd IPS Sangliana was present I received "Nirbhaya Award" on the occasion. pic.twitter.com/ifjeaBpnf1

— D Roopa IPS (@D_Roopa_IPS) March 9, 2018
Speaking at a ceremony organised to honour women last week, former Karnataka DGP HT Sangliana had allegedly said that he can "imagine how beautiful the gangrape victim would have been" by seeing the "good physique" of her mother Asha Devi.
That, however, was not the only controversial statement that the former Karnataka DGP made at the event. Sangliana reportedly also said, "If you are overpowered, you should surrender, and follow up the case later. That way we can be safe, save life, prevent being killed."
The former Karnataka top cop's insensitive comments have come as a shock to many especially since Sangliana is known as an officer to have always fought against corruption and dishonesty. Following Sangliana's comment, some the guests at the event left in protest, Bangalore Mirror reported.
A 23-year-old medical student, Singh was gruesomely beaten, gang-raped and tortured in a moving bus by six attackers including a juvenile on 16 December, 2012 when she was travelling with a friend in New Delhi. The attackers had brutalised Singh with an iron rod and her intestines were pulled out. She succumbed to her injuries 13 days later at a Singapore hospital.
Sangalina's comment, however, is not the only insensitive remark in the six-year-old gangrape incident. Earlier this year, a Kendriya Vidyalaya teacher had blamed Singh for the incident, stating she wouldn't have been gangraped had she not ventured out late in the night.
In 2014, finance minister Arun Jaitley had called the gangrape a "small incident" which cost India "millions of dollars in terms of lower tourism". Jaitley later expressed regret that his statement was construed "as insensitive" but that was never his intention.
Opinion
Bharat Jodo Yatra cannot bring electoral gains for the Congress unless its scion comes clean on the party's stand on radical Islam
India
A two judge bench of the apex court had on October 13, last year delivered opposing verdicts in the hijab controversy, and urged the Chief Justice to constitute an appropriate bench to adjudicate the case that stemmed from a ban on wearing of Islamic head covering in Karnataka schools
First Cricket News
Mayank Agarwal hit four boundaries and three sixes in his unbeaten 87 as Karnataka finished the day at 137 for 2, still trailing Kerala by 205 runs.