Dineshwar Sharma is Centre's interlocutor in Kashmir: Ex-IB chief is 'quiet, bright and savvy'
On Monday, Home minister Rajnath Singh said former Intelligence Bureau (IB) chief Dineshwar Sharma will be appointed as India's representative to hold a 'sustained dialogue' with Kashmir
On Monday, Home minister Rajnath Singh said former Intelligence Bureau (IB) chief Dineshwar Sharma will be appointed as India's representative to hold a 'sustained dialogue' with Kashmir.
Singh said that Sharma's position would be equivalent to that of a Cabinet secretary.
Rank of former IB Director Dineshwar Sharma will be equivalent to that of a Cabinet Secy: HM Rajnath Singh pic.twitter.com/9QKsoQSPBo

— ANI (@ANI) October 23, 2017
On the issue of holding dialogue with the Hurriyat, CNN-News 18 quoted Singh as: ""He (Sharma) will have full rights to decide his course of action and talk to whoever he wants to."
Asked whether he would talk to separatist groups in the Valley, Sharma said, "The modalities are being worked out but I would like to talk to everyone who is interested in bringing permanent peace in the Valley."
"Let me make it clear that peace is the priority and for that my doors will be open to everyone," he added.
"For a substantive dialogue, I will need to talk to everybody,'' Sharma told Hindustan Times minutes after the announcement was made public.
The report says that Sharma was known to have "had a meeting with national security advisor Ajit Doval and the Home minister a few hours before the formal announcement."
"Peace must be restored in Kashmir and for that I will talk to all people in an effort to bring about a solution,'' he added, as quoted by Hindustan Times.
The article further stated that the newly-appointed representative might visit Kashmir within a week. Multiple government sources have confirmed that significant work has already been done.
"It's like homecoming for me. I am sure that I will be able to fulfil the expectations of the government and people of the country," Sharma told PTI.
Kashmir has been a running thread through his career. After his return from the Valley in 1994, Sharma was again posted at the Kashmir desk in the national capital. "The times were tough and I hope that now we will together bring peace in the Valley," he said.
CNN-News 18 further mentions that Sharma was made the interlocutor for peace talks with insurgent groups in Assam in June 2017.
According to PTI, Sharma held peace negotiations with pro-talks factions of the ULFA, National Democratic Front of Bodoland (NDFB) and a few other small groups based in Assam.
Financial Express reported that the Bihar-born officer has "served at a wide variety of command & staff positions in various police, paramilitary and intelligence agencies."
A Kerala batch IPS officer, Sharma took over from Syed Ibrahim as the IB chief on 31 December, 2014. Sharma was posted as assistant director between 1992 to 1994.
Sharma then served as the chief of IB till December 2016. He reportedly refused an extension offer at the end of the fixed two-year tenure, as reported by CNN-News 18.
The news channel further stated that Sharma is known to keep a very low profile. Further, he is known for his policy of reforming potential Islamic State recruits, instead of arresting them.
Sharma has attended training sessions on intelligence work and policing methods in Germany, Poland, Israel and South Korea.
Apart from this, he has worked with National Security Adviser (NSA) Ajit Doval during his tenure as IB chief, according to Financial Express.
Among his colleagues, Sharma is known to be "quiet, bright and savvy." "He is well-versed in issues related to terrorism and the entire spectrum of security matters," an IB official was quoted by The Hindu.
With inputs from PTI
India
Lidwina Joseph, a student of Kendriya Vidyalaya at Thrissur, enclosed in her letter a drawing depicting discharge of duties by the apex court where a judge is seen hammering down the coronavirus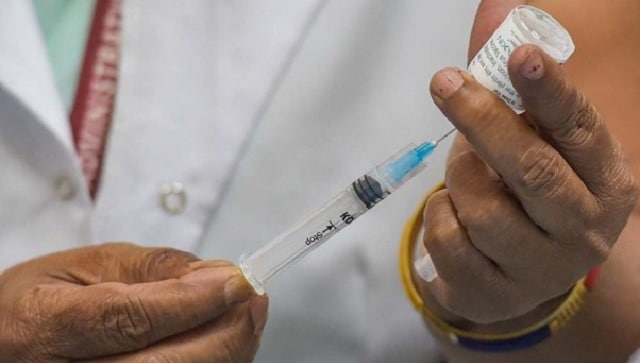 Blogs
While the original plan of 30 crore fully vaccinated individuals by July may extend by a few weeks, the year-end target can be more ambitious
Politics
Prasada's induction will further wear away whatever's left of the Congress and the Gandhis in Uttar Pradesh, even if it does not yield dividends for the BJP