Emerging Balochistan leaders need India's backing: Modi govt must review policy
Over four months after Prime Minister Narendra Modi announced support to freedom-seeking people of Balochistan province in Pakistan, different government agencies remain divided on what to do next
Over four months after Prime Minister Narendra Modi announced support to freedom-seeking people of Balochistan province in Pakistan, different government agencies remain divided on what to do next. Opinion is divided among a section that wants to continue with the old strategy of extending financial support to a few Baloch expats in Europe and among those who seek to back new and younger elements among Baloch separatists.
Differences in approach and a lack of clarity stems from the absence of any blueprint on how India can leverage Baluchistan to pressure Pakistan. Support to Baloch groups fighting against Pakistan government and exposing human rights violations in Balochistan are seen as only two viable options before India. After all, India cannot carry out an overt action in Balochistan.
Fighting for India's favours
Conflicting ideas among agencies and lack of clarity on how to approach the issue has led to some decisions that could have easily been avoided. Modi's announcement led to a sudden demand by exiled Baloch leaders to seek asylum or Indian help to form a government-in-exile, an idea that could have serious consequences for Kashmir.
The repression of Baloch resistance fighters by the Pakistan Army increased in the past 12 years and that triggered a flight of many into exile and in the absence of a single recognised leader or a grouping, there are a host of groups that vie for support in their fight against the Pakistani State.
On 22 September last year, New Delhi received Baloch Republican Party head Brahamdagh Bugti's application for political asylum. Brahamdagh is the founder of the Baloch Republican Party. News of his application saw his cousin Shahzain Bugti declared in Karachi that the Bugtis were Pakistanis and would fight for the country against India. He said their grandfather Nawab Akbar Bugti "was always with Pakistan", reported PTI on 26 September.
A month later, Kabul-based Naela Quadri Baloch landed in Delhi and sought Indian help for a government-in-exile. She was criticised by Brahamdagh Bugti for making a demand for which there was no consensus among the Baloch people.
Most prominent insurgency leader
Of the three groups fighting against the Pakistani state, Baloch Liberation Front (BLF) is the only group whose leader is operating from within the country. The elusive Allah Nazar Baloch, head of BLF has a formidable reputation and Pakistani forces have been on his look out for long.
India has backed Baloch leaders exiled in Europe and the US. But, the new generation of leaders like Allah Nazar must be supported, argue a section of Indian government.
According to Pakistani daily Dawn, Allah Nazar is the most prominent Baloch leader who, "unlike most other separatist leaders does not have a feudal background; he belongs to a middle-class family… is the only leader of the main insurgent groups who is engaged in actual fighting on the ground in Balochistan, contributes to his popularity among the younger Baloch."
In September last year, Reuters secured a filmed interview of Allah Nazar wherein he sought India's help. He said, "We not only wish India should support the Baloch national struggle diplomatically and financially, but the whole world."
A few other insurgent groups are Balochistan Liberation Army, Baloch Liberation Army, United Baloch Army, Lashkar-e-Balochistan, and Baloch Students Organisation-Azad. Many of the leaders of these insurgent groups have been killed in targeted attacks by Pakistani military. Some escaped into exile.
India has reportedly supported exiled Baloch Liberation Army (BLA) leader in exile, Khaibak Maari, for long. Financial support to such leaders has made little tangible difference, argues an intelligence agency officer.
On condition of not sharing his name, he said that a few of these exiled leaders used Indian financial support to pick up expensive cars and homes. That defeats the entire purpose of backing exiles, he remarked.
Focus on Human Rights
On 29 December, Hindustan Times reported that nearly 1,000 bodies of political activists and suspected separatists have been founds in Balochistan province in the past six years.
Most of these bodies were dumped in areas where Balochistan insurgency is on. Rights activists were quoted as saying that discovery of these bodies pointed to large-scale extra-judicial killings.
Interestingly, there was no official reaction from the Indian government to this news report. May be because it was end of the year. But, the Indian government needs to keep focus on reports of human rights violations and share such reports with the outside world. After Modi's Independence Day speech, the Indian envoy to the UN Syed Akbaruddin did comment at length on the state of human rights in Balochistan and it attracted global attention.
Sustained attention needs to be focussed on human rights violations there and Pakistan's dubious record needs to be exposed.
At the mercy of feudal lords
After 1947, tribal leaders and clansmen were co-opted by the Pakistani state and Sardars (tribal leaders) and Waderas (clan leaders) secured major economic payoffs for their loyalty to the ruling elite in Islamabad. While ordinary Balochi people remain subjugated and have the worst human development indicators in the province, Islamabad remains indifferent to their plight. New developments have bypassed the majority and the Gwadar port project and the CPEC that would connect China with the Arabian Sea has become yet another glaring example of a project that will bring no benefit to ordinary people.
In fact, such is the hold of these feudal chiefs that all members of the current Balochistan cabinet are said to be Sardars or Waderas.
Demand for separation from Pakistan is not an idea that is well articulated or even demanded by all groups. Complaints against Islamabad are primarily the failure to develop Balochistan while the state exploited its mineral resources, absence of autonomy and human rights violations. The province has become a safe sanctuary for remnants of Al-Qaeda and Taliban. Mullah Omar's successor, Mullah Mansoor, was staying in Quetta until he was removed in a targeted killing by a US drone over a year ago.
Following the attacks of 11 September in the US, the "terrorism threat" and commitment to the US to fight Taliban became an excuse to set up a chain of army garrisons across mineral-rich Balochistan. The two major Sardar families of Bugtis and Marris suddenly saw a cut in moneys being paid by the government to them as royalties from gas fields. This turnaround by President Pervez Musharraf contributed to a growth in attacks on government assets and the final break with Bugtis took place when Musharraf ordered the assassination of Nawab Bugti along with his two grandsons.
There are reports of rival militant factions killing each other's cadres. And this has given an excuse to Pakistani forces to target people and eliminate Balochis who seek independence and justice from Pakistan's government.
Conclusion
Modi broke from the past and publicly announced India's support to people of Balochistan. Traditionalists were taken aback by such a declaration and condemned it. But, others called it a brave gamble. Keeping the focus light on Pakistan's record of discrimination and violation of human rights in Balochistan is a clever ploy to highlight the underbelly of the Pakistani State. Modi's bold move needs government agencies to review and relook at their old policies and reorient them to back the new generation of Baloch leaders.
Find latest and upcoming tech gadgets online on Tech2 Gadgets. Get technology news, gadgets reviews & ratings. Popular gadgets including laptop, tablet and mobile specifications, features, prices, comparison.
India
The PTI building stands on land leased for pittance by the government, besides it getting a substantial taxpayers' money — over Rs 9 crore annually of its Rs 110 crore-odd revenue from subscriptions and services.
World
Analysts and sector specialists said that the latest move by the Trump government is not expected to have much impact on the Indian tech sector which has a significant presence in the US.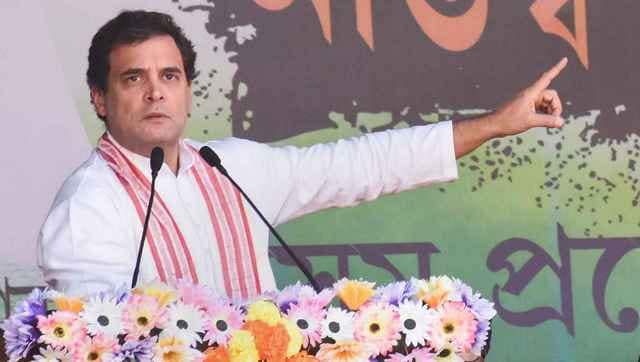 India
Addressing the meeting of the Congress Working Committee, he said there has been a "complete and total failure" of foreign policy under the Modi government.