Drought in the Western Ghats Part 8: Water wars erupt as sources dry up in Andhra Pradesh, Telangana
The last week of April and the first week of May witnessed water wars over the two major reservoirs built on the Krishna river – Srisailam and Nagarjunasagar – with both Andhra Pradesh and Telangana vying for more share even though the reservoirs were at dead storage levels.
Editor's Note: This is the final piece in a multi-part series on the nature of human excesses that have imperilled the fragile ecosystem of the Western Ghats, home to at least 325 globally threatened species of flora and fauna, by United Nations Educational, Scientific and Cultural Organisation's reckoning.
The last week of April and the first week of May witnessed water wars over the two major reservoirs built on the Krishna river – Srisailam and Nagarjunasagar – with both Andhra Pradesh and Telangana vying for more share even though the reservoirs were at dead storage levels.
The Krishna and the Godavari, the two main perennial rivers that irrigate both Telugu speaking states, originate from the Western Ghats and have been reduced to a trickle this summer.
Considering the growing demand for drinking water in both the states, the Krishna River Management Board has ordered release of 9 tmc-feet of water from the "balanced storage" available at the dams. At the Nagarjunasagar reservoir, the present level is 507.5 feet, compared to its full capacity of 590 feet. The dead storage level is 510 feet. At the Srisailam reservoir, the present level is 804.1 feet, compared to its full capacity of 885 feet, and its dead storage level of 800 feet.
The Nagarjunasagar's left canal, which is under Telangana's control, is divided into three zones. While Zone 1 is entirely in Telangana and Zone 3 is entirely in Andhra, Zone 2 runs between the two states. "We are only drawing water for drinking purposes as of now," said S Suneel, chief engineer of the Nagarjunasagar Project for Telangana.
On 2 May, fresh water wars broke out between the two states. Irrigation engineers from both the states resorted to a showdown, including fistfights, over the release of water into the right canal for the drinking water needs of some AP districts.
Andhra engineers accused their Telangana counterparts of using the Special Protection Force (SPF) to scuttle the direction of the Krishna River Management Board (KRMB) for the release of 5.6 tmc-feet of water. The Telangana government is contemplating lodging a fresh complaint with the KRMB over excess release of water from the dam. The Telangana government is unhappy that the board has allocated only 4 tmc-feet for the water needs of Hyderabad city as against a demand of 5 tmc-feet.
In this backdrop, the release of 2 tmc-feet to Andhra Pradesh was contested. N Venkateswara Rao, deputy engineer from the AP Irrigation Department said that executive engineer Jabbar and a host of junior engineers were roughed up by the SPF personnel when they challenged the action of the Telangana engineers. A complaint was lodged against the SPF officials allegedly manhandling the Andhra engineers.
As the wars rage on, inhabitants of the tail-end areas in Krishna district such as Nagayalanka, Avanigadda and Kaikaluru are left high and dry. They are reportedly not entitled to receive the water in view of the Pattiseema Lift Irrigation Scheme launched by the AP government to supply 80 tmc-feet of Godavari water for the Krishna delta. "We don't get either Godavari or Krishna water though we are at the mouth where both rivers merge with the sea," said farmer leader Akkineni Bhavani Prasad.
Gimmicks For Water Scarcity
Both the states are reeling under drought as Krishna and Godavari water has reduced thanks to urbanisation of upper catchment areas, leaving the lower areas parched. Both the state governments have come up with solutions bordering on the absurd in a bid to relieve the water scarcity.
The ruling Telugu Desam Party (TDP) government subsidised the use of 'rain guns' — used to create rain dances in film shooting — to irrigate the standing crops of Anantapur, Prakasam, Srikakulam and Guntur. In Telangana, the ruling Telangana Rashtra Samiti (TRS) government encouraged the deployment of water tankers on a big scale to save the withering standing crops of maize, turmeric and chillies. "We saved 6.7 lakh-acres, including 4 lakh-acres of groundnut in Rayalaseema and 70,000 acres in other parts of coastal Andhra," said AP Chief Minister Chandrababu Naidu.
Following the Karnataka experiment, Telangana Chief Minister K Chandrashekhar Rao (KCR) promoted the concept of water tankers to irrigate fields, as 21 lakh borewells had gone dry and the mega irrigation projects underway in the state — Mission Kakatiya and Mission Bhagiratha – were yet to deliver.
Mobile water tanks were deployed in Karimangar, Warangal, Nizamabad and Medak districts to bring the much needed water for standing crops of maize and chillies of poor farmers holding less than 10 acres of farm land. Local MLAs and MPs drew from their constituency funds and paid the transportation cost. "It cost very little but earned us a lot of goodwill from farmers," said V Prasanth Reddy, MLA of Balakonda in Nizamabad district.
In Warangal and other districts, water from minor tanks and rivulets were used. "In view of last year's disastrous drought which killed crops over several lakhs of acres in Telangana, the government made this arrangement very silently without much ado," said Sri Manohar Reddy Dasari, TRS legislator of Peddapalli in Karimnagar district.
But with groundwater depleting rapidly and despite the heavy rains of September and October last year, paddy farmers have borne the brunt. With crops drying up and withering away, some farmers are simply burning them, while others are selling them as fodder. "Whatever be the (Telangana) government effort, it was just a tip of the iceberg and not even 10-20 percent of the crops have been saved," said TDP working president L Ramana.
The new state has about 55 lakh farm holdings and devoid of any major irrigation infrastructure, agriculture in the state has always been exposed to the vagaries of nature. Scientists at the Professor Jayashankar Agriculture University say about 63 percent of the crop is rain-fed and 84 percent of the irrigated area is catered to through borewells, dug wells and farm-powered motors. "In spite of warning and caution, about 70 percent of farmers opted to cultivate paddy," said Telangana agriculture minister Sri Pocharam.
Farmer leaders have also refuted the claims of government about their 'water tankers'. "Such supply is only in 15-25 percent of the affected areas, only a few areas and a majority of the crops withered in this season," said Sarampallly Malla Reddy, vice-president of the All India Kisan Sabha.
"Almost 42 percent of the crop area had paddy while the North East monsoon (September-October) had wetted only 22-27 percent of the crop area," said Ravi, convenor, Rythu Joint Action Committee, adding that the government had not done enough to ensure farmers opted for alternate crops for the summer.
During the discussion on the 2017-18 Budget in the state Assembly, KCR said Telangana would be drought-free in three years after both Mission Kakatiya and Mission Bhagiratha were completed. Both the projects, costing over Rs 25,000 crores, will include modernisation of 44,000 minor irrigation tanks and laying of 1.26 lakh kilometres of pipelines. "We doubt the talks of completion in three years, in view of allocations and progress of work underway which are inadequate and tardy," said TDP legislator A Revanth Reddy, a critic of KCR.
Drought And Demonetisation Hit Rabi In AP
The rabi crop in AP has also been hit due to drought and demonetisation, alleges secretary of the Federation of Farmers' Associations, C Koti Reddy. He says that a large number of farmers dropped plans to raise crops even in the fertile delta area, because of the cash crunch post-demonetisation which in turn hit the livelihoods of thousands of farm labourers, driving them to migration to nearby Chennai and Bengaluru.
Water storage in Rayalaseema's 28 major and medium irrigation projects, with a combined capacity of 129.09 tmc-feet, is do­wn to 13.18 tmc-feet, or 10.21 percent. Groundwater is literally at rock bottom — 20.52 metres below ground level on average. In Anantapur district, one can find moisture at 26.79 metres, comparable to 30 metres in Ramgarh, on the edge of the Thar desert in Rajasthan. The other three districts of Rayalaseema fare little better — Chittoor is at 21.84 metres, Kadapa at 21.45 metres and Kurnool at 11.9 metres. Ironically the Tungabhadra, another river originating in the Western Ghats, brings water to Kurnool district and this river too has gone dry this year.
A majority of AP's 12,952 irrigation and drinking water tanks have gone dry since March this year. For the first time in years, Mantralayam, the temple town in Kurnool district on the banks of the Tungabhadra, is facing an acute wat­er scarcity. Even pits dug on the riverbed have yielded no water. For the first time, the farmers of Kurnool are migrating to neighbouring Karnataka for work and livelihood and many have sole livestock to slaughter-houses or let them free to bellow their gu­t­­­­­­­­­­­­­­­­­­­­­­­­­­­­­­­­­­­­­­­­­­­­­­­­­­­­­­­­­­­­­­­­­­­­­­­­­­­­­­­­­­­­­­­­­­­­­­­­­­­­­­­­­­­­­­­­­­­­­­­­­­­­­­­­­­­­­­­­­­­­­­­­­­­­­­­­­­­­­­­­­­­­­­­­­­­­­­­­­­­­­­­­­­­­­­­­­­­­­­­­­­­­­­­­­­­­­­­­­­­­­­­­­­­­­­­­­­­­­­­­­­­­­­­­­­­­­­­­­­­­­­­­­­­­­­­­­­­­­­­­­­­­­­­­­­­­­­­­­­­­­­­­­­­­­­­­­­­­­­­­­­­­­­­­­­­­­­­­­­­­­­­­­­­­­­­­­s out on the dry river beds and die.
Part 1:Urbanisation demands see hills sacrificed to whims of mining, industry lobbies
Part 2:How deforestation saved ecologically-sensitive hills in Kerala
Part 3: Ambulance service supplies water to 700 families in Kerala's Kottayam
Part 4: In Kerala's Wayanad, acute water scarcity leading to man-animal conflict
Part 5: Cauvery suffers a slow death as tourism and urbanisation flourish
Part 6:Tamil Nadu's over-dependence on ground water has left it parched
Part 7: Encroachments in elephant corridor lead to human-animal conflicts
Part 8: How one man struggles to help Nallamalla's monkeys survive the summer
Part 9: Man-animal conflicts rise in Andhra Pradesh, Telangana over receding groundwater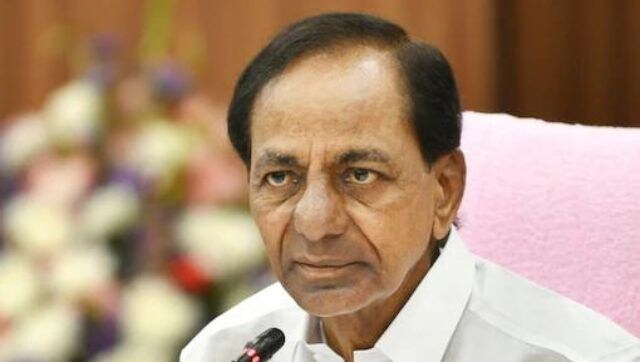 Politics
TRS party's General Body meeting will be held on Dussehra, 5 October at Telangana Bhavan in Hyderabad, an official release from K Chandrashekar Rao's office said on Monday.
Education
It is an objective type paper and the admit cards for the registered candidates will be issued seven days prior to the examination
India
Union Minister of Tourism G Kishan Reddy stated that the NDA government at the Centre has spent nearly Rs 9,494 crore during the past eight years on 12 new major railway projects in Telangana.