Dismay as Muslim law board sticks to regressive instant 'Talaq' over a 3-month process
"At a time when most Muslim nations have abolished the practice of triple talaq, it is strange and ridiculous that India is still following the age-old system," Naved Hamid, chairman of People's Integration Council, told Firstpost.
'Ridiculous', 'unjust ' and 'draconian' – these are the words a section of Muslim scholars and activists summons to describe the practice of uttering triple talaq in a single sitting in the community.
Predictably, the decision of the All India Muslim Personal Law Board (AIMPLB) to reject the suggestion that the talaq process should be made a three-month affair, allowing the person involved enough time to re-think the decision , has not gone down well in this section.
"At a time when most Muslim nations have abolished the practice of triple talaq, it is strange and ridiculous that India is still following the age-old system," Naved Hamid, chairman of People's Integration Council, told Firstpost. This form of talaq is a recognised form of divorce in the contemporary legal regime in India or Muslim Law as administered in the country.
There is discontent, he claimed, even in the AIMPLB on the issue. "It's women members want a debate on triple talaq but they want to discuss it within the board. And therefore, there is no unanimity among them. This strengthens the stand of those who favour triple talaq in one sitting," he said.
He added: "It is amusing that a section of the AIMPLB is raising an illegitimate demand that mutawallis (caretakers) be empowered to sell wakf properties in dispute, but is speaking against the legitimate proposal of abolishing the torturous custom of divorce which is largely being used to victimise women through a process that is devoid ethics, and allows little room arbitration and reconciliation".
Patna-based rights activist Arshad Ajmal feels that triple talaq is playing "havoc" in the society and those who are associated with jurisprudence "must think it over before it is too late". "If they (the clergies) continue to follow the unjust path, they will become irrelevant," he warned.
Known as Talaq-ul-Ahsan, this practice is followed by Ahl-e-Hadith as well. Shias are also of the same opinion, with an addition though. They require two witnesses for the declaration of the divorce and the option of reunion and remarriage remains available even after the expiry of iddah. Triple talaq, also known as Talaq-ul- Biddat, is valid in Sunni schools of jurisprudence only.
Noted activist Zakia Soman, co-founder of the Bharatiya Muslim Mahila Andolan (BMMA), a women's group with presence across 11 states, describes the AIMPLB's position on triple talaq "absolutely regressive" and "not in tune with the religious tenets and Quranic principle of justice where women are equal citizen".
"The self-proclaimed leadership of the Muslim community is highly questionable. If you go by the laws to deal with marriage and divorce across the world, you will find a majority of the Muslim nations have abolished triple talaq. Our clergies who favour this un-Islamic way of divorce follow the medieval mindset and pass it on in the name of religion. They are the biggest danger because they present a distorted picture of our religion to the rest of the world," she told Firstpost.
Referring to a study conducted by her organisation on Muslim women, she says with disappointment that a "majority of 'religious leaders' are resistant to any change and this is the reason that nothing much has changed after the Shah Bano case (which was decided in 1985)".
Her all-India survey - Seeking Justice Within Family - National Study on Muslim Women's Views on Reforms in Muslim Personal Law - conducted on 4,700 Muslim women reveals that a whopping 92 percent of the women want a total ban on oral/unilateral triple talaq, 93 percent favour mandatory arbitration before divorce and 91.7 percent don't want their husbands to have another wife in the subsistence of first marriage.
Interestingly, 95.5 percent (4,499) women have not heard of the AIMPLB, which presents itself as the leader of Muslim opinion in India.
Such opposition has not changed the minds of advocates of orthodoxy though.
Strongly backing AIMPLB, Maulana Anisur Rahman Qasmi, general secretary of Imarat-e-Shariah for Bihar, Jharkhand and Odisha, said Quran and Hadith have given detailed direction about marriage, divorce and inheritance and therefore, Islamic laws cannot be amended to satisfy the collective conscience of the society.
"Like a judge of a court of law cannot say three dismils (a unit used to measure land) is equal to one, the utterance of talaq thrice cannot be considered one. There is a general consensus among all major founders – Imam Abu Hanifa, Imam Malik, Imam Ahmad bin Hambal and Imam Shafai – of four schools of Islamic jurisprudence on the validity of triple talaq. It means when a person pronounces talaq thrice at one go, the divorce will take place. The wife of the man will become haram (totally prohibited) for him. He cannot remarry her unless she marries another person and that person divorces her on valid grounds or she becomes a widow. No husband can be prevented from adopting a valid course," argued Qasmi, who is also an executive member of AIMPLB.
He further said Islamic law gives equal rights to men and women. That notion that women have been oppressed in Islamic laws is "baseless" and only a "propaganda".
Asked does not he feel any need for this shariah law to be debated or amended to prevent its abuse, he said, "First, any debate on the rules framed by Quran and Hadith is un-Islamic and condemnable. Even if it needs a revision or debate, it will only be done by ulemas (religious scholars), not by any Tom, Dick and Harry."
But he preferred to ignore the fact that Imam Ahmad bin Hanbal had later refused to accept the validity of triple divorce after an-depth research of the Quranic position. He came to the conclusion that the utterance of the Arabic word talaq thrice will be treated as one only. Each of the three pronouncements of talaq will be followed by a waiting period of one month or one menstruation period, which is called iddah, so that the couple try to reconcile with the help of mediators from both the sides. If the couple reconciles before the third and final talaq, they can live together. If they fail to do so, then only the divorce will take place.
How did the concept of triple talaq come into existence?
Though Muslim jurists perceive it as a novel innovation in Sharia law, it was not there in the initial two years of the lifetime of Prophet Mohammad, the first Caliph Abu Bakr and also during the early period of second Caliph Umar ibn al-Khattab.
"Triple talaq is the most disapproved of and draconian form of dissolution of Muslim marriage. It was allowed exclusively in some special circumstances. When Arabs had conquered Egypt, Iraq and Syria etc, they found that women of these countries were beautiful and they decided to marry them.
"But these women of Egypt and Syria insisted that they divorce their existing wives with immediate effect by pronouncing talaq in one sitting so that the marriage can take place immediately. The Arabs readily accepted this condition because they knew that in Islam, talaq is pronounced twice between the period of tuhr (purity or the menstruation period) and its repetition at the same time is against Islam. Therefore, it would be void and ineffective," explained Dr Nafees Ahmad, assistant professor, faculty of legal studies, South Asian University, New Delhi.
"This nefarious design was brought to the notice of Caliph Umar. He ruled that pronouncing talaq thrice in one sitting would result in irrevocable dissolution of marriage. But it was an administrative measure to meet an emergency and not meant to be institutionalised as permanent law. Unfortunately, Hanafi (a school of thought in Islamic jurisprudence) jurists declared this ephemeral arrangement of administrative nature as lawful.
Consequently, this form of divorce is continued to enjoy spiritual and temporal legitimacy at one hand and judicial recognition on the other hand in India," Ahmad added.
Referring to the Shamim Ara vs. State of UP (2002) case, Ahmad said the Supreme Court also holds that the Holy Quran stipulates that talaq must be pronounced on cogent plausible and reasonable grounds and prior to thereof spouses must appoint two arbitrators, who would make all efforts for reconciliation and resolution. All efforts having failed, talaq shall come into effect.
"Therefore, it can be rightly inferred that the apex court of the land has duly rejected the triple talaq. Some of the legal provisions with respect to marriage and divorce compiled by the All-India Muslim Personal Law Board (AIMPLB) sharply violate the spirit —and word — of the Quran, he said.
World
Neighboring Muslim-majority Malaysia also eased its restrictions, including last year's ban on taraweeh nighttime prayers and allowing popular open-air bazaars selling food, drinks and clothes to open.
India
The decision of withdrawing the current exam schedule was taken keeping in mind the safety of the students, according to the Public Relations Office of AMU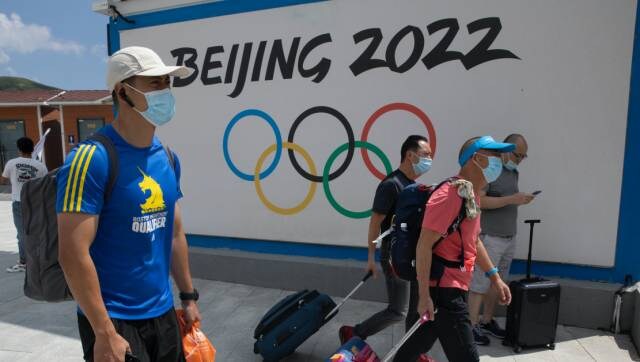 Sports
On Tuesday, State Department spokesman Ned Price was asked if the United States would consider a joint boycott with allies and said it was "something that we certainly wish to discuss."