Delhi's daily COVID-19 cases likely to go down by 4,000-5,000 than 16 January says Satyendar Jain
The health minister said that coronavirus infections in the city have been reducing and Monday will be the fourth straight day when the number of cases will be lesser than the cases reported on the previous day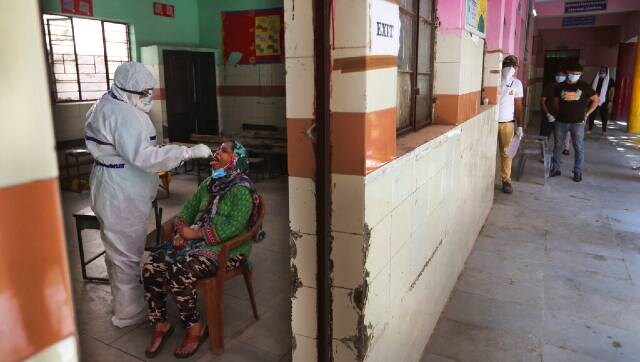 New Delhi: Delhi Health Minister Satyendar Jain on Monday said that the city is likely to witness 4,000-5,000 less COVID-19 cases than the number reported on 16 January, 2022.
He also said the vaccination drive in Delhi completed one year on Monday and a total of 2.85 crore doses have been administered so far.
Jain said that COVID-19 cases in the city have been reducing and Monday will be the fourth straight day when the number of cases will be lesser than the cases reported on the previous day.
Fresh cases today (Monday) are likely to be 4,000-5,000 less than over 18,000 reported yesterday (16 January, 2022). It is expected to be around 13,000-14,000 today, Jain said in a media byte.
On the vaccination drive, he said, "First dose of COVID-19 vaccine has been given to 100 percent of the eligible population in Delhi while both doses have been given to 80 percent of the targeted people. As many as 1.28 lakh precautionary doses have been administered to senior citizens, frontline workers and healthcare workers.
He added that out of 1.28 lakh precautionary doses, nearly 36,000 are administered to senior citizens, 60,000 to frontline workers and 32,000 to healthcare workers.
According to data provided by the health department, the national capital has recorded 18,286 COVID-19-19 cases on 16 January, 2022, with the positivity rate at 27.8 percent. As many as 28 COVID-19 deaths were reported in health bulletin on 16 January, 2022.
Read all the Latest News, Trending News, Cricket News, Bollywood News,
India News and Entertainment News here. Follow us on Facebook, Twitter and Instagram.
India
In an operation, code-named 'Black & White', the Directorate of Revenue Intelligence seized 55 kgs of heroin from an imported cargo consignment, which was declared to contain 'trolley bags'
Sports
The AAP leader and his supporters were arrested after being detained for several hours for taking part in the protest against the demolition drive at the Madanpur Khadar area
India
Through the MCD act, the Centre proposed to appoint a Special officer who will essentially discharge the functions of the elected wing of councilors in the interim till the first meeting of the new corporation is held