Delhi traders' body demands amnesty scheme against sealing drive, urges parties to stay away from politicking
While a large number of wholesale and retail markets remained shut in Delhi, the trade bodies have demanded an amnesty scheme as a preventive measure and protection against the sealing drive.
"No politics please and don't politicise our issue," That is exactly the message the traders of Delhi have given to all political parties, before going on a 48-hour long 'Trade Bandh' in New Delhi.
The Delhi traders who gave a clarion call for a 48-hour-long trade shutdown on 2 and 3 February, have made it clear in as many words that they would not tolerate any kind of politicking and interference by political parties in the matter of ongoing sealing drive by civic bodies in the city on the direction of a Supreme Court-appointed monitoring committee.
The traders want a speedy solution against the ongoing sealing drive rather than Delhi becoming a battleground for political parties, lashing out at each other on the issue.
Civic bodies in north, south and central Delhi have taken action against more than 50 shops in the Defence Colony market on the directions of the apex court-appointed monitoring committee for failing to deposit conversion charges according to Master Plan 2021.
While a large number of wholesale and retail markets remained shut on Friday, the trade bodies have demanded an amnesty scheme as a preventive measure and protection against the sealing drive.
"We don't want that our issue be politicised and it gets lost in the inter-party fighting. Why should AAP-led Delhi government interfere in this sealing drive issue, especially when they can't provide any relief to us?" questioned Praveen Khandelwal, secretary general, Confederation of All India Traders (CAIT).
The CAIT on Friday has made two demands to the government.
The confederation has urged the Centre to announce an amnesty scheme, which would ensure maintaining of a status quo as on 31 December 2017. "There should be a status quo on properties as it was on 31 December 2017 and no sealing activity should take place," said Khandelwal.
Constitute a special task force headed by Lt Governor of Delhi comprising senior officials of the Centre and Delhi government, Delhi police and representatives of traders' groups. It will look into effective implementation of the Master Plan for a better Delhi.
"We've come to know that the Delhi Development Authority (DDA) has extended certain relief measures to traders. Details are awaited. Now, the onus lies on Delhi government to notify 351 roads in Delhi as 'commercial and mix land use'. We want effective implementation of Delhi's Master Plan so that the trade in Delhi — for which it has been known for centuries — doesn't lose its sheen," Khandelwal told Firstpost.'
"The main culprit in the entire episode of sealing drive are the MCD officials, who sidelined the fundamental provisions of the Municipal Corporation of Delhi (MCD) Act 1957 under the guise of an order of the Supreme Court. The central government has gone ahead in resolving the sealing issue, but the Delhi government took no step to notify 351 roads, instead it's into politicking," Khandelwal said.
In a meeting of the DDA held on Friday, changes were proposed in the Master plan, some of which relate to shops-cum-residential plots and complexes, provisions of parking and parking fee, allowing commercial activities in basements, and reducing the penalty charges to two times from 10 times for violation of other terms and conditions of mixed use. However, even as the news broke on Friday, both AAP and the BJP clamoured to claim credit for the move
The sealing drive in Delhi has turned into a battleground for the BJP, AAP and Congress.
Delhi Chief Minister Arvind Kejriwal called a meeting with the BJP leaders, led by Delhi BJP president Manoj Tiwari on 30 January. However, the meeting turned into a fiasco, as the BJP leaders alleged that they were manhandled by the AAP leaders.
Meanwhile, the Congress has extended support to traders' agitation.
"As far as support of Congress is concerned, we welcome it. But, we don't want the Congress party to gain political advantage out of our issue," the secretary general remarked.
According to a large section of traders, the interference by AAP is an attempt to strengthen its political standing, as the party has gradually been facing erosion of its voter base. The AAP is also concerned about the by-election to be held for 20 seats, as its 20 MLAs have been disqualified for holding offices of profit.
"The AAP wants to strengthen its base among business community in Delhi as the party's voter base is fast eroding. A large segment of middle class voters are anyway frustrated with Kejriwal government. Even, the autowallahs, who strongly backed AAP twice, have gone against the party. MCD election is a proof. Despite AAP having 67 MLAs in the Assembly, it's the BJP that won MCD polls in a big way. Now eyeing the bypoll, AAP wants to consolidate its position by playing sympathy card for the traders," a Karol Bagh-based trader told Firstpost on condition of anonymity.
The 48-hour long bandh has begun on Friday, in which more than seven lakh commercial establishments and over 25,00 markets across Delhi have reportedly participated in the shutdown.
"There's no option before us. We've called the shutdown to protest against the continuous sealing in Delhi, which is in utter violation of statutory provisions of the MCD Act, 1957. Almost 25,000 markets will remain closed for two days. The traders will take out protest march against sealing. The ongoing sealing will destroy the trading in the national capital," Khandelwal added.
There will be an estimated loss worth Rs 1800 crore, thereby causing a loss of revenue to the tune of about Rs 150 crore to the government due to the shutdown.
The bandh called by the traders has also impacted students in Delhi. A large number of coaching institutes providing coaching for engineering, medical and other competitive examinations have kept shutters down for two days.
"Because of the hostile situation of the market due to Delhi Trade Bandh, we've postponed the classes and are keeping our institute closed for two days," Vidyanjali, a south Delhi-based coaching institute said.
also read
India
The accused identified as Sahil was arrested by the police from Uttar Pradesh's Bulandshahr, hours after he killed the minor girl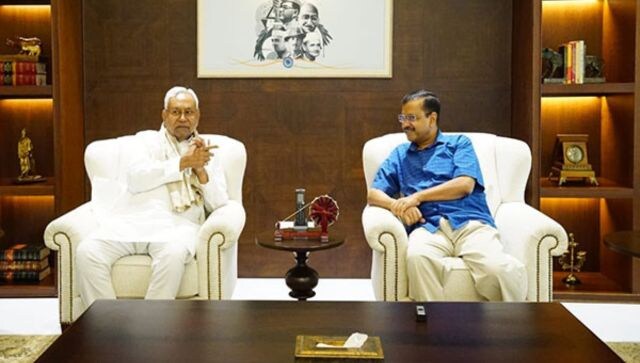 Politics
The Bihar CM discussed the contentious topic of the Delhi vs Centre row on having the capital's sovereignty. He also talked about the Centre's plan to bring about an ordinance to give the control of 'services' back to Delhi's Lieutenant Governor
Politics
The move comes just a day after BJP brought about an ordinance to create a new authority tasked with the transfers and postings of top bureaucrats in the Government of the National Capital Territory of Delhi