Daily Bulletin: Narendra Modi to inaugurate India's longest rail-road bridge in Assam, KCR vouches for federal front; top stories for today
After meeting Mamata, K Chandrasekhar Rao to camp in Delhi to push for federal front, Delhi air quality improves slightly amid ban on industrial work, Bethlehem boasts largest Christmas in years; top stories for today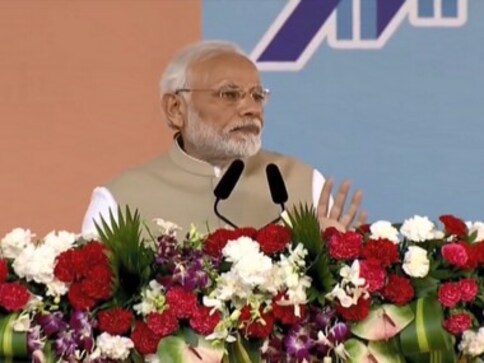 Narendra Modi to inaugurate India's longest rail-road bridge in Assam
Prime Minister Narendra Modi will inaugurate the Bogibeel Bridge, India's longest rail-cum-road connecting the north and south banks of the turbulent Brahmaputra in the eastern parts of Assam, on Christmas Day. The 4.6-kilometre-long structure will be the fourth rail-road bridge on the Brahmaputra river in Assam, the others being the Saraighat Bridge, Naranarayan Setu and the New Saraighat Bridge.
Bogibeel's inauguration comes a year after Modi inaugurated the country's longest bridge, the Dhola-Sadiya, over the Lohit river in 2017.
Former prime minister HD Deve Gowda had laid the foundation stone for the Bogibeel Bridge in January 1997, but work on the project began only in April 2002 when former prime Atal Bihari Vajpayee inaugurated the construction. Today is also the 94th birthday of the former prime minister.
K Chandrashekar Rao to meet Mayawati, Akhilesh Yadav in New Delhi to push for third front
Telangana chief minister and Telangana Rashtra Samithi (TRS) president K Chandrashekar Rao (KCR) will remain in New Delhi today and meet leaders of political parties in a bid to push for a non-Congress non-BJP alternative third front. On Monday, he had met met his West Bengal counterpart Mamata Banerjee in Kolkata and said that they would soon come out with a "concrete (political) plan" while asserting that the dialogue for a federal front will continue. He had also met Odisha chief minister Biju Patnaik in Bhubaneswar to stress on the a "dire need" for unification of regional parties to provide an alternative to the Congress and the BJP ahead of the 2019 general elections. "I can say certainly that there is a dire need for unification of regional parties in the country. We strongly believe that there has to be an alternative to the Congress and the BJP," Rao told reporters after meeting Patnaik.
BJP accused Congress of "duping" farmers in states ruled by it by "not" waiving off their loans as promised and dubbed the party as "anti-farmers". BJP alleges that Congress had promised waiver of all farm debt in the five states of Karnataka, Punjab, Madhya Pradesh, Chhattisgarh and Rajasthan but has now turned back on its promise.
Industrial activities, construction work to remain shut in Delhi today
All industrial activities and construction work will remain suspended today following an order from the Supreme Court-appointed Environment Pollution Control Authority (EPCA). The EPCA had on Monday imposed a three-day ban on all such activities in pollution hotspots across Delhi-NCR in view of the national capital's 'severe' air quality. Delhi is facing its highest pollution level since Diwali. On Monday, 32 areas in the city recorded 'severe' air quality while it was 'very poor' in five areas, the CPCB data showed.
In NCR, Noida recorded the worst air quality with an AQI of 464. Faridabad and Ghaziabad also recorded 'severe' air quality and Gurgaon recorded 'very poor' air quality, the data showed.
The overall PM2.5 level — fine particulate matter in the air with a diameter of less than 2.5 micrometer — was recorded at 407 and the PM10 level at 581 here, the CPCB said.
Rift in Karnataka Congress
In an attempt to pacify its disgruntled MLAs, the Congress seems to have come up with a formula of revaluation and rotation. The Cabinet, which went through a second round of expansion and a rejig last week, will be revaluated after a year leading to the removal of non-performing ministers. This comes amid news of discontent within the ranks and file of the JD(S) and Congress both of which had been postponing the expansion for a long time to steer clear of such controversy. Nonetheless, as HD Kumaraswamy dropped two of his sitting ministers, but signs of discord appeared soon after as former minister Ramesh Jarkiholi hinted that there are other Congress MLAs who may follow him. Seven-time MLA Ramalinga Reddy said, "I am disappointed with the yardstick for certain people. It's not the same for everyone. I've never lobbied for a ministerial post. I will not either. But yes I'm disappointed."
Bethlehem boasts largest Christmas in years; Pope urges Christian community to share more this season 
Pilgrims from around the world flocked to Bethlehem for what was believed to be the biblical West Bank city's largest Christmas celebrations in years. Hundreds of locals and foreign visitors milled in Manger Square as bagpipe-playing Palestinian Scouts paraded past a giant Christmas tree. Crowds flooded the Church of the Nativity, venerated as the traditional site of Jesus's birth, and waited to descend into the ancient grotto. The West Bank has seen a spike in violence in recent weeks, set off by a pair of deadly shootings targeting Israeli soldiers and settlers claimed by the Islamic militant group Hamas. Israel has ratcheted up security at checkpoints as it presses on with its manhunt for suspected Palestinian assailants. However, other visitors seemed unconcerned by recent violence in the area. Palestinian tourism officials and hotel operators have reported their strongest season in years.
Meanwhile, the Pope Francis on Monday assailed the "insatiable greed" of today's consumerism, calling on people in his Christmas homily to make "sharing and giving" more a part of their lives. "Mankind became greedy and voracious," the leader of the world's 1.3 billion Catholics said in an address to thousands of followers in Saint Peter's Basilica in Rome.
Samsung Galaxy S9 to start receiving Android Pie update
South Korean giant Samsung has finally started to roll-out the very first Android 9.0 Pie-based update for its Galaxy S9 and S9 Plus smartphones launched earlier this year. The update is in the form of the brand new OneUI which Samsung had been beta testing for the past month on the Galaxy S9 smartphones. The update is currently rolling out in Germany and a subsequent roll-out globally should follow soon.
Global oil prices sink 6% as economic slowdown fears grip market
Oil prices plunged more than 6 percent to the lowest level in more than a year on Monday, pulling back sharply late in the session as fears of an economic slowdown rattled the market. US crude futures and global benchmark Brent hit their lowest levels since 2017 during the session, putting both benchmarks on track for losses of about 40 percent in the fourth quarter. The fourth-quarter price decline is likely to cause producers to throttle back on their output, said Phil Flynn, an analyst at Price Futures Group in Chicago.
The Organization of the Petroleum Exporting Countries and allies led by Russia agreed this month to cut oil production by 1.2 million barrels per day from January. Should that fail to balance the market, OPEC and its allies will hold an extraordinary meeting, United Arab Emirates Energy Minister Suhail al-Mazrouei said on Sunday.
With inputs from agencies 
World
A massive earthquake jolted large parts of northern India including the Delhi NCR region late on Tuesday evening
India
People in north India including in Delhi and adjoining areas felt earthquake tremors on Tuesday evening with many people coming to open spaces as a precautionary measure
India
Barely twenty hours earlier, a powerful earthquake of 6.8-magnitude had jolted the city late on Tuesday night. The epicentre of last night's earthquake was in Afghanistan's Hindu Kush region, while the depth measured nearly 156 kilometres