CRPF personnel, Chetan Cheeta critically injured in Kashmir encounter; Bipin Rawat visits officer
Cheeta received multiple gunshot injuries in a gunfight with militants in Jammu and Kashmir's Bandipora district on Tuesday.
Union minister Kiren Rijiju has said that the central government will provide all possible help to Chetan Cheeta, the CRPF commanding officer, who got critically injured in the recent encounter with militants in Kashmir.
According to The Indian Express, Rijiju has said that the Centre is committed to providing all possible help to the injured jawan and his family and the best medical facility available is being provided for his treatment. Rijiju was speaking to the press after visiting Cheeta at the hospital
Sh Kiran Rijiju, MOS Home GOI visited AIIMS to meet #ChetanCheeta & apprised by Drs about his health condition; he also consoled Mrs Chetan. pic.twitter.com/rzcKr64vqy

— CRPF (@crpfindia) February 17, 2017
Army Chief Bipin Rawat, on Saturday, also visited the CRPF officer.
Army chief Bipin Rawat at AIIMS Trauma Centre to see Chetan Cheeta, CRPF officer wounded in Bandipora encounter. pic.twitter.com/622eoA3Zrr

— ANI (@ANI_news) February 18, 2017
Cheeta received multiple gunshot injuries in a gunfight with militants in Jammu and Kashmir's Bandipora district on Tuesday. He was later brought to Aiims in Delhi, where he remains to be in a critical condition.
He underwent a surgery on Wednesday to reduce to reduce intracranial pressure — the pressure inside his skull. He was also diagnosed with acidosis, a medical term for increased acidity in blood and other body tissues, according to The Hindustan Times.
According to hospital authorities, Cheeta was in a circulatory shock due to excessive loss of blood when he was brought to the hospital. He continues to be on the ventilator.
Meanwhile, prayers for Cheeta's quick recovery poured in from across the nation. According to a report in Hindi News-18, people offered prayers in Ajmer's Dargah Sharif and temple's across Jaipur for Cheeta's prompt recovery.
Central Reserve Police Force (CRPF) commandant Chetan Cheeta, 45, was initially admitted to a military hospital in Srinagar and later shifted to Aiims critical care unit with multiple wounds on several parts of his body including the head, eyes and stomach.
Aiims Spokesperson Amit Gupta said the officer, a resident of Kota in Rajasthan, was reacting to painful stimuli but his situation remains critical.
"Repeat CT scan showed raised intracranial pressure following which he was taken for surgery immediately... his condition remains critical," Gupta said.
Gupta also said that Cheeta also had bilateral upper limbs fractures.
Cheeta was injured in the gun fight between three suspected Lashkar-e-Taiba militants and a joint team of CRPF, army and Jammu and Kashmir Police on 14 February morning in Parraypora village, located in Bandipora district's Hajin area.
The operation was conducted after security forces got a tip-off about the militants having holed-up in the village. Eight people — seven security personnel and one civilian — were injured in the gunfight.
With inputs from IANS
India
His remarks come at a time when dozens of panic-stricken migrant labourers reached Jammu from the Valley to head to their native places in Bihar, Chhattisgarh and other parts of the country
India
Introduction of domicile certificates, amendments to land ownership rights, and online portal for property-related grievances, specifically for Kashmiri Pandits, have engendered resentment among many sections in Kashmir.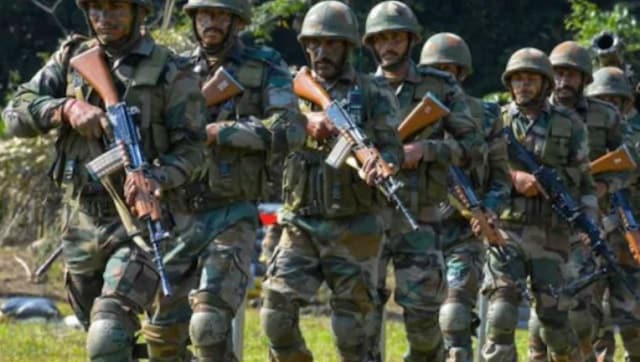 India
There is nothing in the situation that India has not faced before and overcome with resolve and Pakistan's desperation will soon convert into more frustration