CNN-News18 leads English news segment, records 42.7% market share, more than Times Now and Republic TV combined
The latest BARC ratings revealed that CNN-News18 also ruled the prime time segment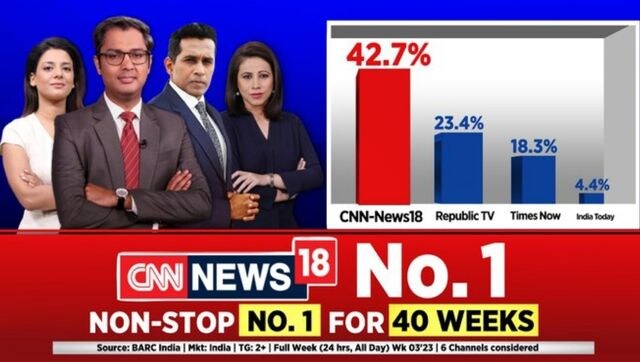 New Delhi: CNN-News18 has surpassed all channels to top the English news segment with a 42.7 per cent market share in the third week of January.
According to a latest data released by the Broadcast Audience Research Council (BARC), CNN-News18's market share was more than the combined figures of Republic TV and Times Now.
CNN-News18 is 133 per cent ahead of Times Now and 83 per cent ahead of Republic TV in the current week vis-a-vis market share in the 24-hour slot (BARC: TG: 2+, India, Wk 03'23, all days).
Republic TV recorded a market share of 23.4 per cent, Times Now recorded 18.3 per cent.
Mirror Now market share was at 11.1 per cent, followed by India Today Television which was at 4.4 per cent.
CNN-News18 rules prime time segment
The BARC data revealed that CNN-News18 also ruled the prime time segment.
As per BARC ratings for the 1800-2300 hours slot (TG: 2+, India, Wk 03'23, all days), CNN-News18 was on top with 123 per cent more market share than Times Now, which was at 39.1 per cent, followed by Republic TV and Times Now with respective market shares of 26.8 per cent and 17.5 per cent.
CNN-News18's viewership has increased steadily because of the added focus on programming, along with broad-basing content to all geographies across the country.
The network has made significant investments in both technical and editorial resources to make sure that CNN-News18's content and presentation remain distinctive and light years ahead of its rivals, CNN-News18 said in a release.
The release further said that News18 brands have experienced tremendous traction on YouTube and social media platforms too.
Disclaimer: CNN-News18 is a part of the Network18 group. Network18 is controlled by Independent Media Trust, of which Reliance Industries is the sole beneficiary.
Read all the Latest News, Trending News, Cricket News, Bollywood News,
India News and Entertainment News here. Follow us on Facebook, Twitter and Instagram.
Business
The most esteemed awards in India are back to honour individuals in the sectors of sports, entertainment, politics, startups, social change, and climate
India
Follow our LIVE updates for the CNN-NEWS18 Indian Of The Year awards, celebrating achievers across business, entertainment, sports and public service