Chetan Bhagat's book in Delhi University syllabus: Does Five Point Someone qualify as good literature?
Chetan Bhagat has reason to be delighted. His book, Five Point Someone, will soon be part of the English literature syllabus in Delhi University in the Popular Fiction category.
Chetan Bhagat has reason to be delighted. His book, Five Point Someone, will soon be part of the English literature syllabus in Delhi University in the Popular Fiction category. His book now shares exalted space with poet Louisa M Alcott's Little Women, Agatha Christie's Murder on the Orient Express and JK Rowling's Harry Potter and the Philosopher's Stone.
However, not many lovers of literature are delighted at the move of the English department. Their question: Does Bhagat's work, this book or any other, qualify as literature?
Well, it's an old debate. Thus go his critics: His work has no class. His prose is insipid. It lacks intellectual profundity and the beauty of imagination. The themes of his books are manipulative, designed to cater to the lowest common denominator. He is the glittering symbol of our dumbed-down times.
His response carries a strong note of disdain for them. My books sell in millions, don't they? Successful movies are made on them. People love them, so what's your problem?. He never stops reminding critics that they are elitists, condescending of everything that is popular.
It's a debate that is unlikely to end soon. The critics can indulge in snobbery, berating his work all the time in their rarefied spaces but Bhagat has an army of trolls and fans to fall back on. It's one dimension of the populist versus elitist discourse of our times.
However, should popularity be the only benchmark for a book to be part of a syllabus in higher education? Bhagat has won terrific reader approval for his work. That itself is a reward. However, even as someone whose literary taste is less evolved, one can assert that Five Point Someone does not render itself to critical literary analysis in terms of language, texture and depth. It's good read, easy on the senses but for students learning to appreciate literature it is not the right choice.
Certainly better choices among Indian writers in English were available. What about Kiran Nagarkar, the man with an extraordinary narrative perspective that makes the commonplace, the mundane and the random so magical?  What about Karan Mahajan (author of The Association of Small Bombs), Akhil Sharma (An Obedient Father) and Anees Salim (Vanity Bagh, Vicks Mango Tree).
Of course, we are not mentioning others big names. This is not to argue that the works of one of these should have been in the Popular Fiction category, but that their unique writing styles render themselves to enlightening study. These books may not have been massively popular the way Bhagat's books are, but they certainly more interesting from the perspective of a literature student.
Can you make a run-of-the-mill masala movie, however successful, a subject of study for students in a film institute? If the basic idea is to make them understand nuances of movies better, a good idea would be to offer them something thought-provoking. The same goes with literature. It is possible the names mentioned above would still be discussed during the course on contemporary Indian literature but worshipping the business success of a book rankles.
Elitist? At some point you run the risk of being categorised as such. But the point here is not to berate the abilities of Chetan Bhagat. The literary elite often forget the importance of a book being read. A literary masterpiece cannot be for the entertainment of an exclusive, microscopic section of the population. It has to be acceptable to a wider universe. This is the case with most great books, great movies and great works of creativity.
But all things popular or successful are not masterpieces or even decent works. The term literature carries a certain gravitas. It should not be messed with. The English department's move does exactly that.
Find latest and upcoming tech gadgets online on Tech2 Gadgets. Get technology news, gadgets reviews & ratings. Popular gadgets including laptop, tablet and mobile specifications, features, prices, comparison.
India
The second merit list will be released by the University on 2 November, while the third merit list will be out on 9 November
India
Students will have to pay a fee of Rs 200 as a processing fee for each question challenged. The payment has to be made through debit card/ credit card/ net banking/ UPI by 22 October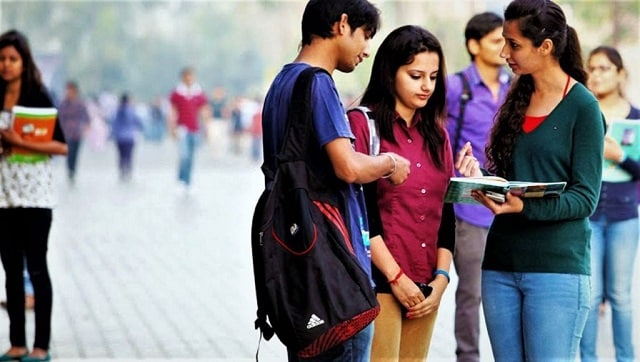 India
DU JAT is conducted for admission to Bachelor of Management Studies, Bachelor of Business Administration (Financial Investment Analysis) and BA (Hons) in Business Economics courses