Celebrate 14 Februrary as 'Cow Hug Day,' says Animal Welfare Board of India
The appeal was issued with the approval of a "competent authority" and "on the direction of the Union ministry of fisheries, animal husbandry and dairying", board officials mentioned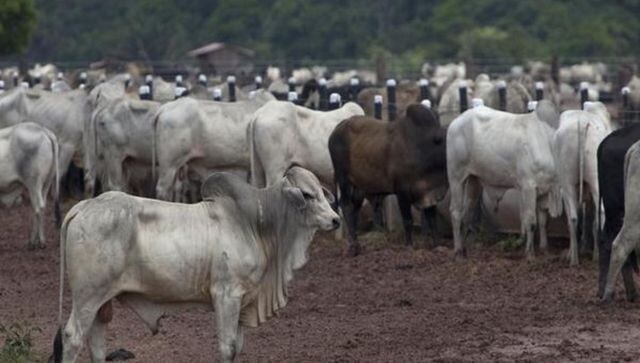 New Delhi: The Animal Welfare Board of India (AWBI) issued a notice on Wednesday appealing people to celebrate 'Cow Hug Day' on 14 February (a day celebrated across the world as Valentine's Day) to spread 'positive energy' and encourage 'collective happiness.'
"Valentine's Day is celebrated on 14 February every year. All cow lovers may celebrate February 14 as Cow Hug Day keeping in mind the importance of mother cow and make life happy and full of positive energy," read the notice issued by the board under the Department of Animal Husbandry and Dairying.
The government advisory board mentioned, that Vedic traditions are almost on the "verge of extinction" due to the "progress of West culture" and that the "dazzle of western civilisation has made our physical culture and heritage almost forgotten", news agency PTI reported.
'Cow, backbone of Indian culture and rural economy'
The advisory board called cow the "backbone of Indian culture and rural economy", adding that the animal represent "cattle wealth and biodiversity."
"It is known as "Kamdhenu" and "Gaumata" because of its nourishing nature like mother, the giver of all providing riches to humanity," the Animal Welfare Board said in a statement.
The appeal was issued with the approval of a "competent authority" and "on the direction of the Union ministry of fisheries, animal husbandry and dairying", board officials mentioned.
'Cow, mother of the world'
The Uttar Pradesh Animal Husbandry Minister Dharampal Singh also urged people to celebrate 'Cow Hug Day', instead of Valentine's Day on 14 February.
"Cow is the mother of the world and it is the only animal in the world whose urine and dung also work as medicine. One can get rid of many diseases with its mere touch, that's why I would also like that people should celebrate Cow Hug Day instead of Valentine's Day on 14th February," the minister mentioned.
Animal Welfare Board of India
The Board, which was established in 1962 in accordance with Section 4 of the Prevention of Cruelty to Animals Act of 1960, offers funds to organisations that promote animal welfare and counsels the Center on related matters. Such an appeal was, however, issued by it for the first time.
With inputs from agencies
Read all the Latest News, Trending News, Cricket News, Bollywood News,
India News and Entertainment News here. Follow us on Facebook, Twitter and Instagram.
India
The Supreme Court on Monday asked an animal rights activist and other organisations to point out to the Central government flaws in its notifications permitting the culling of nilgais, wild boars and rhesus monkeys in Bihar, Uttrakhand and Himachal Pradesh.
India
In a recent letter the AWBI said the entry of visitors need to be immediately restricted to six hours a day for better upkeep of the elephants
India
The Centre on Friday came out with a notification allowing controversial bull taming sport Jallikattu in poll-bound Tamil Nadu following extensive demand for its restoration by political parties in the state.