CBI books ex-chief Amar Pratap Singh: Raids expose hawala deals, tax fraud; throws up a lot of muck
The noose is tightening around former Central Bureau of Investigation (CBI) director Amar Pratap Singh & his man in the trenches, meat exporter Moin Qureshi
The noose is tightening around former Central Bureau of Investigation (CBI) director Amar Pratap Singh and his man in the trenches, Moin Qureshi. The country's premier investigation agency filed an FIR against Singh for allegedly favouring the controversial meat exporter while in office. The leads for the investigation into the graft case originated in London – and in Pune – and included hundreds of taped conversations and confidential Blackberry messages between the two accused.
CBI sleuths, who raided the residences of both Singh and Qureshi in Delhi on Monday and Tuesday, claimed to have gathered incriminating documents on the two. They also found evidence on Qureshi's employees, Aditya Sharma and Pradeep Koneru, owners of the Trimax Group of companies, who used Qureshi to reach out to Singh in order to stall the investigation into the disproportionate assets case against YSR Congress leader YS Jaganmohan Reddy. Koneru's father, Rajendra Prasad Koneru, is the co-accused in the case. Searches were conducted in Delhi, neighbouring Ghaziabad, Chennai and Hyderabad.
Both Singh and Qureshi have already been named in the CBI FIR for partnering up, first as home owner and tenant, and then as business associates, to park cash in global tax havens.
"Both immensely benefitted from each other, and are now trying their best to cover up," former CBI joint director ML Sharma said, whose detailed investigation into the conduct of another CBI director Ranjit Sinha — under the scanner for meeting people at his residence whose companies were being probed by his agency — drew praise from Supreme Court.
The Directorate of Revenue Intelligence, Enforcement Directorate, Income Tax Department and the CBI allege that Qureshi worked as a middleman for Singh, and accepted bribes paid to settle sensitive cases handled by the CBI. "The money trail has been clearly established," Sharma said.
But Singh still claims to be innocent, as he believes he has not done anything wrong. In a brief telephonic conversation, Singh described the raids as a "witch-hunt" and described the message exchange with Qureshi as a "normal conversations with a friend". "I have been an honest officer, I have nothing more to add," said Singh.
But top CBI officials said that they have retrieved evidence from two sets of Blackberry messages, belonging to Singh and Qureshi. One from Singh's tenure as the CBI director, and the other after he left CBI and joined the Union Public Services Commission.
Interestingly, not all of the messages can be retrieved from the Blackberry Messenger Services but the IT officials seem to have cracked the code. Sources said that it was made possible because Singh's Blackberry was connected to a desktop or a laptop, as a result of which, all data from his phone got transferred to the computer's hard disk.
"This and his conversations helped us nail Singh," claimed IT and CBI officials, speaking on conditions of anonymity.
Bulk of the messages exchanged between Singh and Qureshi are already doing the rounds on social media after they were leaked — supposedly by the IT Department — but there are more, claim the CBI officials, including some where Singh's family members have messaged Qureshi, thanking the latter for cash transfers.
Besides conversations about fixing problems for high-profile people in Delhi, there are also some innocuous ones – conversations between Qureshi and Singh's wives; Shabnam, daughter of Congress politician Mohsina Kidwai, seeking help for a number of purchases ranging from expensive Persian carpets, European furniture, French garden umbrellas, to priceless spectacles.
The officials said that they had worked tirelessly for over two years on leads offered way back in 2014, by the British Revenue Intelligence Authority, which had tracked the movement of huge sums of cash from India to Britain via Dubai and France.
The British authorities had initially suspected that the case was one of a terror-funding network, because of Qureshi's religion and the meat exports. Later, claim CBI officials, the British authorities alerted their Indian counterparts by offering details of the transactions with an interesting, cryptic message. It read: "Lot of cash in meat, but check the bones."
The Central Board of Direct Taxes and Directorate of Revenue Intelligence joined the probe, expanding it across India, and beyond its borders to cities like Paris, Dubai and London.
A crucial lead came from Pune, where a person offered loads of details on both the accused. IT and CBI officials found out that the person, who they did not name, actually had decamped with cash that originally belonged to Singh. But the person, whose conversations with Singh were recorded, was eventually questioned and crucial details were obtained about Singh and Qureshi in the case.
Interestingly, the probe against Qureshi had started towards the end of the UPA-2 regime. Qureshi had reportedly reached out to the then finance minister P Chidambaram but got no favours. During the 2014 Lok Sabha election campaign, Narendra Modi had described Qureshi as among the country's biggest hawala traders. Modi had even said that, "tapes (of 350 hours conversations between Qureshi and top ministers, bureaucrats and lobbyists) would put a number of (UPA-2) cabinet ministers and corporate captains to shame."
Qureshi, who had tried his hand in fashion designing, had also funded some Bollywood movies. His daughter, Pernia, acted in Jaanisaar, a film directed by Muzaffar Ali, and was in regular touch with a host of Bollywood actors. The CBI suspects Qureshi of funding Ali, who had put his wife's name, Meera, as a producer of the film. Though the movie tanked, Ali had described Pernia as "a miracle".
The CBI officials are also probing whether Qureshi benefitted from realtor Ponty Chadda's death, in a shootout in November 2012. Both Qureshi and Chadha had shared their network among politicians, and Qureshi allegedly helped Chadda to open up big business operations across Punjab, and also helped the liquor baron and real estate king to pump huge sums of money in Dubai's realty.
Among the houses raided by CBI was the one in South Delhi's Defence Colony neighbourhood which Qureshi had rented from Amar Pratap Singh, and used as his office. Qureshi and his family lived in a 25,000-square-foot home in Delhi's plush Shanti Niketan – home to diplomats and corporate honchos – that was designed by the Paris-based Jean-Louis Deniot, a global interiors' star.
Those who raided the Shanti Niketan home found its rooms full of Empire-style tables, Venetian-glass pendants, gold-leaf mirrors, Italian urns and benches inspired by 18th-century French designs.
Qureshi, who has family roots in Uttar Pradesh's Rampur – famous for scissor knives and home-bred hounds – is now in a tight spot because the CBI has in its possession over 350 hours of his conversations with politicians, trouble-shooters and corporate chieftains, all pertaining to the huge trail of illegal cash movement from India to Europe.
In the first raid, a large amount of cash was recovered from Qureshi's home and from 20 lockers that were in the name of Qureshi's employees. The meat exporter has, claim CBI, still not mentioned the source of the cash, triggering speculations that he was holding cash belonging to politicians and businessmen.
Finance ministry officials allege that Qureshi had evaded taxes to the tune of Rs 157 crore.
Among Qureshi's friends was a senior BJP cabinet minister and a middleman handling cash for politicians. Qureshi was in close touch with former Congress minister Matang Singh, who is currently in jail.
Qureshi sought Singh's help to influence top UPA politicians for getting certain clearances for running lounge services from Terminal 3 at Delhi's international airport through Qureshi's company, India Premier Services Private Limited. But the deal – despite pressure from a top lobbyist in Delhi – could not materialise due to objections raised by the Intelligence Bureau.
CBI officials further claim that Qureshi had not disclosed to the Indian authorities about his residential properties in May Fair London, Sheikh Zayed Road in Dubai, Sollo Building Apartments in New York, Suntec Tower in Singapore, Marina Dubai and Burj Al- Khalifa in Dubai.
Singh, during his CBI tenure stretching from 2010 to 2012, handled some of the hottest potatoes (read cases) like the coal block scandal and the spectrum scandal that sent former cabinet ministers and CEOs to Tihar jail. He was, at one point, an officer on special duty to Jharkhand CM Arjun Munda and accompanied him on all his trips, in India and abroad.
His proximity to Qureshi grew when the latter rented Singh's Defence Colony home and the families bonded well, and even travelled abroad together. Singh, claim officers of the CBI, was instrumental in introducing his successor Ranjit Sinha to Qureshi, who routinely sent specially cooked food to Sinha, then the CBI director. Entries in Sinha's visitors' diary, which was incidentally placed at the gate of his 2, Janpath residence by his wife, showed that Qureshi visited Sinha at least 90 times in 15 months.
Arrests, claim CBI officials, could happen soon. One thing is clear in Delhi, a city perennially high on power and gossip, that the Singh-Qureshi case has definitely put Sinha's case on the back burner.
Only last month, the Supreme Court had directed CBI chief Alok Verma to set up a Special Investigation Team (SIT) to probe charges against Sinha's attempt to influence the coal block allocation scam investigation. Till the SIT is formed, which could be delayed because of the Singh-Qureshi investigation, is seems like a coffee break for those named in Sinha's log book.
also read
Explainers
Invented by French physicist Léon Foucault in the mid-19th Century, the pendulum provided the first laboratory demonstration in history to show that the Earth spins on its axis. The pendulum in the new Parliament is meant to symbolise the 'integration of the idea of India with that of the universe'
Explainers
Overweight people face prejudice from landlords, difficulty finding seating at restaurants and theatres, and are even paid lower wages. The new law, according to New York mayor Eric Adams, will help level the playing field and protect against discrimination'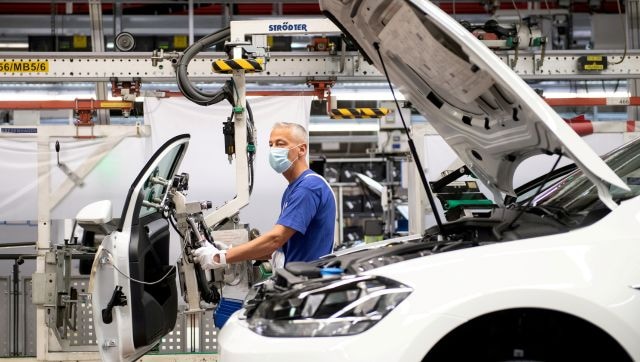 Explainers
Germany's GDP fell .3 per cent in the first quarter of 2023 following a .5 per cent decline in the last quarter of 2022. Though Chancellor Olaf Scholz described the outlook for the economy as 'very good' experts say this is a rude awakening for the country and the entire continent