Byculla jail inmate death: DIG withdraws from probe after her WhatsApp text seeking support for arrested staffers sparks row
With her WhatsApp messages seeking 'support' for six jail staffers arrested in connection with the death of an inmate at Byculla prison going viral
Mumbai: With her WhatsApp messages seeking 'support' for six jail staffers arrested in connection with the death of an inmate at Byculla prison going viral, Maharashtra DIG (Prisons) Swati Sathe has withdrawn herself from the case.
The officer was on Friday relieved by the authorities from conducting the departmental inquiry. The probe has now been handed over to Special Inspector General (Prisons) Rajvardhan Sinha, a senior official said.
Talking to PTI, Bhushan Kumar Upadhyay, Additional Director General of Prisons, said, "After the WhatsApp message episode, DIG Sathe was relieved on her request and the probe handed over to Special Inspector General (Prisons) Rajvardhan Sinha."
"On 2 July, Sathe had posted three messages in the WhatsApp group 'Maharashtra Karagruha', in which she made an appeal to her colleagues in the prisons department to support the arrested staffers, whom she called as 'sisters'," another official said.
As the messages went viral, Sathe was criticised for seeking support for the jail staff who are facing murder charges in connection with the death of Manju Shetye.
According to the official, a letter demanding action against Sathe was sent to Maharashtra Chief Minister Devendra Fadnavis by a former jail superintendent along with the screenshots of her WhatsApp messages.
"This morning, Sathe wrote a letter to Bhushan Kumar Upadhyay, requesting him to relieve her from the inquiry of the prison staff in connection with Manju Shetye's death," the official said.
Sathe was unavailable for comments.
Shetye (45) died at the JJ Hospital on 23 June after being allegedly beaten up by the Byculla jail officials and staff as she "failed" to account for two eggs and five loaves of bread, which were distributed by her to the inmates, police had said.
The police had registered a case of murder against the jail officials. On Saturday, the Crime Branch of Mumbai Police arrested all the six accused Manisha Pokharkar, Wasima Shaikh, Shital Shegokar, Surekha Gulve, Aarti Shingne and Bindu Naikade.
Shetye's death had sparked protests in the prison with over 200 prisoners, including Sheena Bora murder case accused Indrani Mukerjea, being booked for rioting.
Find latest and upcoming tech gadgets online on Tech2 Gadgets. Get technology news, gadgets reviews & ratings. Popular gadgets including laptop, tablet and mobile specifications, features, prices, comparison.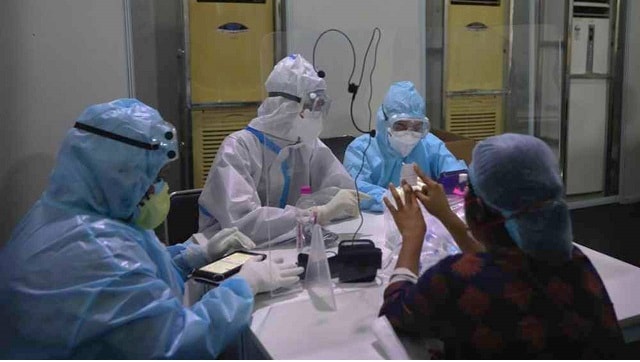 India
Govt officials discussed ways to prevent a possible COVID-19 spread in Maharashtra, by people entering the state from places witnessing a spike in cases
News & Analysis
You can download the third party-themed WhatsApp sticker apps from Play Store.
Politics
The manifesto, released by former Maharashtra chief minister Devendra Fadnavis, said COVID-19 vaccine would be provided to all as per the suggestions of the Centre