By-elections 2018: EC may announce re-polling in Kairana after allegations of EVM tampering and malfunction
Election Commission is likely to hold re-polling in at least 35 booths in Uttar Pradesh's Kairana.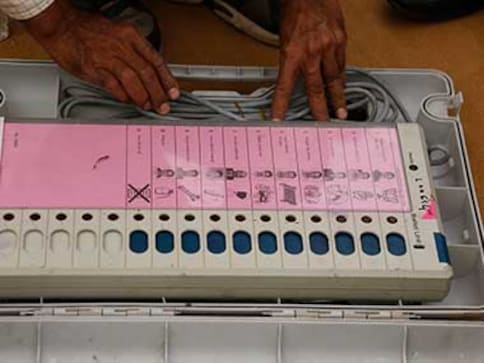 A day after EVM and VVPAT machine malfunctioning was reported during the by-elections in 10 Assembly and four Lok Sabha seats, sources told CNN-News18 that the Election Commission (EC) is likely to hold re-polling in at least 35 booths in Uttar Pradesh's Kairana.
The Lok Sabha seats which went for polls on Monday include Kairana in Uttar Pradesh, Palghar, and Bhandara-Gondiya in Maharashtra and the sole parliamentary constituency in Nagaland.  The Assembly by-elections took place in Noorpur (Uttar Pradesh), Shahkot (Punjab), Jokihat (Bihar), Gomia and Silli (Jharkhand), Chengannur (Kerala), Palus Kadegaon (Maharashtra), Ampati (Meghalaya), Tharali (Uttarakhand) and Maheshtala (West Bengal).
But after complaints of EVM malfunctioning and tampering at the polling booths, the local administrators from Kairana filed a report with the EC and have demanded re-polling in Gandoi and Noorpur districts.
A total of 1,073 VVPATs malfunctioned cumulatively in three Lok Sabha constituencies and the Noorpur Assembly constituency of Uttar Pradesh. Official data showed that 355 VVPATs (20.82 percent) were reported malfunctioning which needed to be changed. In Noorpur, 29 paper trail machines (8.25 percent) had to be replaced.
The EC attributed the reasons for such high number of VVPAT malfunctioning to "first time use by polling staff, extreme heat, exposure of machines to direct sun and mishandling during use". It said that while the polling staff have developed "expertise" in managing the electronic voting machines (EVMs), they were not well-versed with the use of VVPATs.
News18 quoted Chief Election Commissioner OP Rawat as saying, "VVPAT was being used for the first time. There was training given and in spite of that there were some errors. There are sensors in these machines which often get affected by light and heat and since these are newly manufactured, some errors creep in. We had a stock of only 20,000 VVPAT machines, so on one hand these are new machines, and on the other hand training of polling staff has also been for the first time." He also stated that these machines were used only on pilot basis earlier.
A multi-party delegation led by the Congress approached the EC on Monday to demand a re-poll in the affected booths. The EC is likely to take a decision regarding re-polling in the Kairana constituency on Tuesday.
The delegation comprised Congress leader RPN Singh, Ram Gopal Yadav from Samajwadi Party (SP) and Chaudhury Ajit Singh from Rashtriya Lok Dal (RLD).
"We have demanded that wherever it took more than one-and-a-half hours for the EVMs to be changed, a re-poll should be held in those booths on Tuesday or day after Wednesday," he added.
RPN Singh further said, "We have also demanded that wherever the malfunctioning machines were changed in less than one-and-a-half hours, extra time after 6 pm should be given for those still to vote to exercise their franchise."
In Kairana, the BJP candidate Mriganka Singh, daughter of late MP Hukum Singh whose death necessitated the by-poll, was locked in an intense fight with Tabassum Hasan, candidate of combined opposition including RLD, SP, BSP and Congress. The polling percentage was 54.17 percent in Kairana and 61 percent in the Noorpur assembly by 6 pm.
In Maharashtra's Palghar and Bhandara-Gondiya district, the voting was also marred by reported malfunctioning of EVMs in some booths. Bharip Bahujan Mahasangh leader and former MP Prakash Ambedkar said around 450 Electronic Voting Machines (EVMs) were tampered with.
Meanwhile a polling officer in Maharashtra broke protocol and transported the confidential VVPAT-EVMs by his private car to the strongroom, early on Tuesday.
Palghar Collector Prashant Narnaware said that as per the guidelines, after voting is completed, a special bus is sent to pick up all the VVPAT-EVM from all the polling centres.
"Each bus has a specific route by which it travels, picks up the machines and takes them to the Assistant Returning Officer. In this case, the laid down procedures were not followed by the concerned officer," Narnaware told IANS.
According to the EC, there are 2,056 polling booths and 1,094 polling centres for the by-polls, and to ensure free, fair and peaceful elections, it has deputed three general observers and two expenditure observers, besides 53 companies of the para-military forces and 10 companies of the Provincial Armed Constabulary.
Despite this there was alleged tampering with the EVM's and VVPATs in Kairana and Maharashtra constituencies. The glitches led to a halt in the voting and decisions regarding re-polls is still pending with the EC.
With inputs from IANS
Politics
Rahul Gandhi is 52 years old. If the conviction—therefore the disqualification—stands, he surely will not be able to contest the 2024 and 2029 Lok Sabha elections
World
Pakistan has been witnessing a sharp rise in terror incidents for the last few months, which have taken the lives of several people, and as a result, the security forces have upped the ante against militants across the country.
World
The National Assembly seats fell vacant after the resignation of lawmakers of the Pakistan Tehreek-i-Insaf party headed by ousted premier Imran Khan