By appointing Kamal Nath MP CM, Rahul Gandhi proved Congress' contrition over 1984 pogrom was cold political calculus
Rahul Gandhi has turned Manmohan Singh's public apology — described as a "Gandhian moment of moral clarity" — into a blatant and brazen violation of public morality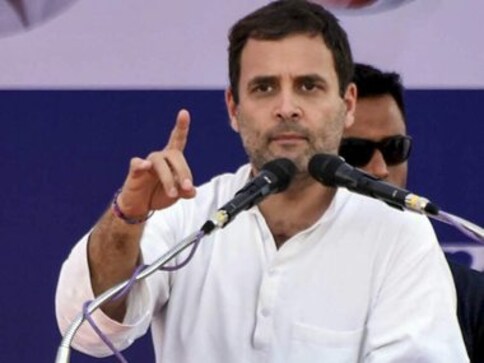 On 11 August, 2005, prime minister of the Congress-led UPA government Manmohan Singh apologised to the Sikh community and the "entire nation" during a discussion on an Opposition-sponsored motion in the Rajya Sabha on the Nanavati Commission report.
For the massacre of Sikhs in 1984 that claimed the lives of 3,325 people in a nationwide slaughter with 2,733 killed in Delhi alone, Congress leader Manmohan said: "On behalf of our government, on behalf of the entire people of this country I bow my head in shame."  That apology — which was later "shared" by Rahul Gandhi before he did another U-turn soon after: has now been proved as "fake" as Kamal Nath gets ready to take oath as the Madhya Pradesh chief minister on 17 December.
In one fell swoop, the Congress president demonstrated that his party's contrition over the pogrom against Sikhs was skin-deep at best and political opportunism at worst. He has turned Manmohan's public apology that was described as a "Gandhian moment of moral clarity" into a blatant and brazen violation of public morality. The Congress has been going after the BJP for instigating "lynch mobs". It now plans to let a family loyalist take an oath as chief minister, who allegedly led one of the lynch mobs against Sikhs in 1984.
Nath's involvement in the anti-Sikh massacre is not a political blame game — it is a matter of documented truth, as authors Manoj Mitta and HS Phoolka point out in their book When A Tree Shook Delhi — The 1984 Carnage And Its Aftermath.
In excerpts from the chapter titled: A Tale of Two Gurudwaras, republished in Outlook magazine, the authors wrote: "The attack on Rakab Ganj Gurudwara was also remarkable for the fact that it was probably the first, and so far, the only instance in the history of mass violence in India, where a political leader admitted to being on the spot… The leader in question was Kamal Nath… Kamal Nath's presence there was confirmed by two of the senior-most officers, Commissioner Subhash Tandan, and Additional Commissioner Guatam Kaul, as also by an independent source, The Indian Express reporter, Sanjay Suri."
Suri, then a reporter with The Indian Express and an eyewitness to the 1984 butchery, in his book 1984: The Anti-Sikh Violence and After related the events he saw unfolding at Gurudwara Rakabganj. According to him, MP Nath led the mob that gathered in the area and "exercised complete control over them". In an excerpt from the book, republished by The Caravan magazine, Suri wrote:
"If Kamal Nath was playing a role as responsible citizen and leader, he would have wanted later to follow up with the local police to ensure investigation and prosecution for the murders committed. We have seen no evidence he did that… In failing to push for police intervention to disperse those crowds, and to push for arrests… Kamal Nath may well have done something towards making more killings possible…"
In his report on the incident and also depositions before the Misra Commission and Nanavati Commission, "Suri found that Kamal Nath was 'controlling the crowd' which he said was 'looking to him for directions.' He also testified that while all that drama was going on, the bodies of those Sikhs were 'still burning on the roadside',"  Phoolka and Mitta wrote in their book.
In a news conference in January, Aam Admi Party leader and Supreme Court lawyer Phoolka termed Supreme Court's decision to constitute a Special Investigation Team (SIT) and re-probe 186 cases of 1984 anti-Sikh riots "historic". He told reporters: "It is for the first time that the Supreme Court has shown such seriousness in 33 years on 1984 anti-Sikh riots. Seeing the strong evidence against him, we are now hopeful that he (Kamal Nath) will too will be caught. All Congress leaders, including Jagdish Tytler, Sajjan Singh and Kamal Nath cannot evade law now…"
Phoolka on Thursday admitted that the "wheels of justice are yet to turn against Nath," but there is "ample evidence" against him. In August, Punjab chief minister Captain Amarinder Singh claimed on the floor of the Assembly that "Congress as a party was never involved in the riots" but he did admit that some "individual Congress leaders" were involved.
Today during debate in Punjab VidhanSabha, CM Pb. @amarindera_capt admitted that Cong Min HKL Bhagat, Cong MP Sajjan Kumar & some other Cong leaders were involved in #1984SikhGenocide.
Cong gave them plum positions& allowed them to continue clearly shows Cong involved.

— H S Phoolka (@hsphoolka) August 27, 2018
Captain didn't take Nath's name and has defended him in the past, perhaps — as a report in The Indian Express points out — due to his "close links, "Doon school connection" and Nath's "ability to raise resources", but it is also true that Congress was forced to remove Nath as the party's minder in Punjab ahead of Assembly polls in 2016 within two days of his appointment.
There were questioned raised then, as now, why the Congress high command remains invested in such a tainted leader, and the answer to the question takes us to the heart of power dynamics within the Congress party. Family loyalist Nath, fondly called Indira Gandhi's "third son", had been a close friend of Sanjay Gandhi and the proverbial cat's paw of Congress's hierarchy.
In India Today, journalist Kuldip Nayar wrote in his piece entitled Operation Blue Star: How Congress invented a saint — an inside account that revealed how Congress created 'Sant' Jarnail Singh Bhindranwale — how Sanjay and Nath "interviewed" Bhindranwale, the dreaded terrorist, and gave him money. He wrote: "As Sanjay's friend, Kamal Nath, recalled: 'The first one we interviewed did not look a 'courageous type'. Bhindranwale, strong in tone and tenor, seemed to fit the bill. We would give him money off and on, but we never thought he would turn into a terrorist."
Nath knows just too much for the Congress party to risk sidelining him. In Outlook, journalist Hartosh Singh Bal wrote on Congress' "institutional involvement in the (1984) violence (that) went up all the way up to the top. It is the only answer that explains the Gandhi family and the party's prevarications about 1984 massacres of the Sikhs and it is the only answer that can explain why a man like Kamal Nath was ever named the Punjab in-charge of the party."  This may also explain why Rahul Gandhi blatantly denied Congress' involvement in the riots after claiming to "share" Manmohan Singh's apology.
There is another reason beyond Nath's loyalty and role as the "secret-keeper" why the family chose the veteran as the Madhya Praesh chief minister instead of his young rival Jyotiraditya Scindia. It is an endorsement of Nath's ability to deliver a state that could prove crucial to Congress' fortunes (pun intended) for the royal rumble in 2019.
Nath enjoys Sonia's confidence as a seasoned campaigner who, as chief minister, may be able to stop BJP from overturning the mandate six months down the line when Prime Minister Narendra Modi will come calling. In that respect, Congress' decision to appoint Nath and brazen out criticisms is an astute political move. It denudes the party of all grandiose moral posturing, but 'morality' has never bothered Congress beyond political opportunism.
World
State power utility Eskom has scheduled power cuts every day this year, after a record number of days with outages last year. On Tuesday, it ramped up power cuts to the highest level on record
Politics
Badal joined the party at the BJP headquarters in the presence of several leaders, including Union Minister Piyush Goyal. Recently, his absence from the Punjab chapter of the Congress' Bharat Jodo Yatra had been noticed by state unit leaders
Opinion
Banerjee's efforts were so successful that Viceroy Dufferin left India thoroughly upset and disappointed, and wheezed out his hypocritical contempt against an organisation he had himself helped create