Rahul Gandhi denies Congress' involvement in 1984-anti Sikh riots; BJP says Congress chief has undone everything
Rahul, responding to a question on the Sikh riots at the UK Parliament meeting, said, 'I have no confusion in my mind about that. It was a tragedy, it was a painful experience. You say that the Congress party was involved in that, I don't agree.'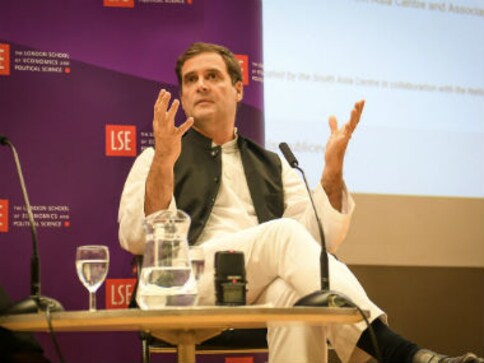 Congress president Rahul Gandhi late on Friday stirred up another controversy while on a two-day visit to the UK as he claimed that the Congress party had no role to play in the 1984 anti-Sikh riots that claimed over 3,000 Sikh lives.
The Congress chief described the massacre as a "very painful tragedy" but said that the Congress party had no criminal culpability in the case, according to CNN-News18.
Rahul, responding to a question on the Sikh riots at the UK Parliament meeting, said, "I have no confusion in my mind about that. It was a tragedy, it was a painful experience. You say that the Congress party was involved in that, I don't agree. Certainly, there was violence, there was a tragedy."
The 1984 riots till date remain an emotive issue in the Sikh dominant state of Punjab and all members of the community across India. Prominent Congress leaders of the time, Jagdish Tytler and Sajjan Kumar, were accused of organising and planning the anti-Sikh riots to a large scale, following then prime minister Indira Gandhi's assassination at the hands of her Sikh bodyguards.
Rahul's comments evoked sharp reactions from his political opponents and the riot victims, who await justice even 33 years after the tragedy.
BJP's Sambit Patra took strong objection to the Congress president's statement and slammed Rahul for undoing the Congress party's apology made in 2013.
"Rahul Gandhi has undone everything, any leadership qualities that he had... I remember that in 2013 then prime minister Manmohan Singh had apologised for the 1984 riots. And here is a leader who undoes all of that to begin the vicious cycle once again," Patra told CNN-News18.
Akali Dal leader Bikram Singh Majithia also condemned the statement and demanded an apology from Rahul over his remark. "When asked about the riots, Rajiv Gandhi had then said, 'When a big tree falls, the earth shakes'. Jagdish Tytler went on record to say that Rajiv Gandhi accompanied him to recce different parts of Delhi to see how successful the massacre was.... He should apologise for this blatant lie," Majithia was quoted as saying by News18.
Tejinder Pal Singh Nalwa, a riot victim, questioned Rahul's denial of a criminal conspiracy in the 1984 anti-Sikh riots. He told CNN-News18, "Remember we are talking of a period 33 years ago when there was no WhatsApp or internet. If it wasn't a well-planned conspiracy, how could there be such uniformity in attacks without a criminal conspiracy being hatched?"
Kanwaljit, another riot victim, told CNN-News18, said that while the Congress leader may deny these charges but the pain inflicted on the community was very real. He said that he lost his brother and suffered injury, then how can the party's role be denied. Kanwaljit also recalled hearing statements like "khoon ka badla khoon" by prominent leaders on radio.
Congress leader P Chidambaram on Saturday defended Rahul and said that he has not absolved anyone. He added that the party was in office in 1984 and a terrible thing had happened then for which Dr Manmohan Singh had apologised in the Parliament.
Congress was in office in 1984. A very terrible thing happened in 1984 for which Dr Manmohan Singh aplogised in Parliament. You can't hold Rahul Gandhi responsible for that, he was 13 or 14. He hasn't absolved anyone: P Chidambaram on statement R Gandhi's made on 1984 riots y'day pic.twitter.com/X1HmU0s9eX

— ANI (@ANI) August 25, 2018
Congress has also sought to clarify Rahul's statement and claimed that the question was "planted".
"Responding to a planted and hostile question which contained a sweeping statement that Congress party was criminally involved in the 1984 riots, Rahul said that that's a wrong statement. Congress party was not criminally involved in the riots. What happened was very sad, it was very unfortunate. Congress party has condemned the incident and our leaders have condemned what happened and we stand with those who suffered in the riots. We believe that the perpetrators must be punished."
The Supreme Court has earlier this year appointed a three-member Special Investigation Team (SIT) to re-investigate 186 cases related to the riots, which were closed by a government-appointed SIT.
World
The twice-impeached Republican, whose party lost the White House and both chambers of Congress during his term, makes his case for another four years with appearances in New Hampshire and South Carolina
World
Peru has been embroiled in a political crisis with near-daily street protests since 7 December, when then-president Pedro Castillo was arrested after attempting to dissolve Congress and rule by decree
World
The bill proposes holding congressional and presidential elections in October this year with elected officials taking power in late December. Elected officials would serve a five-year term until July 2028