BJP's master strategist Anil Madhav Dave dies at 60: All you need to know about the environment minister
Environment Minister Anil Dave passed away in New Delhi on Thursday.
Environment minister Anil Madhav Dave died in New Delhi on Thursday. Sixty-year-old Dave complained of uneasiness at his home on Thursday morning and was rushed to AIIMS where he passed away, official sources were quoted as saying by various news agencies.
Prime Minister Narendra Modi and other Union ministers took to Twitter to condole Dave's death. Here is everything we need to know about the minister:
Dave was born on 6 July 1956 in Badnagar,Ujjain, Madhya Pradesh to Madhav lal and Pushpa Dave. An expert in river conservation and a member of the parliamentary forum on global warming, environment was a subject close to the heart of Dave who was appointed environment minister only last year. Dave was involved in social work right from his early days and founded NGO "Narmada Samagra" for conservation of the river.
Dave was known in the BJP as a man gifted with immaculate organisational skills. He had a long time association with the Rashtriya Swayamsevak Sangh (RSS) and shot into prominence in 2003 when he crafted the strategy leading to the defeat of chief minister Digvijaya Singh.
Following this, Uma Bharti who became the chief minister, made him advisor to the chief minister. As an NCC Air Wing Cadet he took his early flying lessons and found a lifetime passion. He was a holder of a private pilot licence and had once flown a Cessna aircraft around the banks of Narmada for 18 hours.
A post-graduate in Commerce from Gujarati College in Indore, Dave had keen interest in literature and had penned a number of books. He inherited the legacy of the Rashtriya Swayamsewak Sangh from his grandfather Dadasaheb Dave and volunteered to be a Pracharak after completing higher studies. He rose in the Sangh echelons over the years and was deputed to the BJP, right before the Madhya Pradesh Assembly Elections in 2003.
Dave began political career with JP Movement
Dave began his political career by participating in the JP movement in 1974. He became a full-time pracharak after he finished his college and remained in the RSS till the 2003 Assembly elections in Madhya Pradesh. Known for his election management, Dave was the head of the Central Election Management Committee in Madhya Pradesh between 2003 and 2014.
The leader from Madhya Pradesh was key party strategist and served as chief of its election management committee for the three times during the state assembly elections in 2003, 2008 and 2013 and Lok Sabha elections in 2004, 2009 and 2014. He was known for his booth-level management and planning. Dave was elected to Rajya Sabha in 2009 and has been on various committees including Chairman, Select Committee on Prevention of Corruption (Amendment) Bill 2013.
As Rajya Sabha MP, Dave served as Member of Parliamentary Forum on Global Warming and Climate Change. He also served as the chairman for the Select Committee on Prevention of Corruption (Amendment) Bill 2013.
On 5 July, 2016, he was appointed as the MoS with the independent charge of the ministry of environment and forests.
Dave had also organised the World Hindi Conference in Bhopal and an international conference on the occasion of Simhastha (Kumbh) Mela in Ujjain.
Known environment crusader
Dave, a social worker, was well-known for his conservation of the River Narmada, a lifeline to central India. He was the founder of the movement "Narmada Samagraha", which aims to conserve the river and its catchment areas.
According to his bio in the ministry of environment and forests, Dave was the founder of Jan Abhiyan Parishad, a unique concept in India, which works as an umbrella organisation to interlink and empower SHGs and NGOs.
Penned several books
Dave had written nine books in Hindi, including two books on his work as a social worker in Madhya Pradesh. Apart from his native Hindi, he wrote two books in English: From Amarkantak to Amarkantak and Beyond Copenhagen, both of which dealt with environmental issues.
With inputs from agencies
Find latest and upcoming tech gadgets online on Tech2 Gadgets. Get technology news, gadgets reviews & ratings. Popular gadgets including laptop, tablet and mobile specifications, features, prices, comparison.
Arts & Culture
Garima Gupta's detailed pencil sketches strongly overlay the connection between the land's history of colonial intrusion into its tropics and its impact on the people today, mirrored in their engagement with wildlife trade and oil palm plantations.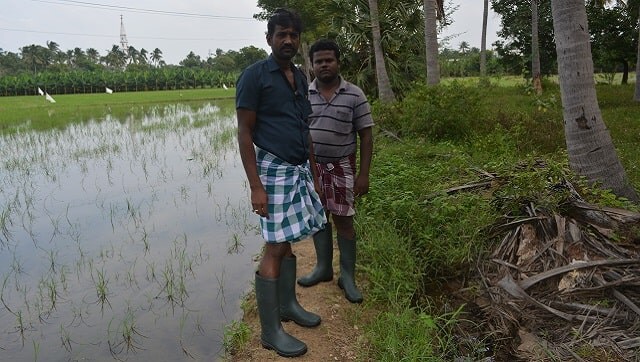 Lifestyle
Though the eight months of lockdown have been challenging (especially financially), the Croc Bank managed to "test positive" and come up with many new ideas and changes.
India
Experts warn loss of ecology will lead to more pandemics, India uses lockdown to dilute environmental laws.