BJP MLA Raja Singh says cases like Alwar lynching will continue until law against cow slaughter is brought in
T Raja Singh said that the Parliament should pass a bill for the protection of cows and cow should also be declared as 'Gau raj mata'.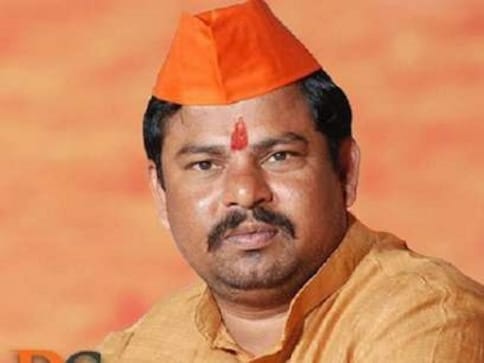 After a man was thrashed by a group of people on suspicion of being a cow smuggler in Alwar, Bharatiya Janata Party (BJP) MLA Raja Singh reportedly said that such lynchings will not stop till cow slaughtering ends and called for a law against the same.
I didn't said anything wrong in my video,these lynching cases won't stop until cow slaughtering stops. there should be a law against it. According to media the person who died was a cow trafficker: BJP MLA T. Raja Singh on his video on Alwar lynching pic.twitter.com/YDR12kXJ2X

— ANI (@ANI) July 23, 2018
On Monday, Singh said, "The Parliament should pass a bill for the protection of cows and cow should also be declared as 'Gau raj mata'. Then only such incidents will stop."
"On Saturday, Akbar Khan (28) and his friend Aslam were taking two cows to their village in Haryana through a forested area near Lalawandi in Alwar district when five men attacked them," Ramgarh police station SHO Subhash Sharma said. They suspected that Khan was smuggling cows, but the allegation is yet to be verified.
Singh previously courted controversy when a case was registered against him in 2016 for his remarks allegedly defending the attacks on Dalits in Gujarat's Una and supporting the cow vigilantes involved.
In a two-and-half minute video posted on Facebook on 30 July, 2016, Singh had defended the cow vigilantes, saying those who consume cow meat are bringing "disgrace" to the entire community and should be "taught a lesson".
Meanwhile, the Centre on Monday sought a report from the Rajasthan government on the Alwar lynching case. The home ministry asked the Rajasthan government to provide details of the incident, the action taken to punish those involved in it and the steps taken to restore peace, an official told PTI.
The Rajasthan Police has also set up a high-level committee to probe the allegations of delay against the Alwar police in taking Khan to a hospital after he was allegedly lynched on the suspicion of cow smuggling.
With inputs from agencies
also read
India
It looks like a New India under Prime Minister Narendra Modi. The country just got a new Parliament building and it boasts the world's tallest statue, the Statue of Unity; Bogibeel Bridge, India's longest rail-cum-road bridge, among others. And there's more to come
India
The building has been completed in about two-and-a-half years at an estimated cost of nearly Rs 1,200 crore. Nearly 20 Opposition parties boycotted the event, accusing the prime minister of "sidelining" president Droupadi Murmu
India
As Prime Minister Narendra Modi inaugurates the new Parliament building on Sunday, a key part of the event will be the installation of a 'sengol', a golden sceptre. It was received by Jawaharlal Nehru on 14 August 1945 and symbolised the transfer of power from the British