Alwar lynching case: High-level committee set up to probe allegations against police over delay in taking victim to hospital
The Rajasthan police on Monday set up a high-level committee to probe the allegations of delay against the Alwar police in taking Rakbar Khan to a hospital.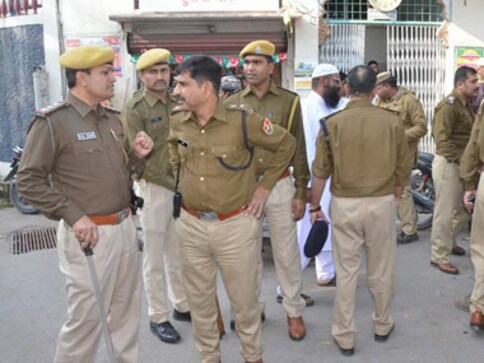 Jaipur: The Rajasthan police on Monday set up a high-level committee to probe the allegations of delay against the Alwar police in taking Rakbar Khan to a hospital after he was allegedly lynched by a group of people of suspicion of cow smuggling.
"Allegations of delay in taking Khan to the hospital and policemen crossing their limits have come to fore. A four-member committee of senior police officials is in Alwar to enquire into the matter," state Director General of Police (DGP) OP Galhotra said.
It will also be probed whether the 28-year-old Rakbar Khan, became a victim of police beating on the intervening night of Friday and Saturday. Appropriate action would be taken if any lapses were found in the enquiry report, the DGP said.
The committee comprise special DGP (law and order) NRK Reddy, Additional DGP (CID-Crime Branch) PK Singh, Inspector General (Jaipur Range) Hemant Priyadarshi and state nodal officer (cow vigilance) Mahendra Singh Chaudhary, Galhotra informed in a statement here.
The inquiry is in addition to the overall probe that has been handed over to additional SP rank officer. While two persons, Dharmendra Yadav and Paramjeet Singh, were arrested on Saturday, the third accused, Naresh Singh, was arrested on Sunday and they are under police custody for five days, police said.
"There are certain allegations that the local police had beaten Khan and delayed in taking him to hospital which are being looked into," SP (Alwar) Rajendra Singh said.
It is alleged that when Rakbar was thrashed by a group of people on suspicion of being a cow smuggler in Lalawandi village in Alwar, it took over two-and-a-half hours for the police to take the victim to the Ramgarh Community Healthcare Centre, which is nearly 4 kilometre away from the scene of crime.
Rakbar, along with his friend Aslam, were taking cows to their villages in Haryana through a forest area in Ramgarh area of Alwar, where they caught by a group of people. Aslam had managed to flee from there.
As per the FIR lodged with Ramgarh police station on Saturday, Naval Kishore Sharma, the chief of VHP's "Gau Raksha" cell in Ramgarh, had informed the police at 12.41 am (on Saturday) about the incident.
Police reached the spot at around 1.15 am. Rakbar's statement was recorded and he was taken to police station. As per the CHC entry register, a body of a 28-year-old male was brought at 4 am.
Questioning the role of the police, local Ramgarh MLA Gyan Dev Ahuja has demanded a judicial inquiry to find out if Rakbar was lynched by a mob or beaten to death by police.
Following the allegation, the probe into the alleged lynching incident was handed over to Additional SP (Crime and Vigilance), Jaipur Range, on Sunday.
"The investigation will be carried out in a fair and transparent manner," IG, Jaipur Range, Hemant Priyadarshi had said.
Meanwhile, the police investigation has revealed the past police record of the victim. On 30 December, 2014, Nauganwa police station in Alwar had registered a case against Rakbar under sections 5 (prohibits the export of bovine animals for slaughter) and 8 (penalty for contravention of Section 5) of the Rajasthan Bovine Animal Act, after allegedly retrieving two cows from him. Nauganwa police station SHO Mohan Singh said a challan was filed in the 2014 case.
Politics
Twelve new ministers were inducted and three ministers of state were elevated to cabinet rank at the recent cabinet reshuffle of Rajasthan government
First Cricket News
Vidarbha bowlers wreaked havoc to restrict Rajasthan to a sub-par 84/8 before their batters, led by opener Atharva Taide, chased down the target with 5.1 overs to spare
India
The remark was allegedly made by Minister of State for Panchayati Raj and Rural Development Rajendra Singh Gudha on Tuesday during a government camp at a village in Jhunjhunu district