Bihar: Human chain just the beginning of alcohol-free society; prepare people for actual change
The motive behind the human chain is to ensure that the liquor ban is made successful in the state and that our society is made free from the distressing clutches of alcohol addiction, says Harivansh, a co-ordinator of the anti-alcohol human chains in Bihar
Sitabdiara, Bihar: It was after more than two decades that I got an opportunity to stay for a long time in my village Sitabdiara in Bihar. I was staying in Sitabdiara since 13 January was given the responsibility of leading and participating in a human chain in support of the Government of Bihar's prohibition policy, which was introduced by Chief Minister Nitish Kumar, and spread the message to people.
While many would have wanted to be stationed in big cities of the state, I wanted to be in my village and witness the change taking place. I was made in charge of three districts that included Gopalganj, Chapra and Siwan.
The motive behind the human chain is to ensure that the liquor ban is made successful in the state and that our society is made free from the distressing clutches of alcohol addiction.
The change is palpable in this village. After all, it is the village of Jayaprakash Narayan. It borders the State of Uttar Pradesh and Bihar. And some distance from here in Siwan district lays the village of Dr Rajendra Prasad, the first President of India. I wanted to witness the change and be a part of it. We all want to create new social order where addiction is a thing of the past with no strength to ruin the future of millions.
This whole area wears the influence of great leaders like Mahatma Gandhi, Jayaprakash Narayan, Rajendra Prasad and Ram Manohar Lohia. The air smells of their influence. During my stay here in the last one week, talking to people I realised that the basic nature and the intrinsic reason of politics were to the change the society for the better. And you see this thing clearly in the politics of Mahatma Gandhi, Jayaprakash Narayan, Rajendra Prasad and Ram Manohar Lohia. These were the leaders who did not crave for power. They were not slightly besotted by its charm; rather they saw it as an enabler which has the ability to change the society for better.
I realised that in last 30-35 years no government took any big steps to bring this change at a social level.
And I strongly feel that Nitish Kumar's decision of liquor ban was a decisive step in this regard.
This human chain is reflective of a social change. It speaks of the immense possibility that our people have to usher into a period of goodness. It is one thing to make a strong law but to make it successful we need to educate people. We need to spread the message and the reason and intent behind the law. We need to tell people why it is good for the society. Through the formation of this human chain, an effort is being made to tell people about the benefits of an addiction-free society.
Nitish Kumar is right when he talks about China's heroin addiction in the 1940s. In 1949 when China was initiated into a new economic system it was grappling with a huge problem of heroin addiction. Crores of its people were drug addicted. To eradicate this menace while the communist government of China made strong laws, workers of the party went to the people to motivate them to shun that addiction.
Similarly, the human chain is meant to involve people in this change, to involve masses in this great experiment. It is a rare occasion in a democratic system. It is overwhelming to see the way people from all walks of life, caste, age and gender came on the road to be a part of this movement. It will have a strong and positive psychological impact on people.
Today, while standing where the human chain was formed, I realised that it is the same "kranti maidan" where Jayaprakash Narayan, in 1974, after coming from Delhi following a failed talk with Indira Gandhi, gave a call for "total revolution".
Now once again, a clarion call has been given from the same place to end addiction.
In the human chain formed on Saturday, around 2 crore people participated with a hope for a better future.
These are the people who are already witnessing a change. There are countless stories of change. People here are recounting the fact that how crimes resulting from addiction have almost stopped after prohibition.
The economically weaker section of the society is progressing. The money that they were spending on their addiction is being spent on food and education. The women who were at the receiving end are happier than ever. The cases of domestic violence have become negligible. The change is evident and it is being celebrated.
Today, this movement against addiction has entered the second stage. Now, the focus will be to spread the message about the benefits of prohibition with more rigour. Panchayats will be involved; households will be made a focal point of the messaging.
Programmes like wall painting and best slogan writing will be organised to increase people's participation and make the movement more interactive.
With 56 lakh people forming a human chain on the main route of 3,700 kilometres and more than 1.5 crore people lined up on sub-routes, with a single message: an addiction-free Bihar.
There is also an important political message in this. That is of social change. It is worth remembering that Jayaprakash Narayan in 1952 observed a 42-day fast after which he wrote a long essay titled "Incentive of Goodness" which asked a pertinent question as to what means do we have to become a better human being.
One among them is, surely, to be free from the bondage of any harmful addiction. With alcohol prohibition, I think the journey to goodness has begun.
As told to Shishir Tripathi
World
Head of the climate change said, "Combating climate change is also about letting people in developing countries live good lives."
Entertainment
While Chinese reporters working at state-controlled news outlets were ordered weeks ago to refrain from covering the Oscars altogether, Zhao's fans bypassed censorship by blurring out the director and the film's names, writing backward and turning images on their side.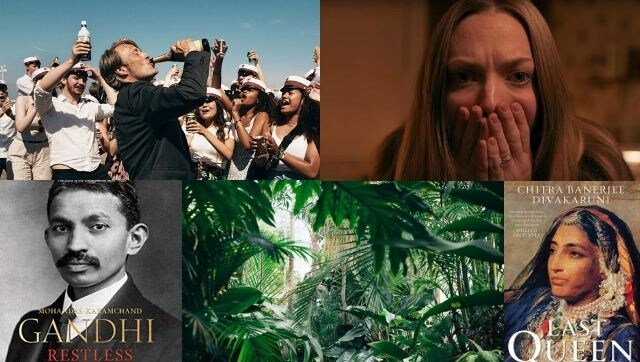 Arts & Culture
Every Friday, we'll bring you a curated list of online experiences — performances, talks, tours, screenings — to mark on your weekly calendar.