Bawana fire: Amid municipal failures and neglect, residents and factory workers are no stranger to accidents
Firstpost hit ground zero to compile this report on how Bawana suffers the consequence of a state that miserably fails to address the cause.
Gareeb ko itni door bhej do, jahaan se uski gareebi dikhegi nahin. Jo dikhta nahi hai, kya woh hota hee nahi hai? (Send the poor far away to a place, from where their poverty won't be visible. What isn't visible, does that not even exist?), asked a middle-aged Rajwati Rana, one of the 1.5 lakh people who lived in a cluster of slums on the marshy fringes of the River Yamuna, up until 2004's demolition drive after which she was dumped into a shanty in Bawana, a twenty-minute drive from the northwest border of Delhi. Here, on Saturday night, a fire broke out at a cracker warehouse and 17 lives were lost. This isn't the first time such an incident has taken place in Bawana.
In 2013, flames had reduced 800 jhuggis in a resettlement colony to rubble, claiming the lives of two children and one woman. And in April 2017, yet another fire had broken out in the resettlement colony, leading to the death of a man and two children. Arvind Kejriwal has offered compensation of Rs 5 lakh to families of victims; the Aam Aadmi Party won the Bawana by-poll by over 24,000 votes last August. The prime minister too has expressed anguish over the recent incident on Twitter. Firstpost hit ground zero to compile this report on how Bawana suffers the consequence of a state that miserably fails to address the cause.
Bawana's problem lies beyond the fire and can be traced to the municipal laxity that is suffocating this urban resettlement colony. Out of Bawana's 3.6 million (Census 2011), there are many who were displaced from pockets in Delhi like Bhatti mines of Sanjay Colony, lanes surrounding Hathi Wala Mandir, Shahdara and Yamuna Pushta. Saturday's fire broke out in Sector 5, which is an industrial area but the JJ Colony clusters nearby aren't fire-safe either.
In 2004, urban citizens of Delhi filed a suit in the Supreme Court asking for Delhi to be cleansed of these unauthorised slum areas. The move was supported by the Delhi government which was then on a mission to rapidly beautify the capital and prop it up for the 2010 Commonwealth Games. That led to the creation of this resettlement colony in Bawana.
In a People's Union for Democratic Rights (May 2014) document titled 'A Report on Demolition and Resettlement of Yamuna Pushta Bastis', the specific problem of fire safety in the said resettlement colony has been laid bare: "Those who have been allotted the Bawana site have been informed that they are not to build any pucca structure in Bawana for three months, covering the hottest months and the monsoons. They are expected to live under a sheet or else a cane mat (chatai). Apart from the discomfort, the entire habitation is prone to fire. Needless to say, there is no fire-fighting equipment around. A jhuggi made of cane mats costs Rs 1,500 for a 12.5 square metre plot and these mats become useless later on. This is a big financial imposition on impoverished families whose earning members have now lost their jobs and who, in any case, need to save every last penny to be able to build a pucca house after three months."
This April, it will be 14 years since the displacement from the Yamuna Pushta. Roshanara, who lives with her married children in Bawana's JJ Colony cluster, walked us through a thin street crammed with houses, some built of plastic and bamboo and others constructed with brick-and-mortar. She revealed that the nearly 2,500 pucca homes in Bawana had been built by the Robin Raina Foundation and not by the state or central governments.
"I have been building these homes for 15 years. When we started out, we noticed people living in inhuman conditions, there used to be a case of one kidnapped kid in every five homes and there were dead animals rotting in 16 feet sewage drains and fires broke out every other day," recounted Robin Raina. He is also the chairman and CEO of Ebix Inc, which specialises in software and e-commerce solution, and is based in Georgia, USA. "I have sat in meetings with different governments and have come to the conclusion that I'd rather not engage with politicians. I've been fighting to build a better drainage system in Bawana but feel trapped between the Delhi government and the MCD, each with their mesh of rules that make it harder for the do-gooders," he told Firstpost.
While life in fire-prone slums is tough as it is, the extent to which dwellers are further victimised is evident from the way their identity is tampered with. Under VP Singh's prime ministership in 1989, every slum household in Delhi was issued what came to be known as the VP Singh token, a formal proof of residence. However, as stated in the 2014 People's Union for Democratic Rights report, Below Poverty Line cards were issued to those who were rehabilitated from Yamuna Pushta to Bawana and then the cards were taken away. The purpose of the previous card was to formalise their right to resettlement in case of eviction.
Anwar Ali, who sells readymade garments on a push-cart in Bawana, alleged that fires are something he's grown up around. "Fire koi accident nahi hota, yeh toh mamuli baat hai Bawana mein, (fire accidents aren't accidents, they're the norm in places like Bawana)," he said that factories that are sealed in Delhi due to whatever reason come up in Bawana and that nearly 80 percent of the factories here have been rented out.
As stated on the Delhi State Industrial and Infrastructural Development Corporation website: "Under the directions of Hon'ble Supreme Court, the Commissioner of Industries, Govt of Delhi had formulated the scheme of 'Relocation of Industries' in the year 1996. The rationale of the scheme is to reposition and manage the operation and maintenance of industrial units working in the non-conforming/residential areas of Delhi to conforming areas in NCT of Delhi…To begin with, allotments of flatted factories and developed industrial plots have been made to applicants by draw of lots in the newly developed industrial areas of Narela, Bawana, Patparganj, Badli, Okhla, Jhilmil Industrial Area etc." But when these factories are relocated from within the national capital to a faraway satellite town, rigidity in the rules dwindles.
Wajid Ali, who works as a contractual painter in Bawana, revealed that it is quite natural for factories spread out between sector 1 and 5, making shoes, plastic, notebooks and toys, to take a license for manufacturing one thing and then manufacturing something altogether different. He added that for extra wages the labourer shows up on weekends too, that's also when the few security staff is on leave.
Nasima, a social worker who is also a resident of Bawana, talked about how child labour is rampant in the factories here. "We have rescued more than 50 children from the clutches of child labour in the last few years. Fire safety isn't the first thing on their minds, when they can pay Rs 4,000 to Rs 5,000 and make children work 10 hours a day and get away with it," cried Nasima, who took the help of the Robin Raina Foundation to conduct these raids; the foundation also runs an informal school and a cutting-tailoring centre in the area. One of the victims of Saturday night's fire is a minor, a 15-year-old girl, working inside the factory. Roshanara explained that there are nearly more than 50 NGOs working on areas like education, health and employment but unless policing structures are strengthened, nothing much will change.
But does the owner of the factory even know the rules? The lack of awareness is evident. "The Factories Act, 1948 is implemented by Ministry of Labour and Employment for which they send their inspector, and for the Fire Service Act, 1985, a fire brigade officer is responsible for the implementation. Now the Factory Act doesn't allow the fireman to inspect, then the situation will only worsen," said DK Shami, Fire Advisor to Director General Civil Defence and Fire, Ministry of Home Affairs. He added that inspection only happens once or twice a year for which industries mostly keep things under check. "To ensure that rules are followed through the year, it is necessary for the government to punish the culprits and send out a strong message that will instil accountability in the owners of industrial units," he explained.
Shami stressed on the need for the National Building Code of India, 2016 to become common knowledge. Why? The first salient feature of the National Building Code 2016 (NBC 2016), is a 'Detailed provision for streamlining the approval process in respect of different agencies in the form of an integrated approval process through single window approach thereby avoiding separate clearances from various authorities, with a view to ensuring ease of doing business in built environment sector.'
The lack of a single window system makes it harder for factory owners to obtain licenses in Bawana. This is what Arjun, a Bawana-based social researcher doing his PhD on the impact of resettlement on slum dwellers in Peri-urban Delhi, expressed after the Saturday tragedy. "Bawana had to be developed under the Delhi State Industrial and Infrastructure Development Corporation, and small-scale units were allotted land. While the license to operate has to be given by the MCD, the NOC for safety measures are to be granted by the Delhi government and building by-laws are again approved by the MCD," he said adding that along with the absence of a single-window, there is a dearth of emergency exits, which renders the resident staff within these industrial units vulnerable.
Shami disclosed that while Maharashtra is deviating from the Building Code of India, Karnataka is implementing it well and states like Haryana, Punjab, Rajasthan and Madhya Pradesh haven't been implemented in the proverbial right spirit. Time is burning.
World
Ketanji Brown Jackson becomes the first Black woman to serve as a judge in the US Supreme Court. With this, she will be joining the esteemed club of Sandra Day O'Connor, Ruth Bader Ginsburg, Sonia Sotomayor, Elena Kagan and Amy Coney Barrett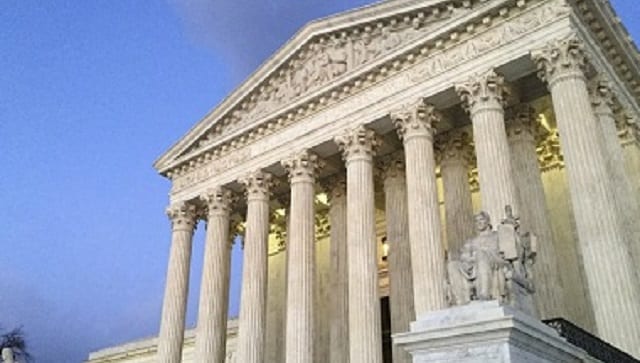 World
Analysts say the just-closed annual court season has revealed a set of judges more hard-line than anyone anticipated. They have brashly tossed out the decisions of their predecessors, including, as with abortion, rights that previous courts said were guaranteed by the constitution
India
The apex court observation came as it set aside the October last year order of detention of two persons in Telangana