At RSS event, Mohan Bhagwat says organisation's work incomparable, people target it out of fear
Speaking at a three-day conclave, 'Bhavishya Ka Bharat – An RSS Perspective', Bhagwat said that the event was being held so that people could understand the organisation.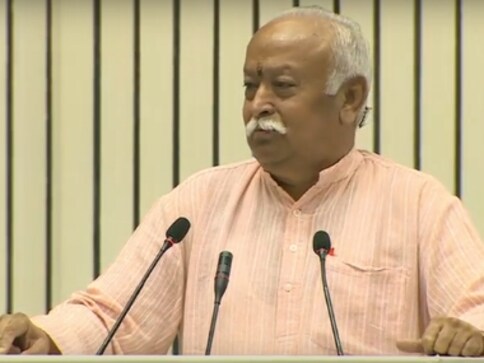 Rashtriya Swayamsevak Sangh (RSS) chief Mohan Bhagwat on Monday hailed the work done by the organisation as "incomparable" and claimed that people targetted the outfit out of fear because of its increasing power.
"Its (RSS) work gets advertised automatically when its power increases. And when its work gets popular, then people try to learn more about it. And then few people target Sangh out of fear of its increasing power which is quite natural.
"This programme has been organised for people to understand the RSS because today, it has emerged as a power in the country which is felt by the world," he said.
Bhagwat also addressed the debates surrounding the role of the organisation. "Debates and discussions should take place but for the debate, reality should be known," he said. "The work of Sangh is unique and beyond comparison. And thus from known to unknown, it is impossible to understand Sangh."
He said that because RSS had a unique identity, it gets popular amongst people and its workers do not run to advertise its work. "We do not remote control (our workers). Our only concern is that they do not commit mistakes. Our 'Samanvay Baithak' is held just to remind them of their values that they need to adhere to while working in your area," he siad.
Remembering RSS founder Keshav Baliram Hedgewar, Bhagwat called him a "born patriot".  Bhagwat said that KB Hedgewar had been a part of the Congress, and was a senior leader in the Vidarbha region, who had taken part in the non-cooperation movement. "Hegdewar believed that as a society we have forgotten our values, 'Hindutva' binds is together. This was and is a Hindu Rashtra... RSS was formed to unite Hindu society," said Bhagwat.

Bhagwat further noted the contributions of Congress in the pre-independence era, and said, "Congress played a big role in freedom movement and gave India many great personalities."
The event – which will conclude on Wednesday – is being held at Vigyan Bhavan, where major government events are usually conducted. Almost all major Opposition parties gave the conclave a miss, though the RSS had invited them.
Reacting to Bhagwat's remark on Congress, party leader Salman Anees Soz took a dig on Twitter saying that the world wanted to know more about RSS' "love for Nazism and fascism".
With inputs from agencies
India
The BJP's spending report showed that it spent over Rs 221 crore in Uttar Pradesh, over Rs 23 crore in Manipur, Rs 43.67 crore in Uttarakhand, more than Rs 36 crore in Punjab and Rs 19 crore in Goa
India
Bommai said that the ultimate truth will always triumph and the attitude of talking without any evidence will not last long
Politics
During the PFI 'harthal' (protest) in Kerala, as many as 171 people were arrested and 368 others were detained in connection with multiple incidents of violence across the state