Assam NRC final draft: Unable to prove their citizenship during verification, D-voters have been detained, sent to camps
The persons marked as D-voters are barred from contesting the elections and casting their votes. They also lose access to government-sponsored welfare schemes, and other civil and political rights granted to an Indian citizen.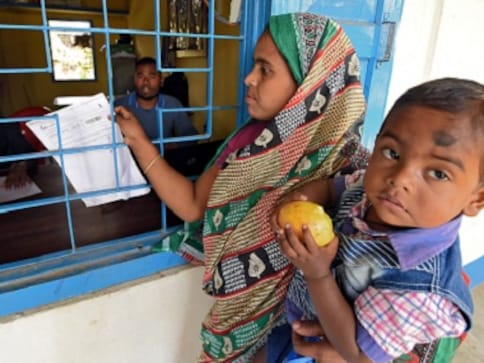 The names of doubtful voters or D-voters were not included in the second and final draft of the National Register of Citizens (NRC) published on Monday. Doubtful voters or D-voters are a category introduced in the electoral rolls of Assam in 1997 to mark people unable to prove their citizenship during a verification process.
The persons marked as D-voters are barred from contesting the elections and casting their votes. The D-voters, once they are classified as foreigners are sent to any of six detention camps before deportation and will only be classified as a citizen after a judgment from the Foreigners' Tribunal.
According to News18, nearly 900 hundred persons who have been declared as foreigners have been detained in the six centers across Assam. Some of them have been detained for nearly a decade and are unable to communicate with their families.
The process of identifying D voters came into being after a mobilisation led by All Assam Students Union (AASU) and All Assam Ganasangram Parishad (AAGSP), who conveyed their apprehensions regarding the influx of foreign nationals into Assam during the 1980s, leading to the introduction of the Assam Accord in August 1985.
Union Minister of State for Home Kiren Rijiju in January informed Lok Sabha that 19,612 D-voters were declared foreigners till October 2017. As of 3 September, 2017, there were 1,25,155 D-voters in the state.
In March 2018, Assam minister Chandra Mohan Patowary informed the state Assembly that as of 31 December, 2017, there were 4,85,640 D-voters and suspected citizens (2,44,144 D-voters and 24,14,96 reference cases), out of which 2,40,583 (1,31,034 D-voter and 1,09,549 reference cases) were disposed of. Ninety-two thousand were declared as foreigners by the Foreigners' Tribunal and the rest were able to prove their Indian citizenship, News18 reported.
According to IndiaSpend, the inmates in the detention centers are segregated into two categories: Bangladeshis and D-voters. The logic being that foreigners would not get any visitors, while families came to visit the D-voters.
Moinal Molla, spoke to IndiaSpend about the harassment he faced as a D-voter. In 2013, Moinal was taken from his home and sent to a detention center 100 kilometers away. He was kept there for the next two years, ten months and 29 days.
According to The Wire, many people were marked as doubtful voters at random. There are numerous cases where one or two members of a family were marked as doubtful while others were marked as Indian citizens.
Mumtaz Dewan, a housewife in her 40s, was declared a citizen in 2016 by a Foreigners' Tribunal in Assam's Barpeta after being classified as a D-voter for 19 years. Despite the clearance, Dewan has been unable to get herself registered as a genuine voter, according to the Hindustan Times.
Organisations such as the All Assam Minority Students' Union and All Bodoland Territorial Council Bengali Students' Federation said the frequency of serving D-voters' notices increased after the NRC exercise was undertaken in September 2013, reported The Hindu.
Regarding the NRC draft, 2.48 lakh D-voters are among the 40 lakh people who have not qualified for the final draft of NRC. According to The Indian Express, the names of the D-voters are going to be added to the list once their cases have been solved in the Foreigners' Tribunal.
However, according to some reports, the names of a few D-voters have now been added to the final NRC draft. Suchandra Goswami, a resident of Silchar in south Assam, was issued a D-voter notice, sent to a detention camp in 2011. Goswami had to stay in the detention camp—with hardcore criminals—for three days. Goswami found her name in the NRC's final draft.
Earlier, Assam minister Himanta Biswa Sarma also said no one's rights and privileges will be curtailed if their names do not feature in the final draft of the NRC, reported PTI. "A draft is a draft. Nobody's rights and privileges will be taken away on the basis of the draft NRC. No one will be sent to any detention camp," the state finance minister said.
The second and final draft of the NRC was published on Monday with 2.9 crore names out of the total 3.29 crore applicants in Assam, according to the Registrar General of India Sailesh. The names of 40.07 lakh applicants did not find a place in the historic document, touted to be proof of Assamese identity. The first draft of the ongoing NRC process was released on midnight of 31 December, 2017. It comprised 1.9 crore names out of the total application of 3.29 crore people in Assam.
The massive exercise, aimed at identifying the illegal immigrants in the northeastern state bordering Bangladesh, is being carried out following a decision in 2005 after a series of meetings involving the central and state governments and the influential All Assam Students' Union (AASU).
With inputs from PTI
Politics
The Centre has criticised the Arvind Kejriwal-led AAP for luring the voters of Gujarat with free electricity. However, the freebie culture is not new to Indian politics. It can be traced back to Tamil Nadu: In 1967, DMK founder CN Annadura promised 4.5 kg of rice for Re 1 if he were to be elected
Politics
West Bengal BJP chief Sukanta Majumdar asserted that the BJP will implement the CAA eventually and grant citizenship to Bangladeshi refugees
India
Sharjeel Imam is accused of making inflammatory speeches against the government on the issue of CAA and NRC, particularly at Jamia Milia Islamia University in December 2019, which allegedly led to violence in the area outside the university