Andhra Pradesh boat capsizes: Seven, including six girls, one woman, missing; navy dispatches diving team for rescue ops
Six people, five girls and a woman, were missing after a country boat they were travelling in capsized in river Gautami in Andhra Pradesh's East Godavari district on Saturday evening.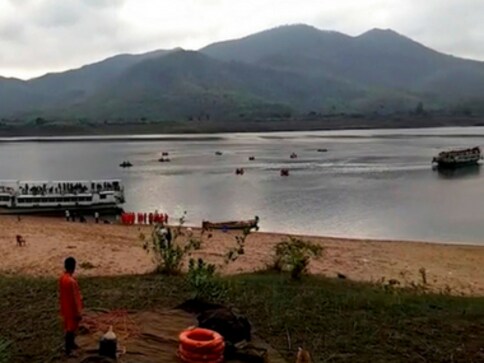 Surging river water, coupled with rain and strong winds, hampered operations to trace seven people — six girls and one woman — who missing after a boat capsized in the Gautami river in East Godavari district of Andhra Pradesh on Saturday evening, officials said on Sunday.
As many as 20 teams of rescue personnel, including navy divers, have fanned out in the river from the accident spot at Pasuvullanka up to Yanam coast, both upstream and downstream, and are continuing the search.
"Our operations are hampered by strong winds and rain. Besides, the water level in the river has also risen by three feet due to heavy discharge of water from the Godavari. Still, we are carrying out the search," National Disaster Response Force Deputy Commander Madhusudan Reddy said.
The Eastern Naval Command dispatched a diving team and deployed a naval helicopter to aid in the search and rescue efforts, ANI tweeted. The team, airlifted from INS Dega, will join the search operation once the weather clears up.
#Update: Boat capsized incident in East Godavari y'day: Eastern Naval Command has dispatched a diving team to augment Search&Rescue efforts, Diving Team was airlifted from INS Dega,1 naval helicopter UH3H will be joining search operation once the weather clears up. #AndhraPradesh pic.twitter.com/RFwEJRSRoH

— ANI (@ANI) July 15, 2018
The incident, which took place on Saturday evening, claimed two lives, as per an earlier report.
The State Disaster Management Authority (SDMA) said 26 passengers of the boat were rescued but two of them were hospitalised with injuries.
The missing persons have been identified as Kondepudi Ramya (13), Polisetti Veera Manisha (15), Sunkara Sreeman (15), Tirukoti Priya (13), Polisetti Anusha (14), Polisetti Suchitra (12) and Galla Nagamani (35), SDMA said in a communique.
Thirty-two passengers were travelling in the boat that was on its way from Saladivari Palem to Pasuvullanka when it capsized after colliding with a pier of an under-construction bridge, it said.
A 30-member team from the State Disaster Response and Fire Services Department began the search operation at the accident spot using boats and high-powered lamps, a PTI report said.
According to the SDMA, another 22-member team of the State Disaster Response Force from Kakinada was also taking part in the operation while NDRF teams from Kakinada and Visakhapatnam were also joining with necessary equipment.
East Godavari district collector Kartikeya Misra, and Superintendent of Police Vishal Gunni, who also reached the spot, were supervising the rescue operation.
As the river was in spate due to flood, the water was swirling, making the boat unstable, a senior official from SDMA, Amaravati, said.
It hit a pier of the bridge that was being constructed on the river and capsized, he said, adding that some of the students in the boat climbed the base of the pier and saved themselves.
Fishermen and local villagers, as well as the bridge construction workers, jumped in following the accident to rescue the people.
With inputs from PTI
India
A senior Navy official said, 'The firing is a significant step towards achieving self-reliance in niche missile technology and reaffirms the Indian Navy's commitment to indigenisation'
India
Defence Minister Rajnath Singh told naval officers, personnel and their families at the Karwar Naval Base that the leadership of Prime Minister Narendra Modi and the contribution of the Armed Forces have changed the perception of the world about India
India
'Surat' is the fourth Guided Missile Destroyer of the P15B class, while 'Udaygiri' is the second Stealth Frigate of P17A class