Amritsar grenade attack: Theories abound about possible hand of Pakistan's ISI, Khalistan hardliners
Following the attack in Amritsar, the Amarinder Singh-led Congress government suspected the hand of ISI-backed Khalistani or Kashmiri militants.
Unidentified assailants on Sunday hurled a grenade at a gathering of Nirankari sect followers in Punjab's Amritsar killing three people. As soon as the incident hit the headlines, several political parties and media reports began speculating on who may be behind the attack — even though authorities have officially not confirmed anything.
Following the attack, the Amarinder Singh-led Congress government suspected the hand of ISI-backed Khalistani or Kashmiri militants, with the attack being treated as a "terrorist act". Three persons were killed and at least twenty others were injured when two motorcycle-borne miscreants hurled a grenade at a religious congregation of over 200 devotees inside a Nirankari Bhawan at Adliwal village near Amritsar's Rajasansi area. Witnesses told the police that two youths on a motorcycle, their faces covered, forcibly entered the sect campus by pointing a pistol at a woman volunteer at the gate.
Here are the different theories that followed the attack:
Congress suspects involvement of ISI, Sikh hardliners 
Singh on Sunday condemned the attack and said the possibility of the involvement of "ISI-based Khalistani or Kashmiri terror groups" could not be ruled out, adding the forensic teams have been rushed to the spot and "all angles were being investigated".
Senior Congress leader and former Ludhiana MP Manish Tewari agreed with the chief minister, describing the blast as the ISI's attempt to reactivate the Khalistan file, as reported by The Tribune. Tewari drew linkages between Sunday's attack and the first Akali-Nirankari clashes of 13 April, 1978 in Amritsar. "It all started on 13 April, 1978 like this. The ISI has activated its Khalistan file again...The recent terror attacks in Gurdaspur, Pathankot and now Amritsar are the ISI's gameplan," said Tewari.
Ludhiana Congress MP Ravneet Singh Bittu suspected the role of Sikh hardliners and demanded that Sikh hardliner Baljit Singh Daduwal, and others who follow his ideology should be probed, reported The Daily Pioneer.
Even though the attack is being looked at as a terrorist act, the authorities have not confirmed it to be so, nor have they stated if the "terrorists" are from Pakistan or if they are Kashmiri militants.
Reports claim Pakistan's hand in attack
News18, in its report, cited "proof" to show that Pakistan has a hand in the attack. According to the channel, the HE-36 Grenade used by the attackers is also used by the Pakistani army. The channel's report further claimed that Pakistan's ISI is using social media to radicalise pro-Khalistani Sikh youth, and has been exploiting the 2015 sacrilege incident to stoke anti-India elements.
Media houses on Monday also released the first sketches of the alleged masterminds of the attack, Harmeet Singh 'PHD' and Lakhbir Singh Rode, who are said to be part of the International Sikh Youth Federation.
India Today, revealed pictures of JuD chief Hafiz Saeed meeting Khalistani supporter Gopal Singh Chawla a few months ago, claiming that their meeting could be related to the attack that took place on Sunday.
Sources told Republic that the police has not yet ruled out the role of the group led by terrorist Zakir Musa, the chief of Jammu and Kashmir-based Ansar Ghazwat-ul-Hind terror outfit with reported links to Jaish-e-Mohammed (JeM), who was earlier spotted in Punjab.
HS Phoolka says Bipin Rawat "behind attack", then apologises
AAP leader in Punjab HS Phoolka caused a stir on Saturday with his statement accusing Army Chief Bipin Rawat of being "behind the attack".  The army chief had earlier come to Punjab and had given a statement on the terror attack, and it is possible that he might be behind the attack to prove his statement right, said Phoolka. Later on Sunday, Phoolka apologised for his statement and expressed "regret". He tweeted that his statement was being "blown out of proportion." Army Chief Bipin Rawat had recently warned that attempts were being made to "revive insurgency" in Punjab and he had even cautioned that people needed to be careful to prevent anti-national forces from succeeding.
The attack took place at a time when Punjab was on high alert following a specific input on a bunch of Jaish-e-Mohammand terrorists having sneaked into its territory.  Moreover, the security agencies were also on alert after four people fled with an SUV after threatening its driver at gunpoint near Madhopur in Pathankot district a few days ago.
The Punjab Police, along with the Jammu and Kashmir Police, had recently busted two modules of Kashmiri students who were studying in institutions in Punjab and had links to terrorist outfits in troubled Kashmir. The Maqsudan police station was targeted by Kashmiri terrorists on 14 September this year with hand grenades, though no one was injured in the attack. Posters of Kashmiri terrorist Zakir Mussa had mysteriously appeared in Punjab's Gurdaspur district on Friday, stating that he had been seen in Punjab.
Fifteen such terror modules had been busted in the past 18 months, with Kashmiri terror links also indicated in some instances, as evidenced in the arrest of Kashmiri students from Jalandhar and in the Maqsudan police station grenade blast case.
With inputs from agencies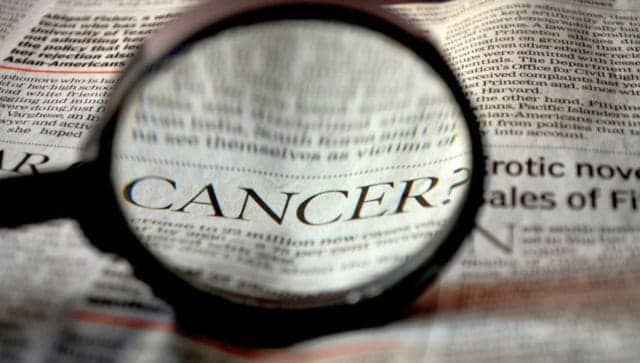 Explainers
Researchers said 3.8 million lives were saved over the past three decades –  with twice as many deaths averted in men than in women. The study put the mortality decline down due to a decrease in smoking as well as improved cancer detection and treatment
Politics
Badal joined the party at the BJP headquarters in the presence of several leaders, including Union Minister Piyush Goyal. Recently, his absence from the Punjab chapter of the Congress' Bharat Jodo Yatra had been noticed by state unit leaders
World
Until 1971, Radio Free Europe was a covert US intelligence operation seeking to penetrate the Iron Curtain and foment anti-communist dissent. The Russia-Ukraine war has shaken up its operations and highlighted its importance