Alwar mob lynching: 2 arrested after villagers beat man to death on suspicion of cow smuggling; BJP minister links it to Modi's popularity
In yet another case of mob lynching, a man was reportedly killed on the suspicion of cow smuggling by a group of villagers in Rajasthan's Alwar district, as per reports.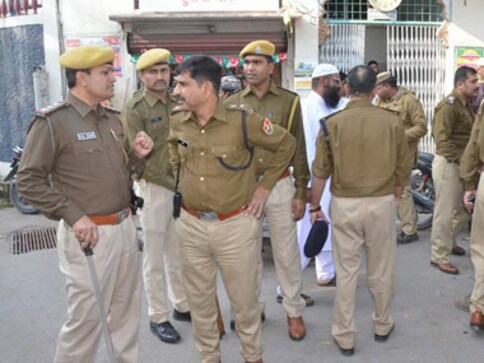 In yet another case of mob lynching, a group of villagers killed a man allegedly on the suspicion of cow smuggling in Rajasthan's Alwar district. The police launched an investigation into 28-year-old Rakbar Khan's death and have arrested two people so far.
Khan, a resident of Kolgaon in Haryana, and another man were taking two cows to their village through a forest area near Lalawandi village in the district's Ramgarh region on Friday night when a group of people severely thrashed him, said the station house officer (SHO) of the Ramgarh police station, Subhash Sharma. Khan was taken to a government hospital in Ramgarh, where doctors declared him brought dead. The body has been kept in a mortuary in Alwar, the SHO said. An autopsy is expected to be conducted after Khan's family members reach the hospital. Alwar Inspector-General, Hemant Priaydarshi said that two people were arrested in connection with the case and an FIR against unknown persons was filed. "An FIR has been registered against unknown persons. Two people have been arrested after interrogation," he said, in a press briefing. The case has been registered against unidentified people under Section 302 (punishment for murder) of the Indian Penal Code.
Speaking to reporters earlier in the day, additional superintendent of police of Alwar, Anil Beniwal, said they will make arrests soon. "It is not clear if they were cow smugglers. The body has been sent for a postmortem examination," ANI, quoted him as saying.
Meanwhile, Suleiman, father of Khan who was allegedly beaten to death by a mob said the culprits must be arrested soon. "We want justice," ANI quoted him as saying.
Rajasthan chief minister Vasundhara Raje said the incident "is condemnable". "Strictest possible action shall be taken against the perpetrators," she added. State home minister GC Kataria said the government will take strict action against those responsible.
Meanwhile, Union minister AR Meghwal stirred a controversy by saying that as Prime Minister Narendra Modi's popularity rose, "such incidents" were bound to happen. "The more popular Modi ji becomes, the more such incidents will happen. During Bihar election, it was 'Award Wapsi', during Uttar Pradesh election, it was mob lynching. In the 2019 elections, it'll be something else. The incident is a reaction to Modi's schemes," ANI quoted him as saying.
He further said that mob lynching incidents go back in time, referring to 1984 Sikh riots. "We condemn mob lynching but this isn't a single incident. You have to trace this back in history. Why does this happen? Who should stop this? What happened with Sikhs in 1984 was the biggest mob lynching of this nation's history," he said.
The incident comes just over a year after Pehlu Khan, a dairy farmer in his fifties, was brutally beaten to death by cow vigilantes in Alwar district. Khan and at least four others were injured when a mob had attacked nearly 15 persons hailing from Haryana, while transporting cows in vehicles on the Behror highway in Alwar district on 5 April.
In September, the Rajasthan police had given a clean chit to the six people named in the Pehlu Khan lynching incident. Following this, Khan's family had sought a court-monitored probe into the killing and said the case must be shifted out of the state.
In a similar incident in November, cow vigilantes beat up and shot at two Muslim youths in Fahari village near Govindh Gadh in Alwar district, when the youths were transporting cows from Mewat in Haryana to Bharatpur in Rajasthan. One of the two victims, identified as Ummar Khan, died in the attack.
Friday's incident occurred on the same day Prime Minister Narendra Modi urged states to take strict actions against those involved in mob lynching and rapes.
Alluding to mob-lynching while replying in his speech during the no-confidence motion debate, Modi said, "The incidents of violence are against the basic principles of humanity. I once again urge the states to take strict action in such cases."
The instances of mob lynching in the country have been on a rise. Between 2014 and 3 March, 2018, 45 persons were killed in 40 cases of mob lynching across nine states, and at least 217 persons had been arrested, data compiled by the home ministry show.
However, details on the motive – whether it was cow vigilantism, communal or caste hatred, or due to rumours of child-lifting, etc — as well as the location of the attack, identity of the attacker, and victim, were not available.
With inputs from PTI
also read
Politics
The Congress is yet to make a choice between DK Shivakumar and Siddaramaiah for the post of Karnataka chief minister. The party seems to be swaying in the favour of the latter, but the KPCC chief is still digging in his heels. But, his legal woes are a worrying factor for the leadership
Opinion
Congress president Mallikarjun Kharge, like Manmohan Singh of 2004-14 era, has to cater to the likes, reward loyalties and present a somewhat youthful and professional face of the grand old party
Politics
After a thumping victory over the BJP in Karnataka, Congress faces its first challenge: Who will be the chief minister? The party high command is meeting in Delhi as both state chief DK Shivakumar and veteran leader Siddaramaiah are eyeing the top job