Attorney General of India Mukul Rohatgi informed the Supreme Court on Wednesday that Indian citizens cannot claim an "absolute right" over their biometric data and refuse to apply for Aadhaar cards. To support this contention, Rohatgi referred to various laws, such as breathalyser tests, finger printing during property registration, medical termination of pregnancy, and also laws that prohibit the commission of suicide as pointing to the fact that there exists no absolute right over one's body under the Constitution.
This comes at a time while the apex court is hearing arguments challenging the validity of Section 139AA of the Income Tax Act, 1961, that makes it mandatory to link Permanent Account Number (PAN) with Aadhaar. In an earlier hearing on the validity of the UID programme in 2015, the attorney general had informed the court that the question of privacy being a fundamental right under the Constitution needs to be revised, as there seemed to be conflicting judgments on this issue.
The attorney general is not just the top law officer of the Government of India, but also functions as an Attorney to the Union of India. Therefore, the views expressed by him are not merely propositions of law, but also reflect the official view taken by the central government on the point.
Which is where it gets very problematic: The Government of India feels that Indian citizens do not have an absolute right to their own biometric data. The government's proposition, if taken at face value, would imply that the Centre could lawfully do as it pleased with the biometric data of an individual and would no longer have to hold it in trust for a particular purpose; assuming it was allowed to hold the data at all.
To put it bluntly, if there is an individual's right to one's biometric data, then the government will have to establish compelling reasons to take that data and would have to hold it in trust. If there is no right to the data, then the government can do what it likes with it. Which is why it is quite strange that the proposition advanced by the government is that there is only a limited right over one's body rather than a proposition that there is a right and the right can be restricted under particular circumstances.
The position of the government, of course, has consequences, the first of them being that it carries with it a presumption of criminality that is cast upon every person presently in possession of a PAN card.
The government's justification for linking the PAN card with the Aadhaar card is to remove duplicate PAN cards that are in circulation. By linking the PAN with an iris and a fingerprint scan, the government says it will be able to assign to each individual one unique identity that one cannot escape from. To quote the Attorney General: "Even if you want to be forgotten, the State is not willing to forget you."
Which means that if there is a law abiding taxpayer who doesn't have an Aadhaar card, in order to establish his innocence — ie prove to the government that he doesn't have more than one PAN card — that person would have to go and surrender his biometric information to the State; and the government has just informed the Supreme Court that it can even ask the citizen to do so as a matter of right.
This is different from the other cases in which one is required to give that information, like a breathalyser where one is stopped upon suspicion of driving drunk, or when one voluntarily goes to register property and fingerprints are recorded to ensure the authenticity of signature.
In this case, all taxpayers have overnight become suspects of holding multiple PAN cards and are asked to come forward and prove their innocence by linking it with an Aadhaar card, thereby surrendering their biometric information. This is problematic for a government, both politically and constitutionally. Politically, because it shows that the government doesn't trust its own citizens, and constitutionally because the implications of not having a right over one's body can be massive.
Let us say there is a glass of water at a public restaurant and you've just finished having lunch. You pick up that glass with your hands and have a drink. Once you're done with it, someone takes that glass of water and lifts your fingerprints from it and uploads them online for no malicious purpose; they just claim it's part of a public art project where they are collating different fingerprints of people who eat at a particular restaurant. If one did not have a right to privacy or a right over one's body, then the uploader could get away with it.
If one thinks about it, biometric information is left everywhere, in the form of dead skin cells, hair follicles, nail clippings, fingerprints, etc. Even most smartphones today require biometric information. If the government says that individuals don't have an absolute right to decide what they do with this information, a foreign government can tomorrow request a phone company (that operates in both countries) to hand over the biometric data of an Indian citizen, and there is not much that the company can do to prevent that from happening.
All of these problems are reasons why the UID project still needs a lot of thinking and a lot more privacy safeguards before it can effectively be implemented. That's also why the Supreme Court has made the process optional in the interim. By attempting to make it mandatory and bypass the court's ruling, the government is aiming to get around confronting the real issues that are at stake here. Issues of data security, privacy, fundamental freedom, bodily autonomy, and the fact that biometric information of the citizens of the world's largest democracy is in servers of questionable security right now.
The Unique Identification Authority of India was established via the Aadhaar Act in 2016, but was initially constituted in 2009, as part of the Planning Commission. Between 2009-2016 is when most people including this author signed up for Aadhaar voluntarily. But that's before the government officially told the Supreme Court that our right to privacy needed to be revisited and that we didn't have an absolute right over our bodies.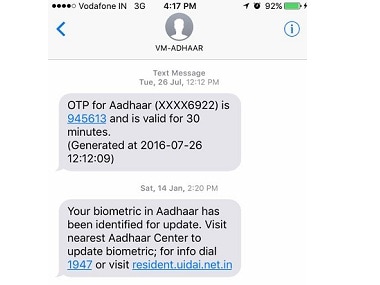 A few days ago, this author got an SMS (left) from the UADI saying that his Aadhaar was randomly selected for a biometric update. He still hasn't gone in for that update, as so far it is not an offence for him to fail to update his Aadhaar biometrics.
However, should the government's proposition be upheld, it could very well be possible that failing to update one's Aadhaar could become an offence.
The central government needs to seriously rethink its stance on this issue and come back to the court with a more reasonable argument.
It's not just about winning a case, it must realise that it is the government at the end of the day and it cannot afford to take positions that leave a billion citizens at risk.
Updated Date: May 04, 2017 12:30 PM