97 lawyers to represent MJ Akbar in defamation suit against Priya Ramani; Twitter users say 'bring it on'
Law firm Karanjawala & Co, hired to defend Union minister MJ Akbar, called the mention of the 97 advocates in the Vakalatnama as the 'standard practice',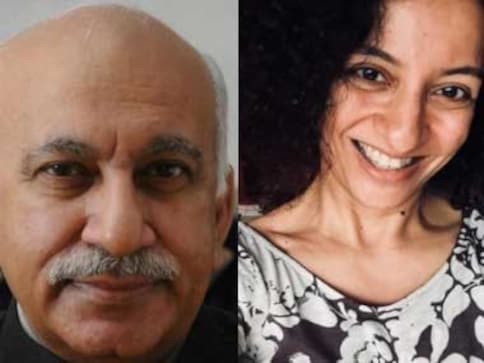 Minister of State for External Affairs MJ Akbar on Monday filed a criminal defamation complaint against journalist Priya Ramani who recently levelled charges of sexual misconduct against him. To defend Akbar in this case, 97 lawyers of a law firm have been roped in, according to media reports.
News18 reported that law firm Karanjawala & Co, hired to defend Akbar, called the mention of the 97 advocates in the Vakalatnama as the "standard practice", and said only six are meant to appear in the court for him.
"Our firm has 100 lawyers. We usually have all the names printed in one vakalatnama with only the ones who will appear in the case signing it. Our criminal team has six members and only those six will appear in this case. Only they have signed the vakalatnama," a spokesperson of the firm was quoted as saying by News18.
However, the news about 97 lawyers working to defend Akbar drew sharp reactions on social media. Pointing that this showed the consequences "lone voices" have to face for speaking out, several journalists and other Twitter users sided with Ramani.
Journalist Sucheta Dalal suggested Ramani and others who have accused Akbar of harassment should crowdfund their side in court.
Several women journalists have accused Akbar of sexual harassment, leading to a growing demand for his ouster as the Minister of State for External Affairs. In a statement on Sunday, he denied the charges as "false, wild and baseless".
In his complaint, Akbar said that it was apparent that the false narrative against him was being circulated in a motivated manner and for the fulfilment of an agenda.
Following the filing of complaint, Ramani said in a statement that she was "deeply disappointed that a Union minister should dismiss the detailed allegations of several women as a political conspiracy". "By instituting a case of criminal defamation against me, Akbar has made his stand clear: rather than engage with the serious allegations that many women have made against him, he seeks to silence them through intimidation and harassment," she said.
With inputs from PTI
World
The account, @GovtofPakistan, remained available for viewing and interaction from countries such as the United States and Canada
India
Not everyone was convinced that the leopard's poses were similar to yoga. Some individuals wrote that even other animals stretched in a similar manner.
World
Elon Musk has announced that only Twitter Blue subscribers can vote in polls from now on and that the For You tab on Twitter, will now exclusively feature Twitter Blue subscribers. This change comes just days before legacy verified ticks is done away with.