97 lawyers to represent MJ Akbar in defamation suit against Priya Ramani; Twitter users say 'bring it on'
Law firm Karanjawala & Co, hired to defend Union minister MJ Akbar, called the mention of the 97 advocates in the Vakalatnama as the 'standard practice',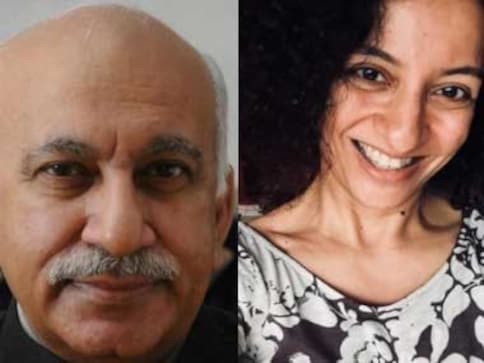 Minister of State for External Affairs MJ Akbar on Monday filed a criminal defamation complaint against journalist Priya Ramani who recently levelled charges of sexual misconduct against him. To defend Akbar in this case, 97 lawyers of a law firm have been roped in, according to media reports.
News18 reported that law firm Karanjawala & Co, hired to defend Akbar, called the mention of the 97 advocates in the Vakalatnama as the "standard practice", and said only six are meant to appear in the court for him.
"Our firm has 100 lawyers. We usually have all the names printed in one vakalatnama with only the ones who will appear in the case signing it. Our criminal team has six members and only those six will appear in this case. Only they have signed the vakalatnama," a spokesperson of the firm was quoted as saying by News18.
However, the news about 97 lawyers working to defend Akbar drew sharp reactions on social media. Pointing that this showed the consequences "lone voices" have to face for speaking out, several journalists and other Twitter users sided with Ramani.
97 lawyers against one woman @priyaramani . Then they talk of due process #MeToo #MJAkbar.

— barkha dutt (@BDUTT) October 15, 2018
A team of 97 lawyers vs @priyaramani .....'You may write me down in history
With your bitter, twisted lies,
You may trod me in the very dirt
But still, like dust, I'll rise.
You may shoot me with your words....You may cut me with your eyes,But still, like air, I'll rise.' #Metoo

— Marya Shakil (@maryashakil) October 15, 2018
Meanwhile, 97 advocates from a top powerful law firm to defend MoS MEA MJ Akbar against sexual harassment allegations as he files criminal defamation suit against journalist Priya Ramani. Journalists in India need to fight back this intimidation. #MeToo pic.twitter.com/H0XYNgbpNp — Aditya Raj Kaul (@AdityaRajKaul) October 15, 2018
Priya Ramani + The people of India vs. M.J.Akbar + 97 lawyers + the Government of India. https://t.co/7ZhdDUlmP5 — Karthik (@beastoftraal) October 15, 2018
No surprises , when Swatantra Kumar filed for defamation in high court he had 21, numbers increase , team remains the same https://t.co/Wx0DTL7oea — indira jaising (@IJaising) October 15, 2018
Just read the entire criminal defamation suit filed by MJ Akbar. He has NINETY SEVEN lawyers fighting for him! 97! Against one @priyaramani. Well well — Nidhi Razdan (@Nidhi) October 15, 2018
Empire strikes back. Minister, backed by PM and full cabinet, to be represented by the biggest law firm, also defended by some senior columnists, as he takes on 14 women, 2 of whom were teenagers when they say he sexually harassed them with court cases.We are all on trial today. https://t.co/Y0gAaHVcXf

— Suhasini Haidar (@suhasinih) October 15, 2018
I say bring it on. @PriyaRamani and us women journalists too have the best women legal eagles on our side. @IJaising, Rebecca John, @VrindaGrover, as well as some of the coolest criminal defamation lawyers in the country. They might be 97; we are guts, brainpower & solidarity. https://t.co/h2TbDKNrg5

— Angshukanta (@angshukanta) October 15, 2018
You want to know what might looks like against lone voices speaking out? These are the 97 advocated fighting MJ Akbar's case against one — @priyaramani pic.twitter.com/j5yktnbbcK — #MeTooIndia (@IndiaMeToo) October 15, 2018
It takes 97 lawyers to fight @priyaramani. Spoiler alert: Not enough. https://t.co/njbFajDsSG — Shilpa Rathnam (@shilparathnam) October 15, 2018
Journalist Sucheta Dalal suggested Ramani and others who have accused Akbar of harassment should crowdfund their side in court.
Hey @priyaramani and all 14 who have spoke up. Let's crowd fund your defence. I am sure may top lawyers will help you fight pro bono, but we at @MoneylifeIndia know there are lots of expenses involved! So think about it! Happy to support I am sure thousands of others will too! https://t.co/WmSnOfFKQy

— Sucheta Dalal (@suchetadalal) October 15, 2018
Several women journalists have accused Akbar of sexual harassment, leading to a growing demand for his ouster as the Minister of State for External Affairs. In a statement on Sunday, he denied the charges as "false, wild and baseless".
In his complaint, Akbar said that it was apparent that the false narrative against him was being circulated in a motivated manner and for the fulfilment of an agenda.
Following the filing of complaint, Ramani said in a statement that she was "deeply disappointed that a Union minister should dismiss the detailed allegations of several women as a political conspiracy". "By instituting a case of criminal defamation against me, Akbar has made his stand clear: rather than engage with the serious allegations that many women have made against him, he seeks to silence them through intimidation and harassment," she said.
With inputs from PTI
India
Pandit Birju Maharaj can be heard saying that a guru will only touch the disciples' feet once whereas the pupil will have to take the guru's blessings time and again
World
Musk has faced several lawsuits and investigations due to sarcastic remarks made by him on social media
India
The development comes in the wake of Niraj Bishnoi, the alleged mastermind and creator of the 'Bulli Bai' application, revealing that he was in touch with the alleged creator of the 'Sulli Deals' app