MJ Akbar sues Priya Ramani for criminal defamation amid harassment charges, accuses her of 'harming his goodwill'
Priya Ramani was the first to call out MJ Akbar publicly amid India's #MeToo movement, after which several women spoke up about their sexual harassment experiences with him.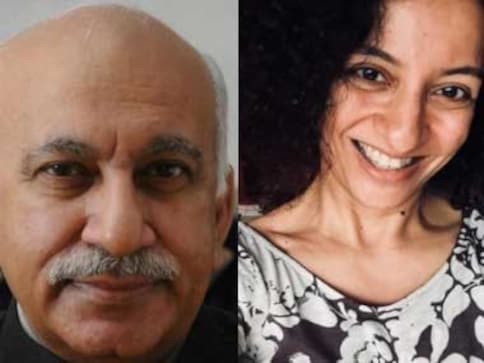 Minister of State for External Affairs MJ Akbar, who is facing a slew of accusations of sexual misconduct during years as a journalist, on Monday filed a criminal defamation case against journalist Priya Ramani. It was in response to Ramani's October 2017 article in the Vogue, which she replugged on Twitter on 8 October, that several women spoke up with their own stories of the Union minister and his allegedly relentless advances towards them.
A criminal defamation case, as against a civil defamation case, is significant as an accused could be sent to jail if found guilty. Akbar filed the criminal defamation case against Ramani in Delhi's Patiala House Court through his advocates Karanjawala and Co. The case is expected to be heard in the post-lunch session on Tuesday, CNN-News18 reported.
The complaint was filed under Section 500 of the Indian Penal Code, "for making false and defamatory statements in print/electronic media". Akbar has accused Ramani of "willfully, deliberately, intentionally and maliciously defaming" him on "wholly and completely false, frivolous, unjustifiable and scandalous grounds", thereby harming his "goodwill and reputation".
This comes a day after he rubbished all the allegations at least 14 women made against him as "false, wild and baseless" and said he would be taking "appropriate legal action". In his statement, he had named Ramani, who was the first to call him out publicly for sexual harassment. In her article in Vogue, she had not named Akbar, but she revealed his identity in a tweet as the #MeToo movement gained ground in India.
"I began this piece with my MJ Akbar story. Never named him because he didn't 'do' anything. Lots of women have worse stories about this predator—maybe they'll share," Ramani had tweeted.
Here's a copy of Akbar's criminal defamation suit:
Mj Akbar vs Priya Ramani by Firstpost on Scribd
So far, at least 14 women have accused Akbar of sexual harassment when they worked with him during his years in the newsroom. Th women have recounted their ordeals with Akbar right from the 1980s till as recently as in in 2010-2011. Their accounts include details of his "predatory tactics" and incidents ranging from sexual harassment, sexism and abuse of power in his capacity as an editor.
While mentioning Ramani in his statement on Sunday, Akbar said: "Priya Ramani began this campaign a year ago with a magazine article. She did not, however, name me as she knew it was an incorrect story. When asked recently why she had not named me, she replied, in a tweet: 'Never named him because he didn't 'do' anything.'"
In his complaint, too, Akbar mentioned that in her "defamatory statements", Ramani "admits that the complainant has not done anything to her". "...The said defamatory articles are only a figment of her imagination and are only intended to malign the reputation of the complainant," he stated in the complaint.
Along with his complaint, Akbar attached copies of a number of articles that detail the women's statements.
also read
India
He convinced the wrestlers not to immerse their medals in the Ganga. Today, he will hold a mega meet of khap leaders to discuss the protest. Naresh Tikait, the chief of the Bharatiya Kisan Union (BKU), and older brother of Rakesh Tikait, is all set to fight for India's wrestlers
Opinion
For the Opposition dispirited not so long ago on what appeared to be a lost electoral battle in 2024, the dramatic turn taken by the women wrestler's agitation has come as a huge boost almost immediately after the good news from the Karnataka polls
India
Ace wrestlers, led by Vinesh Phogat, Sakshi Malik, Bajrang Punia, continue their protest against WFI's Brij Bhushan Sharan Singh though they have deferred the decision to immerse their medals. Sexual abuse is prevalent in India's sporting world – there have been 45 complaints between 2010 and 2022