43 heavy vehicles seized in Odisha's Jajpur district as part of crackdown on illegal mining of minerals
At least 43 heavy vehicles used in illegal mining of minerals were seized and over Rs four lakh collected as penalty in a crackdown in Odisha's Jajpur district
Jajpur: At least 43 heavy vehicles used in illegal mining of minerals were seized and over Rs four lakh collected as penalty in a crackdown in Jajpur district, an official said on Saturday.
The seizure was during raids carried out by four district-leval teams against illegal mining activities in different places in the district on Friday he said adding the vehicles were carrying sand, mourm, laterite stone and black stone illegally.
The teams had conducted surprise raids at several locations under the jurisdiction of Barachana, Dharmasala,
Jajpur and Sukinda tehsils, he said.
"Four teams comprising revenue and police officials conducted surprise raids at different illegal mining areas
under four tehsils. We seized 43 heavy vehicles including some tractors which were illegally carrying minor minerals," said
Jajpur district Collector Ranjan Kumar Das. The collector said the regional transport officer and the respective tehsildars had been asked to file FIRs against the mining violators.
"The vehicles carrying minerals illegally have violated both Motor Vehicle and Mining rules. While RTO has
been directed to lodge FIR against those violated MV Act, Tehsildars to file FIR against those who have violated Mining and Mineral Act with the local police," he said.
The collector has further directed the respective tehsildars to ensure halt to all illegal mining activities related to sand and laterite stone, black stone and morum in the district.
The collector said several complaints regarding illegal mining activities were received from Dharmasala, Barachana, Korei, Jajpur, Danagadi and Sukinda areas. Das said he had visited some areas of the district where illegal mining
was taking place.
Jajpur Superintendent of Police Charan Singh Meena, Addditional District Magistrate Brajabandhu Bhola and Sub
collector Narayan Chandra Dhal had also joined the teams which conducted raids, official sources said.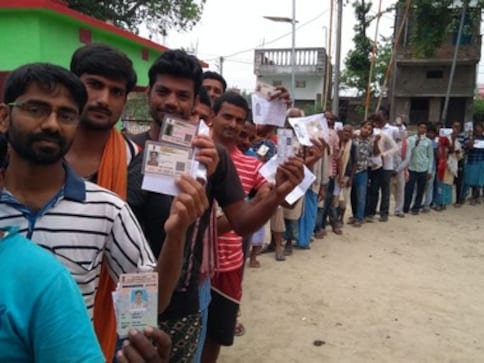 Politics
The BJD has held this seat since 1999.
India
At least four persons were killed and six others critically injured when a van carrying them collided with a truck in Odisha's Jajpur district on Saturday, police said
India
The flood situation in Odisha's Jajpur and Kendrapara districts continued to be grim on Monday, said officials.