2008 Malegaon blast case: Supreme Court grants bail to Lt Col Shrikant Purohit, sets aside Bombay HC order
The Supreme Court granted bail to Lieutenant Colonel Shrikant Prasad Purohit in the 2008 Malegaon blast case
The Supreme Court granted bail to Lieutenant Colonel Shrikant Prasad Purohit in the 2008 Malegaon blast case, according to media reports.
#UPDATE -- Col. Purohit was in jail for the last 9 years; NIA opposed Purohit's bail in Supreme Court pic.twitter.com/jKZyf5oJdB

— News18 (@CNNnews18) August 21, 2017
A bench of Justices RK Agrawal and AM Sapre said they are setting aside the Bombay High Court order which denied Purohit bail. The Supreme Court said it has imposed certain conditions on Purohit while granting bail, PTI reported.
On 14 August, the apex court had set the date of 17 August to hear Purohit's plea, saying that the "matter requires lengthy hearing".  Earlier, a bench of Justices RK Agrawal and MM Shantanagoudar observed that the issue of granting bail to Purohit and cancellation of bail of Pragya Singh Thakur, also accused in the case, needed detailed consideration, as both the pleas are on similar facts. Purohit moved the apex court challenging the Bombay High Court's order dismissing his bail plea, while the father of one of the blast victims has challenged the Bombay High Court order granting bail to Thakur, alleging she was a "powerful person" and could influence the witnesses. Senior advocate Harish Salve, appearing for Purohit, argued his client had been in jail for the past nine years but charges have still not been framed against him. Salve said the Maharashtra Control of Organised Crime Act (MCOCA) charge against his client had already been dropped and he pleaded in the apex court to grant Purohit interim bail in the "interest of justice".
The father of the victim has sought a stay on the high court's 25 April order granting Thakur bail, saying there was "no prima facie evidence against her".
Malegaon blasts accused Col. Purohit gets bail after nine years. Here is how the horror unfolded on 29 September 2008 that claimed 7 lives pic.twitter.com/Z7jPEJIVA7 — News18 (@CNNnews18) August 21, 2017
On 28 July, the NIA said there were "several incriminating circumstances" against Purohit, which proved his "deep involvement and complicity" in the 2008 Malegaon blast case, but there was no evidence against Thakur.
Seven people were killed in a bomb blast on 29 September 2008, at Malegaon, a communally-sensitive textile town in Nasik district of north Maharashtra.
A special MCOCA court earlier ruled that the Anti-Terrorist Squad wrongly applied this law against Thakur, Purohit and nine others. The 4,000-page chargesheet alleged that Malegaon was selected as the target because of its sizeable Muslim population.
Thakur, Purohit and co-accused, Swami Dayanand Pandey were named as key conspirators. Pandey was accused of instructing Purohit to arrange RDX, while Thakur allegedly owned the motorcycle which was used in the blast.
On 31 July, a special court rejected Pandey's plea which claimed that his arrest was made on the basis of mistaken identity.
With inputs from agencies
India
Lidwina Joseph, a student of Kendriya Vidyalaya at Thrissur, enclosed in her letter a drawing depicting discharge of duties by the apex court where a judge is seen hammering down the coronavirus
Sports
Various judges however ordered the government to take additional safety measures.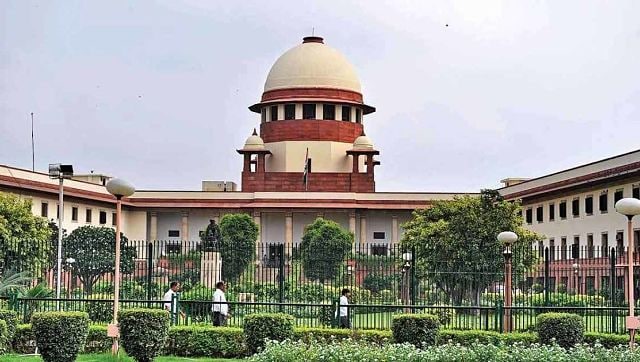 India
Calls for a fresh push for the demand have followed the Supreme Court's 5 May decision that held that total reservations cannot breach the 50 percent ceiling.