1993 Mumbai serial blasts: TADA to pronounce judgment against Abu Salem, six others on 16 June
The special Terrorist and Disruptive Activities Act (TADA) court in Mumbai will pronounce judgement on 16 June against against gangster Abu Salem and six others accused in the 1993 Mumbai serial blasts case on Monday.
The special Terrorist and Disruptive Activities Act (TADA) court in Mumbai will pronounce judgment against gangster Abu Salem and six others accused in the 1993 Mumbai serial blasts case on 16 June.
Special TADA court in Mumbai to pronounce judgement on June 16th, against seven accused including Abu Salem in 1993 blasts case.
— ANI (@ANI_news) May 29, 2017
Salem, Riyaz Siddiqui, Karimullah Khan, Feroze Abdul Rashid, Tahir Merchant, Mustafa Dossa, Riyaz Siddiqui and Abdul Quayyum were on trial in the case.
Salem faces dozens of criminal cases in India and is currently lodged in the Taloja Jail in Mumbai. He was extradited from Portugal in 2005. Along with being named in the Mumbai blasts case, he is also accused in a number of other murder and extortion cases.
In February 2015, Salem was sentenced to life imprisonment by a special court in the 1995 murder of Mumbai builder Pradeep Jain.
Thirteen blasts had ripped through Mumbai on 12 March, 1993, killing more than 257 people and injuring around 713 in the incident. The TADA court in 2006 had convicted 100 accused, including Yakub Memon who was executed on 30 July. The trial of Salem and others was separated because they were arrested later.
Yakub had allegedly handled his brother Tiger Memon's funds and was convicted on charges of having funded the training of 15 youths who were sent to Pakistan to learn the handling of arms and ammunition.
The attacks were allegedly carried out by one of India's most wanted men, Dawood Ibrahim, and his accomplice Tiger, to avenge Muslim deaths during the Hindu-Muslim riots that had rocked Mumbai a few months earlier.
Tiger was awarded the death penalty by a TADA court on 27 July, 2007. He, however, is still in Pakistan and India is still clueless about the whereabouts of Dawood Ibrahim.
The blasts were seen as a revenge attack for the December 1992-Jan 1993 riots in the city. The riots had occurred in the aftermath of the 6 December, 1992 demolition of the Babri Mosque in Ayodhya.
Here is a timeline of the major developments in the case:
- 12 March, 1993: A series of 13 explosions rock Mumbai resulting in 257 fatalities and injuries to 713 others.
- 19 April, 1993: Actor Sanjay Dutt arrested.
- 4 November, 1993: Primary charge sheet filed against 189 accused, including Dutt.
- 19 November, 1993: Case handed over to CBI.
- 10 April 10, 1995: 26 accused discharged by the TADA court. Charges framed against the remaining accused.
- 19 April, 1995: Trial commences.
- April-June 1995: Charges framed against the accused.
- 30 June, 1995: Two accused, Mohammed Jameel and Usman Jhankanan, turn approvers in the case.
- 14 October, 1995: Dutt granted bail by the Supreme Court.
- October 2000: Examination of 684 prosecution witnesses ends.
- 9 March-18 July, 2001: Accused record their statements.
- 20 February, 2003: Dawood gang member Ejaz Pathan produced in court.
- 20 March, 2003: Mustafa Dossa's remand proceedings and trial separated.
- 13 June, 2006: Gangster Abu Salem's trial separated.
- 12 September, 2006: Court starts delivering the judgement, pronounces four members of the Memon family guilty, acquits three. 12 convicts awarded death penalty while 20 were given a life sentence.
- 1 November, 2011: SC begins hearing on appeals filed by the 100 convicts as well as the state.
- 21 March, 2013: SC upholds death sentence of convict Yakub Memon, brother of Tiger Memon, and commutes the death sentence of 10 convicts to life term. Life imprisonment of 16 out of 18 convicts also upheld. Dutt also convicted and gets five years in jail.
- 17 April, 2013: SC gives Sanjay Dutt a month to surrender
- 10 May, 2013: SC dismisses Sanjay Dutt's review plea
- 14 May, 2013: Sanjay Dutt withdrew the mercy plea
- 16 May, 2013: Dutt surrenders to Mumbai police.
- January 2014: Dutt granted first parole extension of 30 days.
- December 2014: Dutt given furlough
- January 2015: Dutt returns to jail after his furlough extension was rejected by police.
- February 2016: Dutt released from Yerwada jail
- June 2016: TADA court rejects the application of accused Firoz Khan to turn approver.
With inputs from agencies
India
Ariz Khan's journey casts light on the largely unknown rank-and-file of the Indian Mujahideen, and their seduction by a cult of blood.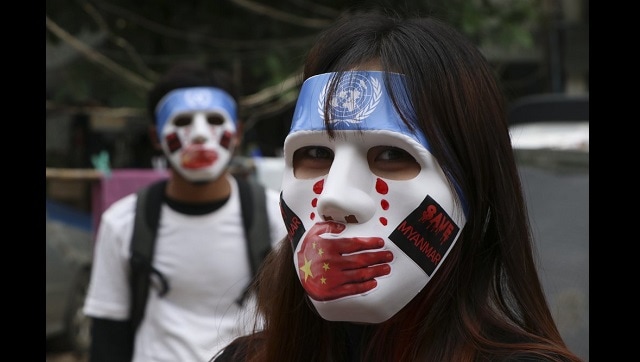 World
Paing Takhon, 24 — a star in both Myanmar and neighbouring Thailand — has been active in the protest movement both in person at rallies and through his massive social media following.
Sports
Juventus forward Ronaldo bagged his 103rd international goal five minutes after the break to stop his side falling foul of a Luxembourg team whose recent performances have defied their small status and tiny population.