A new series. A new hope. A new challenge.
India currently at the second spot in the ICC ODI rankings while New Zealand are at No 5, which indicates that the series will not be a walk in the park for the hosts. The series consists of only three ODIs, which makes the first ODI very important as it will give the winning team an early advantage.
New Zealand have their own selection quandaries to solve before the series begins while India have a problem of plenty. The hosts have a more or less settled unit coming into the series but it remains to be seen who they play at the top of the order alongside Rohit Sharma? India have tried all their options from MS Dhoni to Hardik Pandya at No 4 in ODIs in recent times and the inclusion of Dinesh Karthik in the side again makes the scenario more intriguing.
"See, I have no idea about that where he (Rahane) will be batting. Yes, Shikhar is back, but speaking of Rahane, he's probably grabbed all his opportunities in the last few series that he has played. Now it's on the captain and the coach, what they want and where they want him to bat," Rohit told reporters after India's first training session at the Wankhede Stadium on Friday.
"A couple of series back the captain came and spoke that he considered him (Rahane) as an opening batsman and I don't know if (Virat) Kohli wants him to bat at four again. That will be completely his call. If he feels that we need someone like Rahane batting at four in this particular team right now. I don't know if that will happen. It's very unclear. We have to wait and see," the Indian ODI vice-captain added.
"It only shows that the strength of this team is so vast that anyone can come in at any time and take the position. So we all have to be on our toes and keep performing the way we have in the last few years."
New Zealand have more all-rounders in their current side than specialist players on an average. However, just like India, their pace bowling department is settled with the in-form pacer Trent Boult and the trio of Tim Southee, Adam Milne and Matt Henry.
The onus will be on India to augment their position in the world cricket by lifting the winner's trophy while the visitors will try to win their first ever ODI series on Indian soil.
Let's look at some important numbers over the years in the ODIs played between India and New Zealand.
New Zealand's win/loss ratio of 0.291 against India in ODIs at the latter's backyard is the worst for any team with a minimum of 20 such matches.
It has been always difficult for any team to beat India in India irrespective of the format, and the following table put more light on it. India have won all the five bilateral ODI series' against New Zealand played in India so far.

New Zealand have not won more than two matches in a bilateral ODI series played in India against the 'Men in Blue' yet.
The challenge for New Zealand would be to get back the winning momentum as quickly as possible as they have lost three of their last four ODIs. On the other hand, India have won nine of their last 10 ODIs.
Recent form (Last 10 ODIs) — Most recent showed first
India: W, L, W, W, W, W, W, W, W, W
New Zealand: L, L, N/R, L, W, W, W, L, W, L
India have good variety in their bowling attack, one that can pick wickets at any stage of the game coming into the series, especially in the middle-overs. If they want to win the series convincingly, then they should expose the middle-order of New Zealand team as their batting average of 27.46 in ODIs is the worst among the top-eight teams since the start of 2016.
Visiting teams always had a tough time travelling to Asia till day and New Zealand are no exception as their win/loss ratio of 0.472 in ODIs in India is the worst for them in any country among the nations in which they played a minimum of 25 ODIs.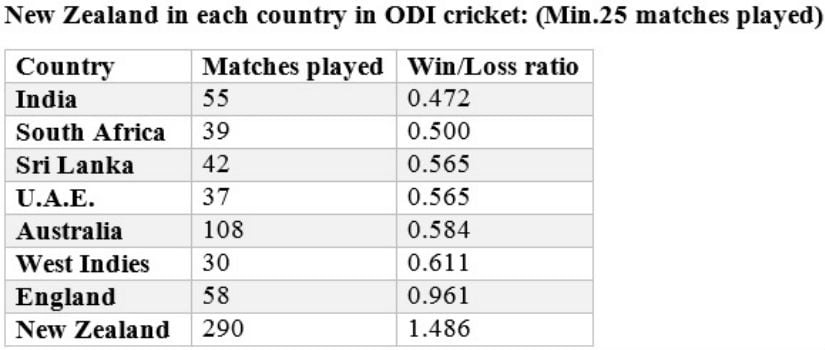 The win percentage difference of 32.50 in favour of Kohli throws a challenge to Kane Williamson to boost his captaincy record in the upcoming series as much as possible.

Some individual records in India-New Zealand ODIs in India:
Highest total
India: 376/2 at Hyderabad (Deccan) in 1999
New Zealand: 349/9 at Rajkot in 1999
Lowest total
India: 188 at Guwahati in 1999
New Zealand: 79 at Visakhapatnam in 2016
Highest individual score
India: 186* by Sachin Tendulkar at Hyderabad (Deccan) in 1999
New Zealand: 120 by Nathan Astle at Rajkot in 1999
Individual Hundreds
India: Four (by Sachin Tendulkar from 16 ODIs)
New Zealand: Two (by Nathan Astle from 11 ODIs)
Best bowling
India: 5/18 by Amit Mishra at Visakhapatnam in 2016
New Zealand: 4/62 by Andy McKay at Guwahati in 2010
Leading run-scorers
India: 821 (Average 58.64) by Sachin Tendulkar
New Zealand: 526 (Average 47.81) by Nathan Astle
Leading wicket-takers
India: 16 (Average 28.56) by Anil Kumble.
New Zealand: 11 by Chris Cairns (avg. 36.18), Daniel Vettori (avg. 38.63) and Scott Styris (avg. 39.54).
Most catches
India: Seven by Yuvraj Singh from eight matches
New Zealand: Five by Jamie How (four matches) and Ross Taylor (10 matches)
Most wicket-keeping dismissals
India: Nine by MS Dhoni (Five matches) and Nayan Mongia (Seven matches)
New Zealand: Five by Adam Parore from eight matches
Most matches
India: 16 by Sachin Tendulkar
New Zealand: 15 by Stephen Fleming
Updated Date: Oct 21, 2017 17:42:24 IST